Technology
The Best Ways Online To Create An Animated Presentation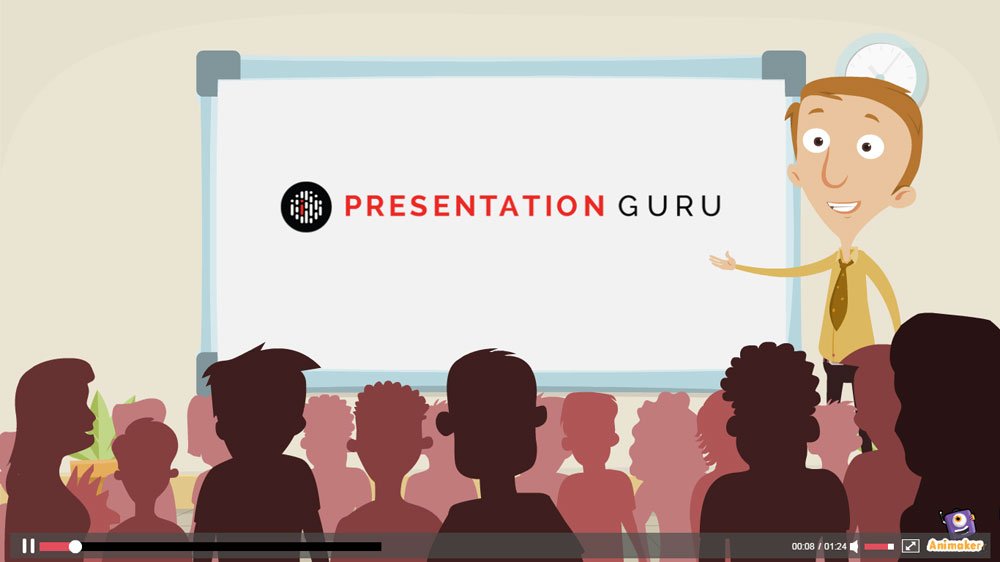 A lot of people rely on static slide decks created using conventional presentation apps like PowerPoint or Keynote. It seems that the use of animations is still perhaps overrated. Many presenters don't like experimenting with animations, even for their PowerPoint slides, as they like playing it safe.
This can perhaps be attributed to the plethora of technical issues that presenters can face due to device and software compatibility problems, many of which we touched upon in our post about common tech problems faced by presenters.
While you might not be an expert in using professional animation software like 3D Studio Max, Maya or Adobe After Effects, however, you can easily create animated presentations using some easy to use web services.
Video presentations made using web apps can be shared online or downloaded as offline video files which you can play using a computer or mobile device, without worrying about device compatibility problems. In what is to follow, we will provide you with a list of the 5 best web services for making animated presentations.
1) GoAnimate
It doesn't matter whether you are a techie or someone who still has problem navigating through the Windows Start menu. If you know how to use a mouse and keyboard that's all you need to start making professional looking animations using GoAnimate. This web service allows creating animations using a readymade template, background music and animated characters that you can pick and choose from the given options.
Using GoAnimate is pretty much like using PowerPoint. The only difference is that instead of a slide deck, you can create animated videos with your custom branding. GoAnimate is perfect for making anything from short video clips to marketing demos, videos for your YouTube channel and of course, animated presentations with interesting characters.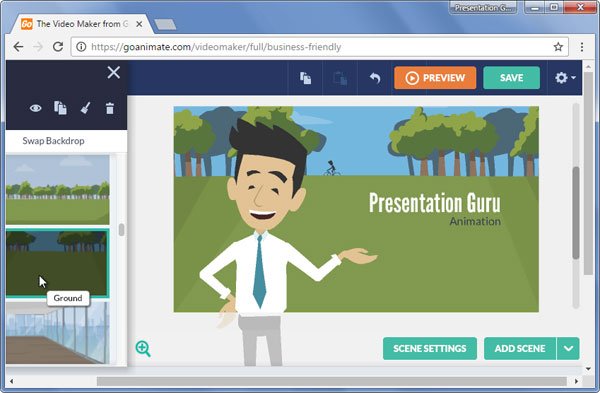 GoAnimate videos can be downloaded offline, uploaded to YouTube or used for your projects made using other software like Lectora. GoAnimate has a monthly subscription system, however, you can sign-up for a 14-day free trial to test the service.
2) Wideo
Wideo is another awesome website for making animated presentations using readymade templates, animated characters and a plethora of useful tools that can help you create animated video clips in no time.
You can start making animated presentations and video clips by either starting from scratch, or opt for a readymade template. Wideo provides a simple slide based layout to help presenters create animated videos with custom branding, animated characters, audio tracks and some awesome backgrounds. Wideo not only provides animated characters but you can also create videos using realistic imagery, such as marketing and sales video presentations with details about your product or service.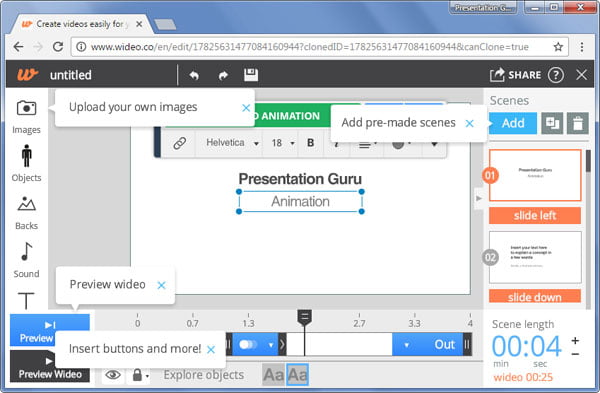 Videos made using Wideo can be downloaded offline, uploaded to YouTube and shared across social media websites.
Wideo can be used on a 7-day trial basis, with a limitation of making 30 second videos. This should be enough to test drive the service and see if you want to use Wideo as your animation maker.
3) Animation Maker
Animation Maker is another easy to use web app for making animated videos. You can make use of 120 different animation styles for making awesome video animations. The available video templates cater for all kinds of categories, such as for making animations about education, travel, business, health, food, sports, etc. Animation Maker even has templates for making animated infographics.
You can also add audio tracks and voice-over to further enhance your animated video clips. Animation Maker gives the option to export videos directly to YouTube and Facebook, as well as to download them offline.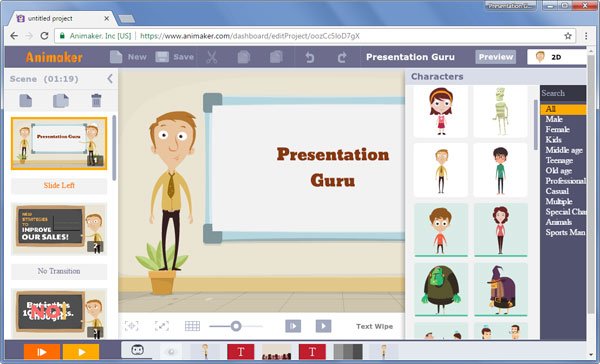 Animation Maker has a free edition with limited functionality. The free version is limited to 2 minute SD quality videos.
4) PowToon
PowToon works pretty much like GoAnimate and Wideo. You can use readymade templates for making animated presentations and video clips by designing various slides that play out in animated form. PowToon offers a lot of resources like royalty free music, animated charts and graphs, as well as online collaboration features to help you design some awesome animated presentations.
Presentations made using PowToon can be downloaded as MP4 files or uploaded to YouTube. You can also export your content in PDF or PPT format. PowToon has a Presentation Mode for making animated video presentations, and a Movie Mode, which is suitable for making video clips of a different nature, such as perhaps marketing videos, animations for a class lecture, informative video clips, etc.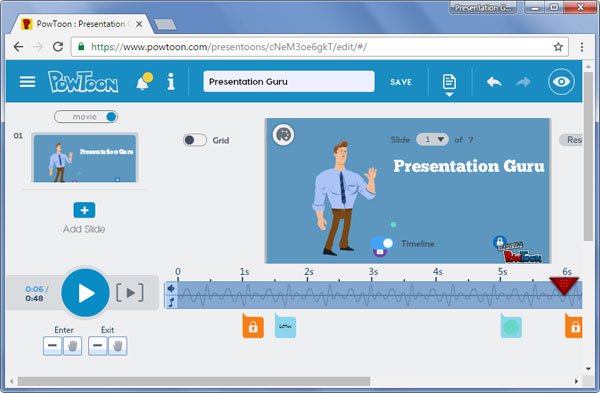 PowToon offers a free version with 100MB storage, with the option to make 5 minute video clips. The premium packages offer a lot of additional features, with the option to create HD and Full HD video animations.
5) MakeWebVideos
MakeWebVideos is so easy to use that you can create an animated video clip in just 30 minutes. There are several useful templates offered by this online video software that you can pick for making awesome video animations. You can get started by picking a video template, and follow a simple 3 step process to change the graphics, text and background music to quickly create an animated video presentation, marketing video, public service message, etc.
With easy editing features, you can create HD videos which can be downloaded offline or embedded online. MakeWebVideo gives you an estimate for your video once it's complete. It's more of a pay as you go system, where costs can vary according to the type of video you create and the resources you use.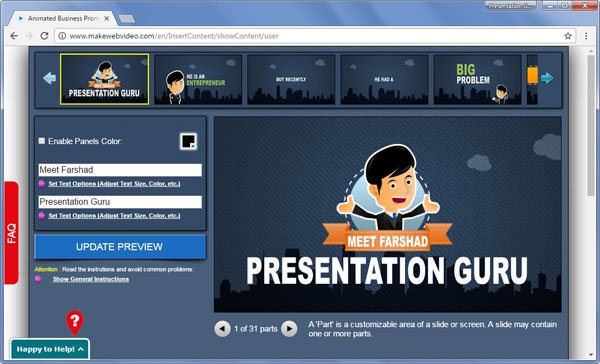 Here is an explainer video which shows how you can create animated videos with MakeWebVideos in just a few minutes.
The web services mentioned in this post include presentation services which are as easy to use as PowerPoint. These web apps offer an easy to use mechanism for presenters to create professional looking animated video presentations and clips, without the need for any graphic designing or coding related knowledge. By using your creative sense, these services can enable you to turn boring charts and confusing data into easy to understand, animated video clips, with a voice over, background music, informative text and animated characters.
If you liked this, you might also like
Create the Best Video Presentations with these Innovative Tools
How to Turn Your PowerPoint into a Video