Powerpoint
The Only PowerPoint Templates You'll Ever Need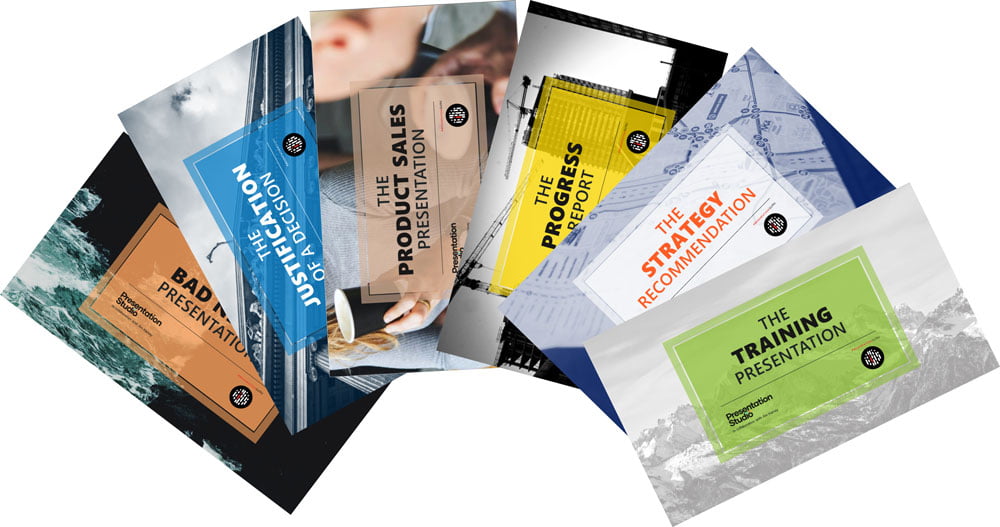 Anyone who has a story to tell follows the same three-act story structure to tell it. Whether a story is being told as a play, film, novel, article, speech or song, this simple structure is the writer's framework for telling a clear, concise and gripping tale. That's why we've taken that structure, and applied it to the six most common speeches made in business.
First we created our free download for subscribers – Six Speech Structures – A Guide for Everyday Business Presentations – and now we have created 6 beautiful templates for you to buy and use as often as you like to help you tell these stories with real clarity and simplicity.
Why are these templates different from the rest?
Too many templates are designed by PowerPoint designers rather than Presentation Experts. Certainly, they demonstrate the most fantastic graphic design skills but as our gurus all agree, the slides aren't the main event. The main event is you! The purpose of a visual aid is just that – to help the speaker get his message across in a visual way. For them to be useful the speaker and the slides must work in harmony.
If you want to be better than most presenters out there, you have to be be able to:
Create a strong story – we believe that every presentation is a story waiting to be told, and that understanding the power of the three-act story is the key to getting audiences engaged, inspired and on board with your ideas.
Design simple visuals – we believe that a good visual aid adds impact, clarity and emphasis to your message, and that a bad one distracts and confuses the crowd. There are some brilliant articles and videos available to help you create better visuals, but a great template will save you time and effort.
Present it as yourself with skill – When your story works and your visuals help, then you are ready to take the stage.
Most business presentations fail in one, two and sometimes all three of these areas.
That is why 2 of our founders, Emma Bannister, CEO of Presentation Studio, a design agency in Sydney, Australia, and Jim Harvey of The Message Business, a communications consultancy in London, UK, have developed these templates to work in conjunction with our free download, Six Speech Structures – A Guide for Everyday Business Presentations.
Each of our beautifully designed templates comes with notes, showing you not only how to design a PowerPoint, but how to construct the perfect presentation.
With our templates, the presenter notes on each slide, walk your through the process of creating the most effective presentation for your business situation. Make life easier for yourself – we've done all the work – now you just need to let us guide you along the path to creating that presentation which demands attention, has a clear and unmissable message and gets remembered.
What you get with these templates
16 – 22 different slide layouts (depending on the template)
Easy customization because the elements can be edited directly in PowerPoint
Standard fonts that everyone will have access to
126 ready to use but easy to edit vector icons
A handy help guide with advice on Formatting best practice and guidelines on using and formatting images.
Click on any of the templates below to find out more