Hardware
Let's look at Interactive Digital Whiteboards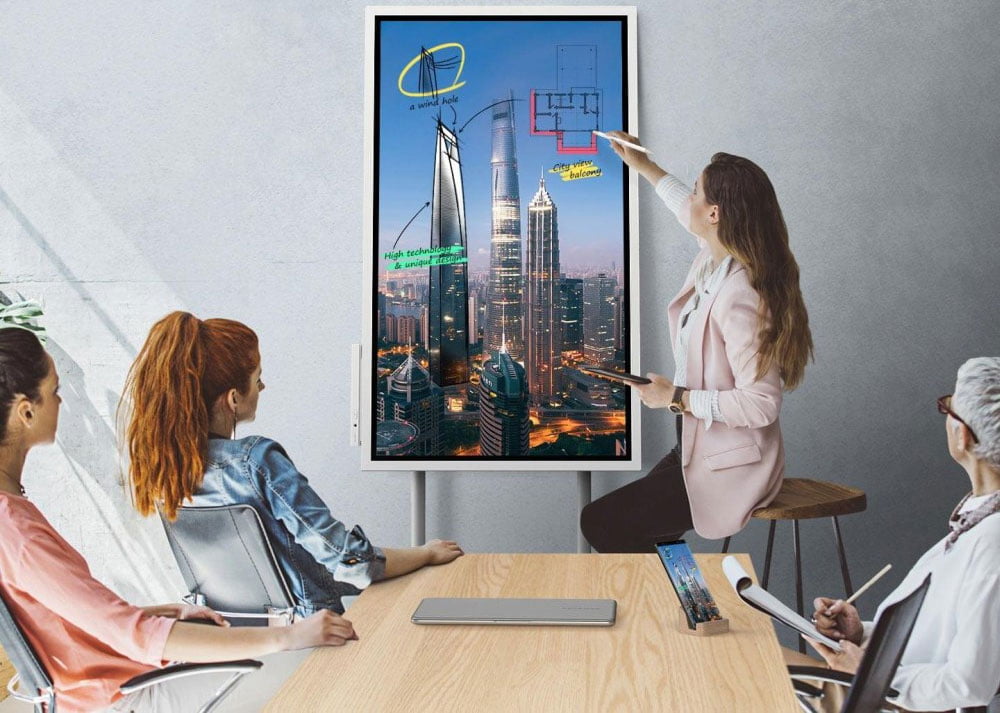 With the advent of digital whiteboards, the days of chalk and markers might just be over. While many of us might still be fond of whiteboards, they might soon change in ways we might not have imagined. The conventional blackboard or whiteboard might soon be replaced by digital devices that look like conventional whiteboards but are so much more. As these devices compete to revolutionize classrooms, meeting rooms, client interactions and the way we present presentations, here is a rundown of Microsoft Surface Hub, Google's Jamboard and Samsung Flip.
Microsoft Surface Hub
Microsoft Surface Hub has been available since 2015. It is a revolutionary device, as it combines so many of Microsoft's platforms in a collaborative whiteboard. Surface Hub combines features such as Windows, Microsoft Office, Xbox, Azure, etc. This makes it an integrated, giant whiteboard.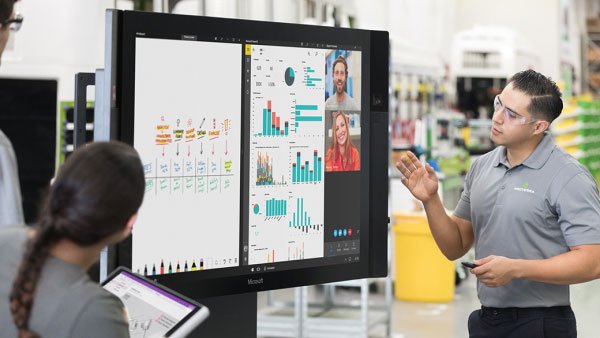 More than just a digital whiteboard, Surface Hub is more like a team computer, which is easily accessible for multiple users to collaborate, brainstorm and plan. With Surface Hub you can join a client for a call using Skype for Business, share content with colleagues, send notes, and make use of the plethora of Microsoft apps such as Word, PowerPoint, Excel, OneDrive, Power BI, as well as a range of other tools.
Microsoft Surface Hub is a whiteboard charged with all the awesome apps and features of Microsoft products. Needless to say, Surface Hub can also be a great tool for collaborative presentations.
Surface Hub is available both in 55 Inch (1080p) and 84 Inch 4K resolution models. The 55 inch model costs around $10,000, whereas the  84 Inch (4K) model costs around $22,000. These boards run on Intel's Core i5 and Core i7 processors. Surface Hub also has a number of connectivity ports such as USB (3.0 and 2.0), Ethernet, HDMI and VGA.
Google's Jamboard
Google's Jamboard is another whiteboard device which is a part of the G Suite family. Available since 2016, the Jamboard has a 4K touchscreen display, and supports a wide array of apps such as Google's very own Office apps like Google Slides, Docs & Sheets. Since Jamboard comes with the G Suite environment, end users can use it for video and voice conferencing, sharing content, cloud storage, manage users with security and administrative controls, etc.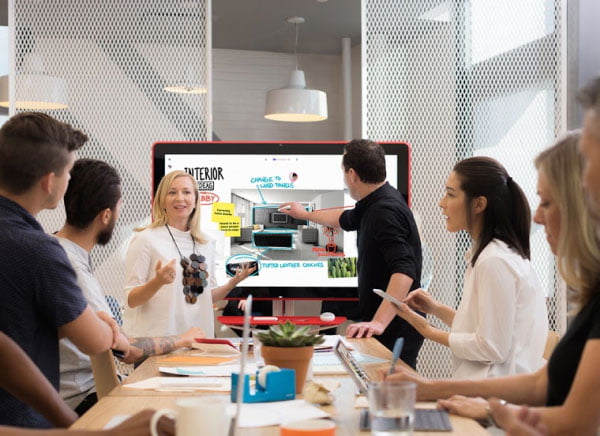 Jamboard costs around $5,000, which is far more affordable than Microsoft Hub. While the Jamboard is not as high-end as Microsoft Surface Hub, it's fun to use and provides all the basic features you would need to use it as a collaborative digital whiteboard. Unlike Microsoft, Google is currently offering a 55 inch board, however, with 4K resolution and a lower price. The Jamboard comes with connectivity options like HDMI 2.0, USB ( C, 2x and 3.0), Wi-Fi, and Google Cast.
Samsung Flip
Samsung Flip is a new edition to digital whiteboards. Like the Jamboard it comes with a 55 inch screen and a powerful display (UHD resolution). What makes Samsung Flip really useful is its flip feature. You can flip it horizontally or vertically according to need. The rest of the features pretty much resemble that of Jamboard and Surface Hub.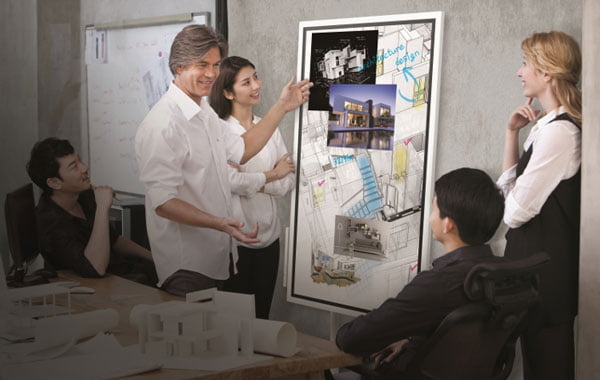 Samsung Flip comes with connectivity options for wireless connectivity, USB 2, PC, and mobile ports. Samsung Flip is expected to be half the price of Google's Jamboard and is likely to be the cheapest of the lot.
Conclusion
When comparing the three whiteboards, we need to consider the cost and features offered by all three. Surface Hub comes with some really good features and powerful processing capabilities, however, it is more suited for medium size to large corporations. Jamboard on the contrary is a more affordable option for classrooms and small businesses. And if you're looking for something even simpler Samsung Flip might just be the device you need.
If you liked this, you might also like
The Best Digital Whiteboards for Presenters