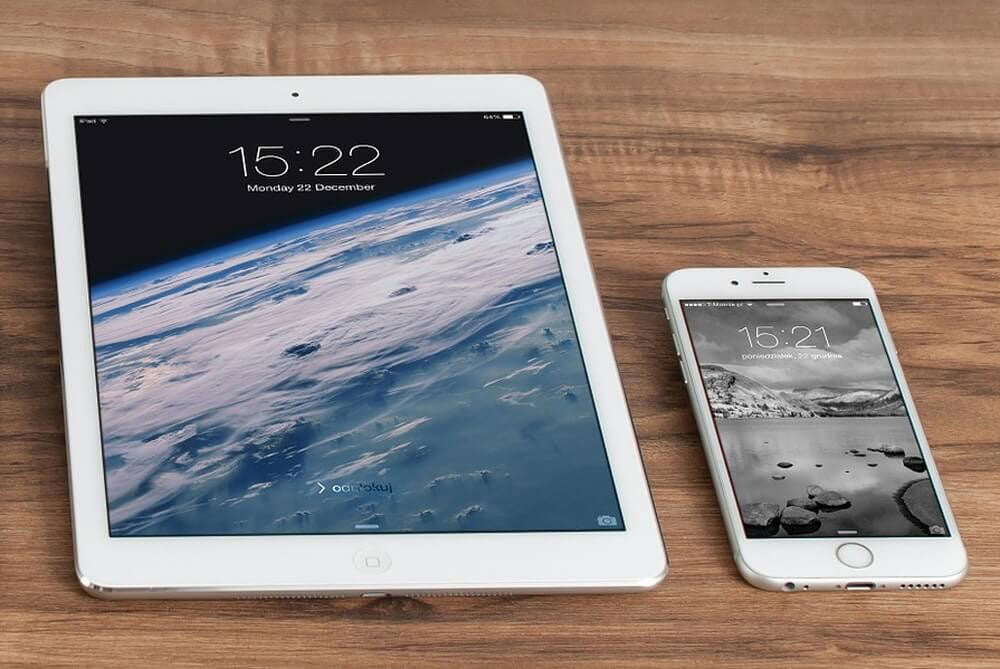 In the wake of the demise of Symbian phones, the near death of BlackBerry and the expensive failure called Windows Phone, there are two obvious mobile OS competitors still standing: Android and iOS. As smartphones, tablets and phablets invade the mobile market, it is only a matter of time before desktop operating systems face the prospect of extinction, unless they somehow evolve. In the wake of this shift, it is necessary for presenters to gear up for things to come.
In a previous post we brought you our list of the best presentation apps for Android. This time we have compiled a similar list for iOS devices. The presentation apps listed below are a combination of applications meant to help presenters create, edit, view, present and remotely control presentations using iDevices.
[This article contains affiliate links. For more information, see our disclosures here.]
1) PowerPoint
Maybe it's my bias being a PC guy or maybe because Apple is too high and mighty to let Keynote evolve with better cross-platform compatibility. Either way, PowerPoint for iOS is number one in our list of the best presentation apps for iPhone and iPad.
Many end users have complained about the need for an Office 365 subscription that is required to use PowerPoint for iOS, considering there have been a plethora of free apps providing PowerPoint support on iDevices even before this app was launched.
However, like all good things in life, it is only natural that PowerPoint for iDevices isn't exactly free. While you can get the app for free via the App Store and create or edit documents by signing in with a free Microsoft account, to make the app really worth using, you would need to log in using an Office 365 account.
PowerPoint for iOS brings the famous desktop presentation to iDevices with support for charts, tables, SmartArt Graphics, animations, transitions, speaker notes, etc. Furthermore, like the desktop editions of PowerPoint 2013 and 2016, PowerPoint for iOS also provides a built-in laser pointer, pen and highlighter. Other options include integration with OneDrive, Dropbox & SharePoint.
With PowerPoint for iOS you not only get all great features of the desktop edition of PowerPoint but you can also wirelessly project a presentation using AirPlay, as well as control your slides using an Apple Watch.
Since PowerPoint is available for a wide variety of platforms like Windows, Mac, Android, iOS, Windows Phone, and provides cloud based variants in the form of PowerPoint Online and Office 365, it is much easier to use PowerPoint files for presentations. In fact, many third-party services and apps like Google Drive, SlideShark and WPS Office also provide support for PowerPoint files.
However, it is safe to say that native PowerPoint support on iDevices from the official PowerPoint app by Microsoft is the best option for creating, editing and viewing presentations on an iPhone or iPad device.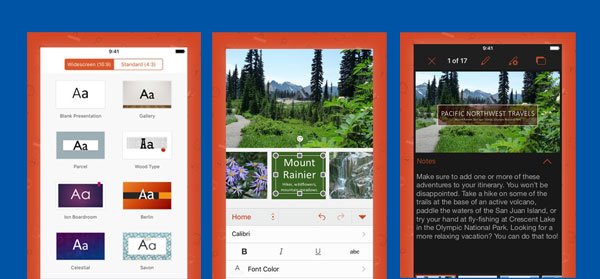 2) Keynote
When it comes to making quality presentations, Keynote is an app that cannot be ignored. While there is no real way of using Keynote on a PC or Android device, it is one of the most commonly used presentation apps for Apple users.
For those who have never used Keynote, it gives a plethora of PowerPoint like features for making presentations using readymade themes, with support for adding charts, tables, shapes, etc. Like PowerPoint, Keynote has also added collaboration features (currently going through the beta stage).
Just like OneDrive for PowerPoint, Keynote too provides cloud integration using iCloud. By all means, Keynote is a powerful presentation and there is no shortage of third-party templates which come with some extraordinary graphics and attention grabbing themes.
Other than Apple devices, the iCloud web app allows creating and editing presentations using an internet browser. This unfortunately is the only option for using Keynote other than on an Apple device. This restricts the scope for using Keynote files for presentations and since we live in a PC world, cross-platform compatibility is still a major hurdle for Keynote users.
That said, Keynote is still one of the best presentation apps for presenters and this is why it's number 2 on our list for recommended presentation apps for presenters using iPhone & iPad devices.

3) Google Slides
While Google Slides isn't the kind of app which provides killer features, it is decent enough to get the job done. Google Slides provide support for PowerPoint files and this app by Google has come a long way since Google Drive apps were rebranded a few years back.
If you're looking for a decent iOS app which is free to use and can help you create, edit and view presentations from popular formats (e.g. PowerPoint & PDF presentations), then Google Slides isn't a bad option. Lately, Google Slides templates have improved in quality and third-party template providers for this underrated platform have also begun providing high-quality templates. While Google Slides lags far behind PowerPoint, as we discussed in our comparison of Google Slides Vs PowerPoint, this poor man's PowerPoint still deserves a bit of love.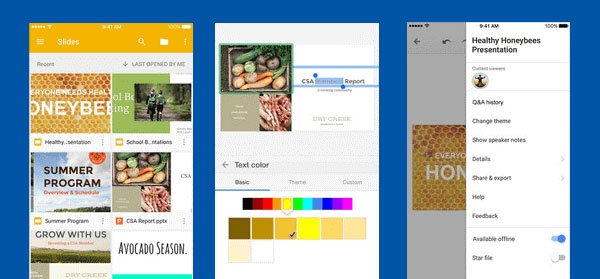 4) Adobe Spark Video
Adobe is known to produce high-quality applications. Ranging from its high-end apps like PhotoShop, Premiere Pro to the free Adobe Reader that millions of users use to view PDF files; Adobe is a name tied to quality apps. Adobe Spark Video is a little known presentation app that can help you create studio quality video presentations.
Unlike most low-end or mid-ranged Android devices, iPhone and iPad devices tend to be more efficient in offering the kind of hardware which can help record better quality videos. This is perhaps the reason apps like Adobe Spark are usually not available for Android. While an Adobe Spark offering for Android is currently in development, it is likely that it might only work with high-end devices. The point is that iDevices have the kind of hardware that gives an edge in making video presentations. You might make such a presentation or video clip by interviewing people on the streets or by capturing an extraordinary event on your mobile device. Such video clips can add a powerful touch to your presentations and enable you to reach out at a very personal level to win hearts and minds.
Coming to Adobe Spark features; you can create videos with a voice-over using an iDevice, add a soundtrack and let the app do its magic. You can choose from an archive of more than 25,000 images and icons for your visual stories and let Adobe Spark automatically render your videos with cinematic animations to give your video presentations and clips a professional look. You can also choose between various themes, fonts and upload videos online.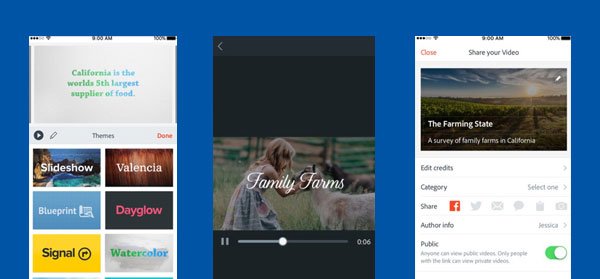 5) HaikuDeck
HaikuDeck can be used for making attractive presentation decks via iPhone, iPad or web. You can begin making presentations on an iDevice by logging in using your HaikuDeck account, pick a template and start making slides using all major features you would expect in a good presentation app.
What makes HaikuDeck worth using are the very attractive graphics, availability of a plethora of images, a wide range of useful layouts and the ability to publish your slides online. HaikuDeck is not just a presentation maker but also an app you can use to present presentations in fullscreen mode on iOS devices. Needless to say, you can connect your iDevice to a projector to use HaikuDeck just like Keynote or PowerPoint to present professional presentations.
HaikuDeck has a free and a paid version, with the utility to opt for in-app purchases. But that's not a bad thing. The high-quality graphics and imagery in premium content (e.g. premium templates) are worth the cost.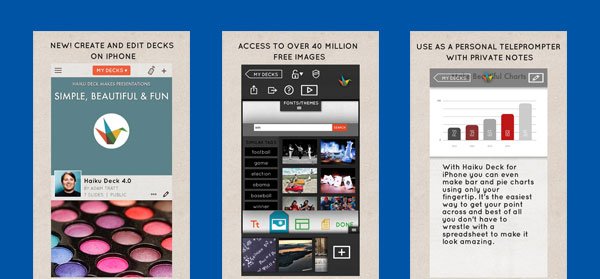 6) SlideIdea
SlideIdea is the kind of unique app that can help presenters make their presentations more attention grabbing. The app supports three formats, i.e. PDF, PowerPoint and the app's very own SLD format. The app comes integrated with OneDrive, Dropbox, Google Drive, Box & KingSoft Cloud to help you instantly import an existing slide deck for remodeling.
You can either import a slide deck or make one from scratch using some very attractive templates offered by SlideIdea. The editing features are similar to PowerPoint and Keynote, with a vast library of slide elements, support for whiteboard, animations and some handy transitions to switch your slides in style. Furthermore, you can add audio recording and video clips to create Slidecasts, as well as engage your audience using online polls.
SlideIdea is only available for iPad and works with devices running iOS 5.0 or above.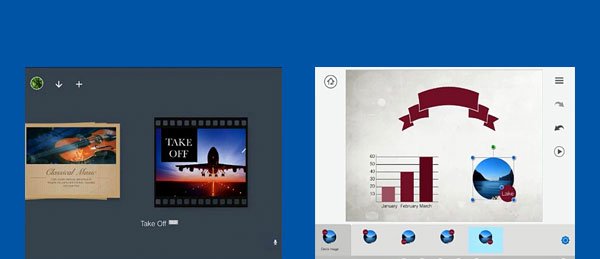 7) Prezi Viewer
It is sad to see that Prezi only has a Prezi Viewer for iDevices. Like its Android counterpart, this app is good for viewing and presenting Prezis. Since you can't make Prezis on iDevices using an app, Prezi Viewer is only useful for presenters looking to use their iDevices for presenting Prezis.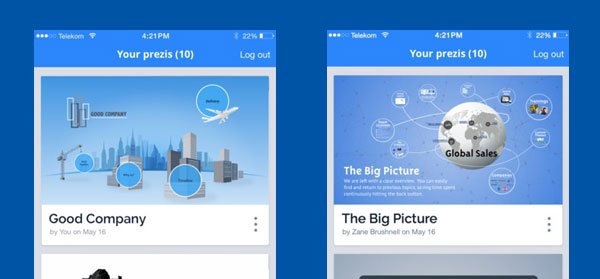 8. SlideShark
Back in the day, SlideShark was one of the top presentation apps for iOS. However, since the advent for PowerPoint for iOS, its importance has arguably diminished. SlideShark is another app that can be used for viewing and presenting presentations. SlideShark supports uploading, viewing, presenting and sharing PowerPoint presentations while retaining original fonts, animations, colors and graphics. Moreover, there are a number of handy annotation features that can help you annotate slides during a Live presentation.
SlideShark also gives the utility to broadcast presentations online to share them with your audience during a Live presentation. The premium edition of SlideShark also supports PDF files.

9. MyPoint PowerPoint Remote
This is a simple app for remotely controlling PowerPoint slides running on a PC or Mac computer. You will need to install the connector app for your computer, as well as the iOS app for MyPoint PowerPoint Remote on your iDevice.
You can start your SlideShow directly from an iDevice remotely and instantly begin controlling your slides. The app has some advanced premium features that you can opt for, these include annotation tools like a pointer and marker, as well as a timer to time, rehearse and see the elapsed time for your slides.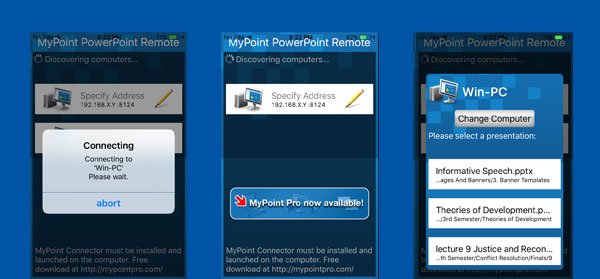 10) Video Teleprompter
While iDevices have always had some good teleprompter apps, this one is as good as it gets. Video Teleprompter not only allows you to instantly turn your iPhone or iPad device into a teleprompter to read out a script but also enables recording video presentations.
The on-screen teleprompter can play your script and at the same time record your video using your iOS camera to enable you to create a video presentation or podcast.
Video Teleprompter provides good legibility for text that scrolls on your screen and makes it possible for you to face the camera while reading your script as if you are talking to your audience. Hence, it serves the dual purpose of acting as a teleprompter and video recording tool, which makes it perfect for making video presentations or video clips that you might want to include in your slides.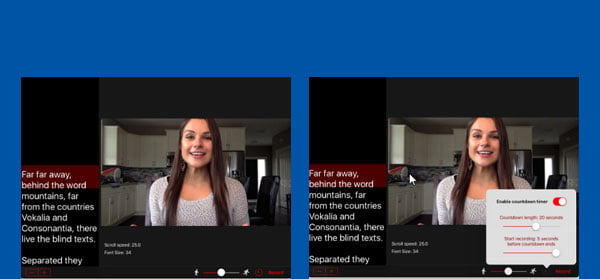 We hope our list of the best presentation apps for iPhone and iPad gave you some useful ideas for making more robust presentations using iDevices. The apps mentioned above can not only be used as standalone presentation apps but you can also use a number of these apps to add something special to your presentations. In fact, you might find it very useful to use some of the above mentioned apps in conjunction to design high-quality slides, video clips and to present them using an iPhone or iPad device.
If you know of an awesome iOS presentation app which you believe should have been included in this list, do share your views with us by leaving a comment below.
If you like this, you might also like
How to Present PowerPoint on iPads and iPhones