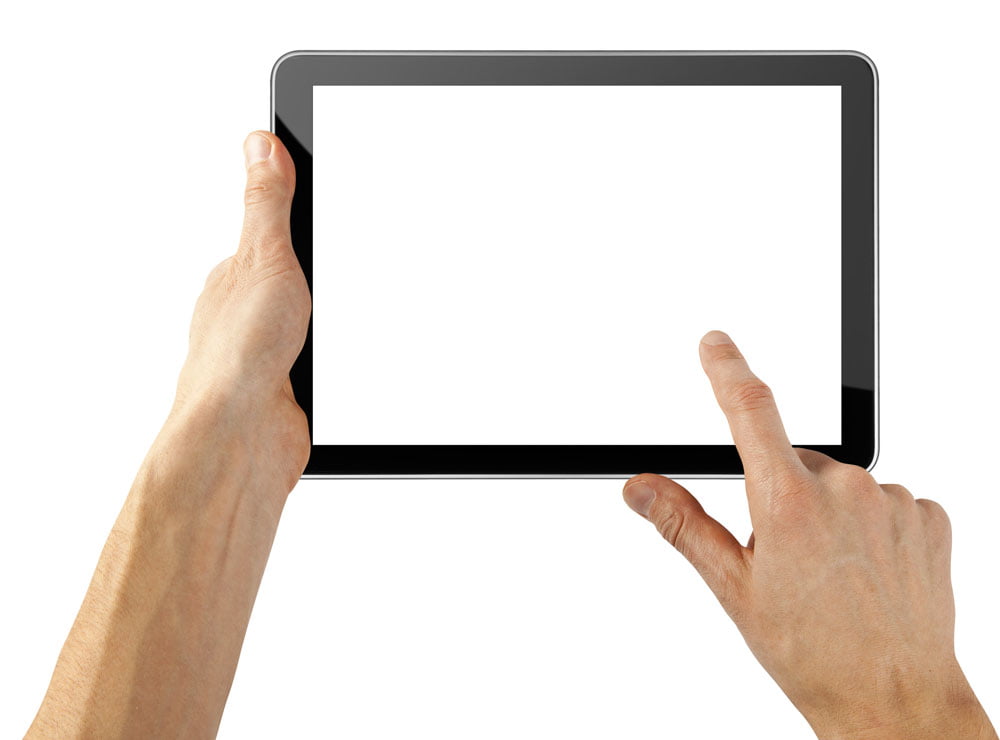 With the growing popularity of smartphones, it's important for all presenters to know the advantages of using one for a presentation. While we've mentioned presenting on Android devices before, Farshad now gives us an in-depth review of SlideShark, an app for IOS devices that can help you rock your next PowerPoint presentation – all from the palm of your hand. 
Carrying your laptop to conferences and meetings can be quite a hassle. In fact, some people even end up having a shoulder strain. This is why many people are looking for lightweight mobile alternatives for their heavy laptops. But just because you have a high-end mobile device or a powerful tablet doesn't itself guarantee mobile convenience. Unless, you have the right apps installed on your mobile device to ease your burden.
If you're someone who needs to deliver presentations frequently and want to present your slides via an iDevice, then SlideShark is an app that you should definitely try.
Present & Annotate PowerPoint Presentations Directly from an iOS Device
SlideShark is an iOS app which enables presenting PowerPoint files using an iPad, iPhone or iPod Touch device. SlideShark supports PPT, PPTX and PPSM files and if you upgrade to the premium version, you can even present PDF presentations.
A few years back when I used SlideShark, uploading PDF files wasn't restricted, however, lately the app seems to have reserved this feature for premium users. So, while the app is free and the free version pretty much performs various handy functions for presenting and annotating your slides, you might need to upgrade to the premium edition for more advanced features.
Login to Import Presentations
You can start using SlideShark by logging-in with a free account. This free account comes with certain limitations which can be removed with an upgrade to a premium account. The free edition is pretty much like a trial account and gives you just enough features to test the app or perform basic functions.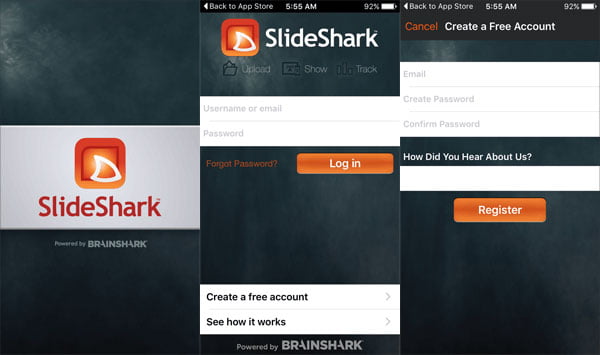 Import PowerPoint Presentations from Cloud Accounts
After logging-in, you will be greeted with a brief walkthrough of basic features, after which you can begin importing your presentation files via various cloud accounts.
While you cannot create new presentations on SlideShark, you can import them from a number of cloud storage services. Once downloaded, you can begin presenting your slides and even broadcast them Live to an audience. Furthermore, SlideShark supports animated PowerPoint presentations – videos within slides and enables activating an on-screen laser pointer during Live presentations.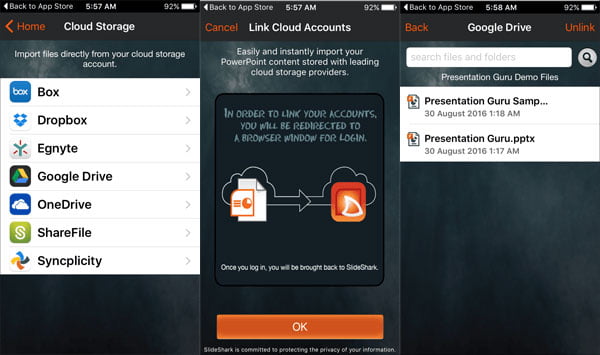 Present PowerPoint Presentations Directly from iDevices
While mobile devices have come a long way from the era of dumb phones, many presenters still find it hard to use them for presenting their slides. This is where apps like SlideShark are a game changer. With SlideShark, you can connect your iDevice to a projector, TV or monitor using VGA/HDMI cable or AirPlay and begin presenting your slides with various annotation options.
To present slides, you can tap or swipe left to advance and swipe right to go back. To view all your slides at once, swipe upwards. Swiping towards the top of the screen also reveals various other options to share, broadcast and annotate your slides.
Note: It is worth mentioning here that while SlideShark supports PowerPoint animations, it does have some limitations. These include; no support for GIF animations, transitions, macros and some advanced animations.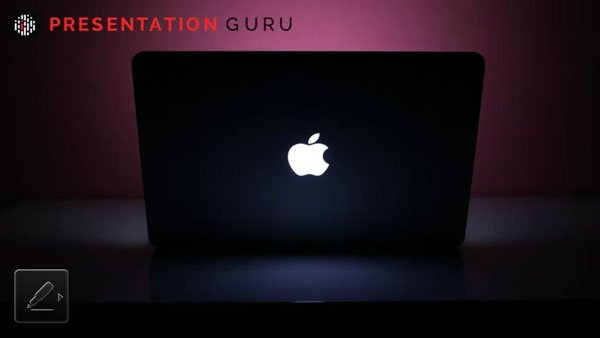 Annotate Slides During a Live Presentation
Once you begin your slideshow, you will see a number of handy annotation options when you tap the annotation menu. You can pick different colors and choose a marker size to annotate your slides. You can remove annotations anytime using either the Eraser or tap the 'Clear' option to remove all annotations at once.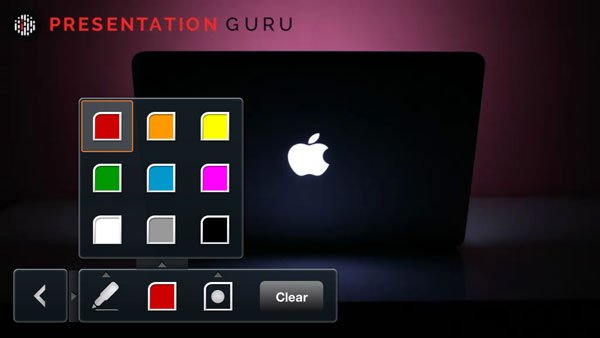 Your annotations can not only be viewed by your immediate audience but also people following your Live broadcast via the web. You can also use the laser pointer feature to highlight specific parts of your presentation.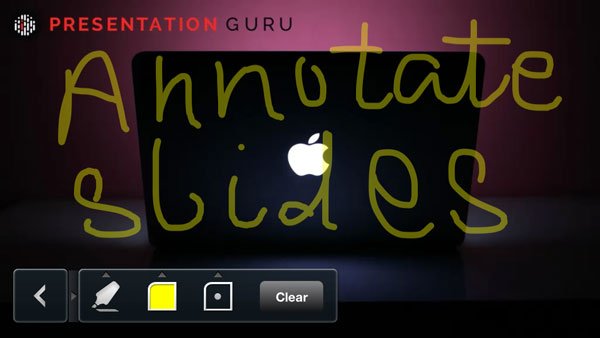 Built-in On-Screen Laser Pointer Feature
With SlideShark there is no need for you to invest in a fancy laser tool, as you can turn your iPhone or iPad device into a laser pointer. To activate the laser pointer, press and hold your iDevice screen till the pointer activates. The below screenshot shows the laser pointer in action.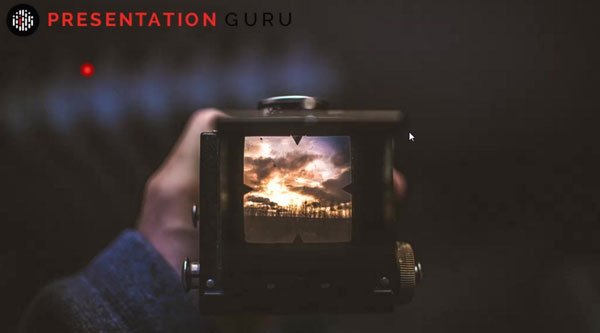 Broadcast Slides During a Live Presentation
Using the Broadcast option, you can instantly broadcast your slides to your audience. You will be provided with a URL that you can use to share your slides online. This URL will enable people in your audience to instantly follow your slides on internet connected devices via browser. You can even allow people to download your slides.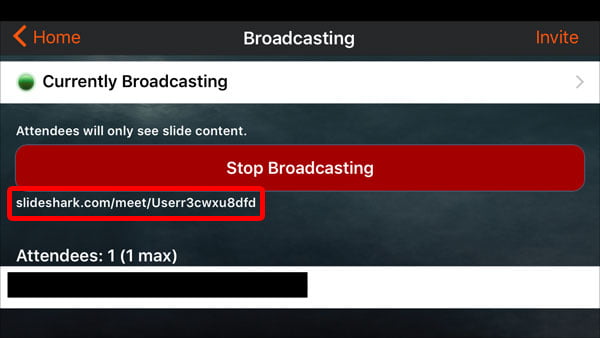 Manage Presentations from any Internet Browser
Other than iDevices, you can also manage your presentations by logging in to SlideShark.com. You can even upload presentations directly after logging in via browser. As compared to the free edition, premium users get better presentation management features, which includes complete broadcast and management of your slides.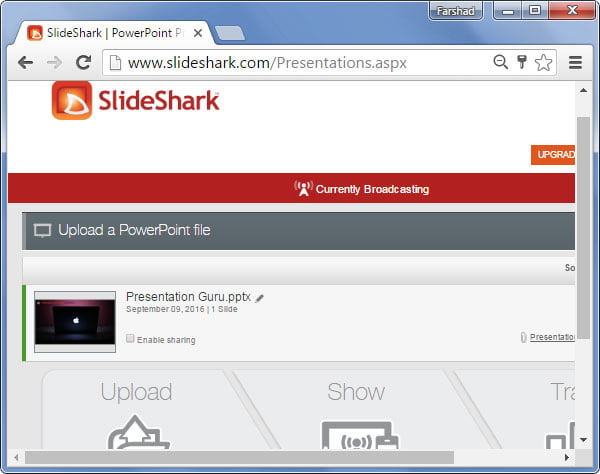 Introduction to SlideShark
You can get a brief introduction to SlideShark from the video given below.
The Verdict
While SlideShark doesn't offer editing features like PowerPoint, you might still want to use this app, if you're a professional presenter; be it the free edition or the upgraded premium version.
This is because with SlideShark you get some very handy annotation features on iDevices, not to mention a built-in laser pointer function, which is somewhat similar to the laser pointer you get in the 'Reading View' in PowerPoint. Moreover, SlideShark's premium edition sports some features which can turn it into a sales enablement platform. These features include; the ability to follow-up with people in your audience, using email alerts, and viewer tracking to learn about who viewed your slides and which slides gained the most attention.
SlideShark has separate packages for individuals & businesses. The latter also allows you to present and broadcast slides using a computer, as well as to work and collaborate on presentations as a team. The Individual Edition is limited to attendees, whereas the Business/Team Edition allows broadcasting slides to as many as 25 attendees.
SlideShark is the kind of app which might not appeal to all kind of presenters, as some might want to opt for an Office 365 subscription to use the PowerPoint app for iOS. Moreover, unlike SlideShark, PowerPoint for iOS also enables creating and editing PowerPoint presentations. However, if you're someone tired of carrying your laptop and want to turn your iDevice into a robust presentation tool, with the utility to broadcast slides Live and track audience response, SlideShark might just be what you need.