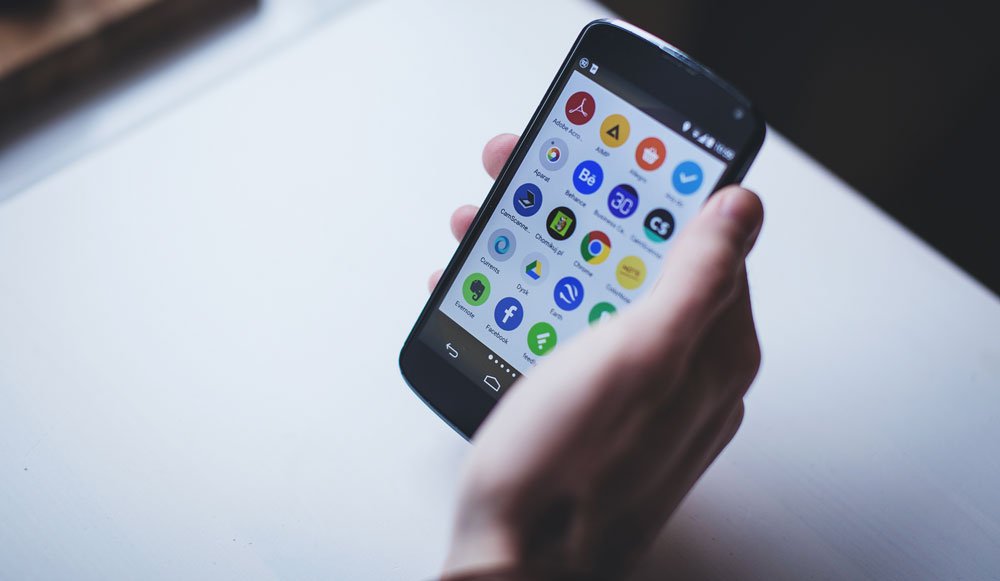 Desktop computers have become a rare commodity these day and although laptops are holding on to the last shred of anything that doesn't resemble a smart device, it might not be long before they might be replaced for good. Even modern laptops have begun to resemble smart devices, as hybrid models aim to replace the conventional laptop.
Whether you are a PC user or someone who favours Mac, the chances are you need to be ready for a world ruled by Android. In fact, many PC and Mac users already own an Android device.
To help presenters prepare for things to come, we have compiled a list of the best presentation apps for Android. This list consists of not only apps that can be used for making and presenting your slide decks but also apps which can help you turn your Android device into a presentation remote or a tool for remotely delivering your presentations.
[This article contains affiliate links. For more information, see our disclosures here.]
1) PowerPoint for Android
According to some estimates there are 30 million PowerPoint presentations delivered per day. It can be safely assumed that most presenters globally use PowerPoint for delivering their slides. Even many who use alternative apps, usually make use of applications which support PPT files. This is why PowerPoint for Android is number one of our list of best presentation apps for Android.
While users have complained about the need for an Office 365 account to use the PowerPoint app for Android, however, there is no denying the fact that it is indeed the real deal when it comes to Android presentation apps. PowerPoint for Android supports many features that many so called PowerPoint alternatives on the Play Store have failed to provide. This includes features like: support for PowerPoint charts; transitions and animations; and integration with SharePoint and major cloud storage services.
You can access files from not only your Android device but also via OneDrive, Google Drive, box, DropBox and SharePoint. Furthermore, you can create, edit and present presentations right from your Android device.
PowerPoint for Android is not without its limitations, as it is not as powerful as its desktop version. Unfortunately, you cannot do much with the app unless you are logged in with an Office 365 account.
If you're wondering why would you use a paid app instead of the dozens of free alternatives on the Google Play Store, the answer is simple. PowerPoint for Android not only provides support for many native features that other apps can't provide but also enables making high-quality slides; something a professional presenter desperately needs to have.
Furthermore, your imported PowerPoint files will not have any missing charts, animations or pixelated images when you open them on Android. Moreover, you can safely use PowerPoint for Android for presenting your slides by connecting your Android device to a projector using a PC, Chromecast, Miracast, etc.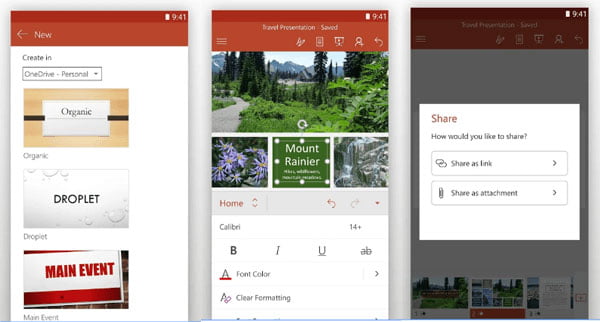 2) Google Slides
If you don't want to pay for an Office 365 subscription, Google Slides is the next best alternative. What started as a cloud based imitation of PowerPoint has come a long way. While Google Slides has a long way to go, as explained in our post about Google Slides Vs PowerPoint; it gives adequate options for making a good looking presentation.
With the Google Slides app for Android you can create, edit and present your presentations from an Android device. Furthermore, it supports PowerPoint files, which can help you use this app as a free alternative to the Office 365 subscription based PowerPoint for Android app.
If you've never used the web based version of Google Slides or haven't tried it since its rebranding, it has come a long way. A few years back I would not have fancied importing a PowerPoint presentation to Google Slides but all that has now changed. The imported PowerPoint files have much better editability and few slides (if any) get botched after import.
The only downside of using Google Slides is that you can't do much without internet connectivity. For example, you need online connectivity for making a presentation. This can be a buzzkill for people looking for an app they can use without keeping their mobile data packages on when making slides on the go.
Needless to say, Google Slides comes integrated with Google Drive and gives you access for your presentation files via your Google account. While Google Slides is no PowerPoint, however, it can help you get the job done with all basic functions a presenter might need. Furthermore, it's also a good enough option for viewing and editing PowerPoint files for free on an Android device.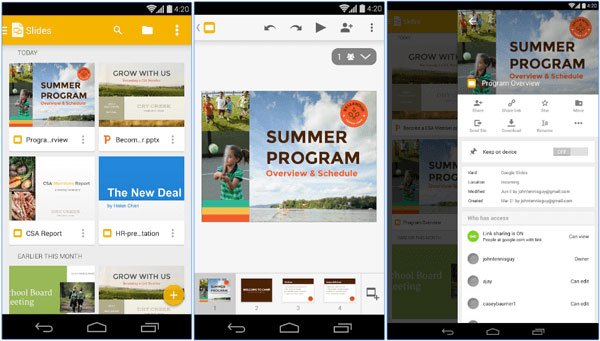 3) WPS Office+PDF
I have been using WPS Office for as long as I have owned an Android device. This is one of the oldest Office Suites for Android and one of the best ones available for free. With WPS Office you can create, view and edit Office files, including presentations, with support for PowerPoint files.
WPS Office also provides a number of other handy functions, such as wireless printing support for Office and PDF files, a reader-friendly mobile mode for PDF files and documents, built-in image editing functionality, track changes, etc.
It can be safely assumed that after PowerPoint for Android and Google Slides, WPS Office has the features and smooth functionality which makes it a viable Android app for creating, viewing, editing and presenting presentations.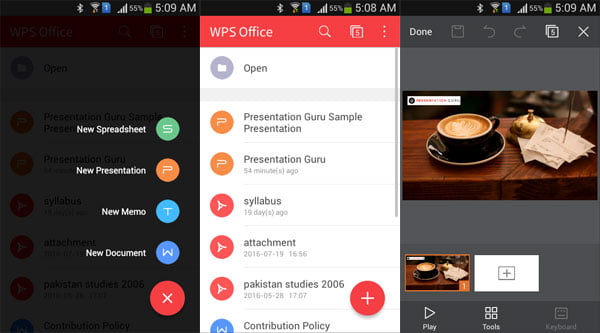 4) Polaris Office+PDF
Many Android devices come with the Polaris Viewer, which makes it possible to view MS Office files on Android devices. Polaris has many apps for Android, including separate apps for LG devices, Symantec mobility suite, and an enterprise version known as Polaris Good. Polaris Office+PDF is a free Office suite which can be used for viewing and editing MS Office files, including PowerPoint presentations.
Polaris Office also provides a number of other useful features, such as the ability to take notes with handwriting, passcode protection for documents, document sharing and commenting features, etc. Polaris Office+PDF is a free Android app, which offers in-app purchases.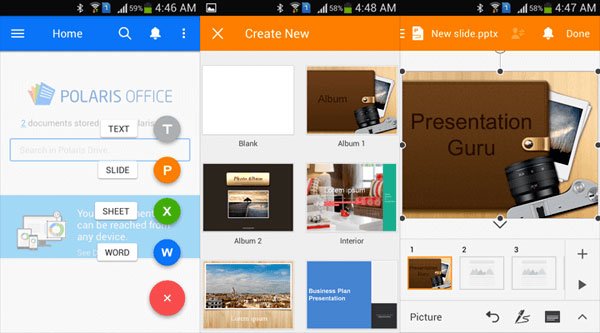 5) Smart Office 2
Smart Office 2 for Android is one of many Office apps which came way before Microsoft woke up from its slumber. This app is not just a mere PowerPoint alternative for Android but an entire Office suite. Smart Office 2 is a free app, which supports creating, editing, viewing, printing and sharing Word, Excel and PowerPoint files. It also provides support for viewing PDF and image files, including GIF animations ad Vector Graphics (WMF & EMF).
Smart Office 2 also enables converting Office files to PDF format, with the utility to annotate PDF files. You can use Smart Office for presenting PowerPoint and PDF presentation using your Android device. Smart Office 2 also gives templates for creating Office files, including PowerPoint presentations.
While Smart Office 2 is not as feature rich as PowerPoint for Android or Google Slides, it does serve as the poor man's PowerPoint and can perform many basic functions you would expect in an office suite. Something that I personally find lacking in this app is the lacklustre interface and slower functionality. This is why WPS and Polaris Office are ranked higher in our list.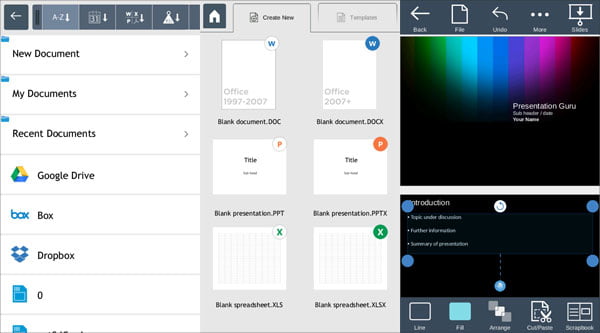 6) ShowPad
Presentations aren't necessarily supposed to be all about PowerPoint slides. There are many useful apps that can go beyond support for PPTs and actually deliver a platform which can make professional presenters stand out from the crowd. ShowPad is one such service, which makes it possible for presenters engaged in sales and marketing to deliver robust presentations on the fly.
ShowPad is a sales enablement platform. In other words, it is a service which allows bringing together all your marketing data to create custom presentations according to specific customer needs. This might include PPTs, PDF files, Word documents, videos and relevant images.
The ShowPad app for Android is an extension of the ShowPad web service, which gives a plethora of options to access sales data for presenting your sales pitch anytime, using interactive tools. ShowPad is a paid service which can be tested out using a free trial account.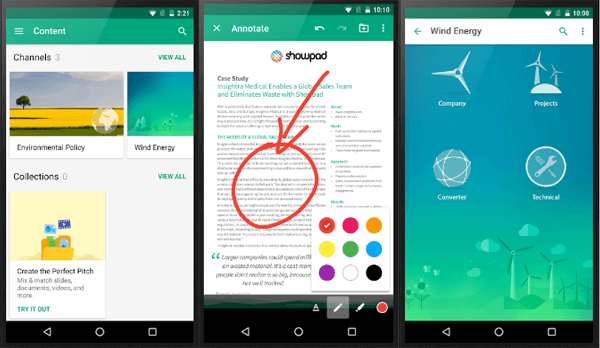 7) MightyMeeting
MightyMeeting is not your average presentation app, as it integrates web conferencing with polls, whiteboards and PowerPoint slides to provide a comprehensive platform for presenters. MightyMeeting is perfect for remote presentations and for delivering your presentation during a webinar or online conference.
Like ShowPad, MightyMeeting app for Android is an extension of a web service. You can instantly start online meetings, invite attendees and begin presenting your content using PowerPoint slides, whiteboards, videos and even conduct polls to gather opinion from meeting participants.
MightyMeeting is a paid service but you can take it for a spin using a trial account. Read a more detailed review of MightyMeeting here.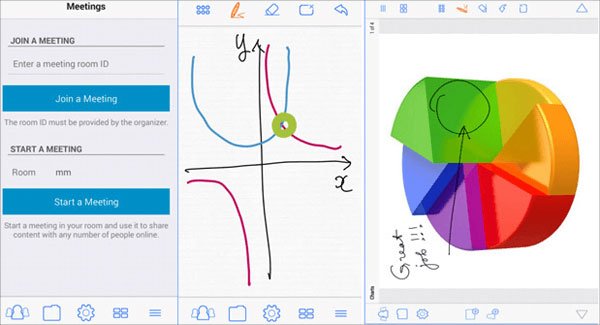 8) AIO Remote
You might have used apps that turn your Android device into a presentation remote. And when it comes to the best Android presentation remote app, AIO Remote is a clear winner. When I first installed this app, I didn't expect much, however, I was amazed by its smooth functionality and wide range of features.
AIO Remote can not only be used if you are presenting PowerPoint slides on your computer but even if you are using another presentation app. This is because AIO has features for controlling not just PowerPoint slides but your entire computer. With AIO Remote you can control your mouse pad, turn your Android device into a joystick, browse your PC files, control your media player, as well as create custom remotes by specifying control variables.
AIO Remote for Android is free to use and works with Windows, Mac and Linux. AIO also has a mobile version for Kindle tablets. You can connect AIO Remote via Android to your computer using a Bluetooth or Wi-Fi connection.
You can find a more detailed review of AIO Remote here.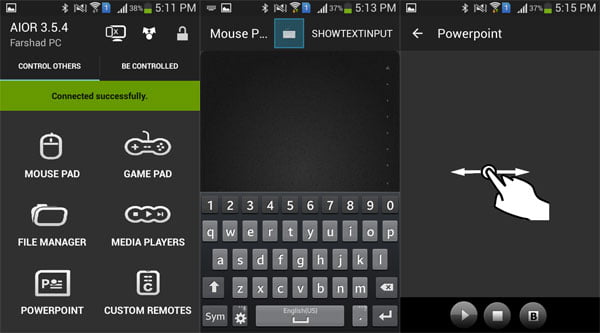 9) Office Remote
Office Remote is an official app by Microsoft which is meant to remotely control Office apps on PC using Android devices. Office Remote can not only control PowerPoint running on a PC but also other Office apps like Word and Excel.
Office Remote is a free app and requires Bluetooth connectivity between a PC and Android device. Like any remote control app for Android, you will require installing a desktop plugin for MS Office on your PC and the Android app for Office remote on your Android smartphone or tablet.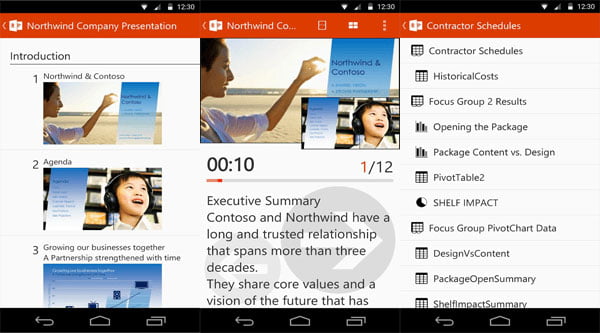 10) AirDroid
When it comes to Android apps providing remote control, AirDroid is indeed a novelty. This is not your conventional Android remote, since it does pretty much the opposite of what AIO Remote and Office Remote Offer; i.e. you can remotely control your Android device via PC, Mac or web browser.
Now, being a presenter you might be wondering what good can AirDroid be for you? The answer is simple. AirDroid be useful to remotely accessing your Android device to Mirror it on a PC or Mac connected to a projector. Moreover, you can use it to remotely send SMS, transfer files, control your mobile camera, play and manage audio and video files, as well as transfer files to your computer without the need for wired connectivity.
In other words, whether you want to mirror your Android on a projector via computer, remotely control your Android device during a presentation or need to quickly transfer a file from your Android device to a computer, AirDroid can help you do all that. Furthermore, if you intend to share something like a WhatsApp chat, video or need to demonstrate something using your Android device, you can show it all on the big screen.
AirDroid is a free app but offers some in-app purchases.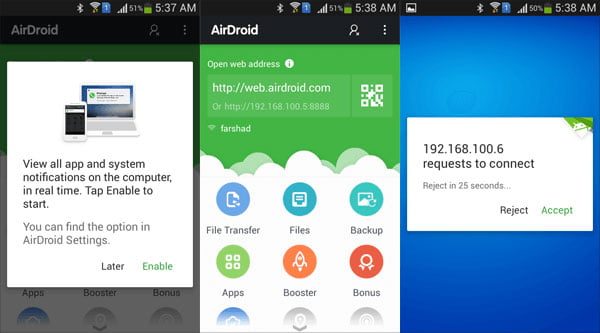 The above list is meant to provide our fellow presenters with useful apps to help them use their Android devices more effectively for presenting presentations. We excluded apps which we thought were not user-friendly enough or lacked essential features.
This is why Prezi did not make it to our list. Unfortunately, Prezi currently only has a Prezi Viewer for Android and its mobile site doesn't make it any easy to create presentations from an Android browser.
Similarly, we did not include many presentation remote apps, since the ones mentioned in this post come with comprehensive features that are hard to match by other Android apps.
If you think we missed out a presentation app for Android which should be on this list, feel free to share your thoughts via our comments section.