Resources
The Best Websites for Google Slides, Prezi and PowerPoint Templates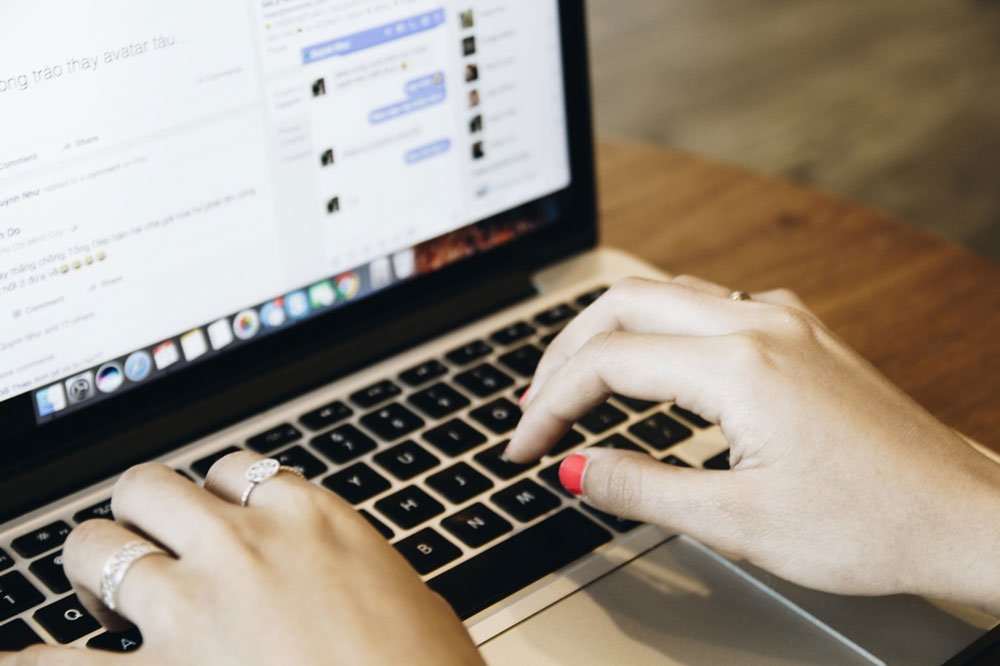 [This article contains affiliate links. For more information, see our disclosures here.]
We have compiled a list of template providers for Google Slides, Prezi and PowerPoint, including some which offer templates that are compatible with more than one platform. While PowerPoint and presentations are almost deemed synonymous by most presenters, other alternatives have also been slowly replacing PowerPoint to some extent. For example, what is now known as Google Slides started as Google Docs, which was used for managing Office files from the cloud. However, Google Slides is now a fully loaded platform.
While Google Slides still has a long way to go, as we discussed in our post about Google Slides Vs PowerPoint, it has its own place among presenters looking to use a free cloud based app for viewing, making and sharing presentations. Similarly, Prezi has its own market niche for presenters looking to make zooming presentations.
For the purpose of this post we have focused mainly on websites that offer Google Slides and Prezi templates, with some websites that offer cross-platform compatibility. If you're interested in websites only offering PowerPoint templates, see our list of the best websites for downloading PowerPoint templates.
Free Google Slides Templates [Google Slides]
As is obvious from the name, Free Google Slides Templates is a website for Google Slides templates. What makes this site really useful is the fact that it offers some very elaborate templates, which are arguably more visually appealing than the default templates offered by Google Slides itself. There are three categories on this website, namely, Formal, Simple and Creative.
You can browse through these categories to look for templates that best match your needs.
To access a template, go to the template's page and click Open This Presentation Template button to launch it in Google Slides. Needless to say, you can also download your presentations made with these templates as a PowerPoint file using Google Slides.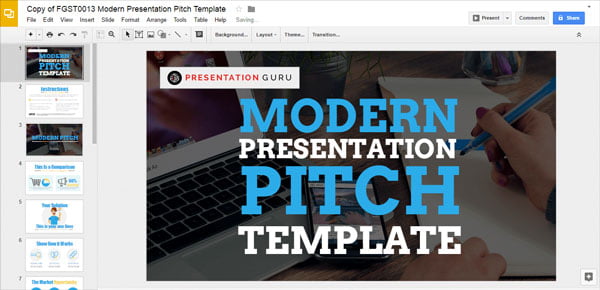 Macfadden [Google Slides]
I have rarely seen single slide template providers to offer designs as good as Macfadden. This is a very interesting website, as the templates are all available with only a single slide, however, the slide designs are very impressive which makes this website worth your time. While the templates library is currently quite small, the designs are refreshingly creative and definitely worth using in presentations.
You will find templates at Macfadden of use if you're looking for single slide templates that you can duplicate for making a uniform looking presentation, with the perk of some visual appeal.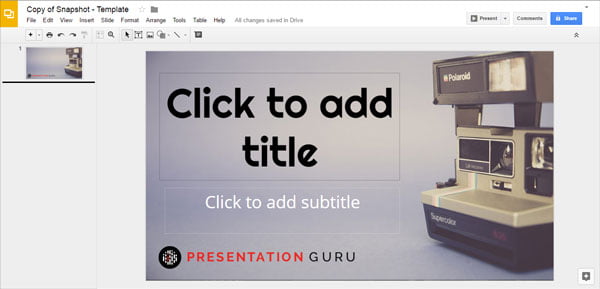 Slides Carnival [Google Slides]
While Slides Carnival claims to provide templates for both PowerPoint and Google Slides, the templates primarily open with the latter, from where you can download them offline. This is why we have listed Slides Carnival as a website that offers Google Slides templates. Nonetheless, the templates are optimized enough to be used with PowerPoint, provided you download them after opening them with Google Slides.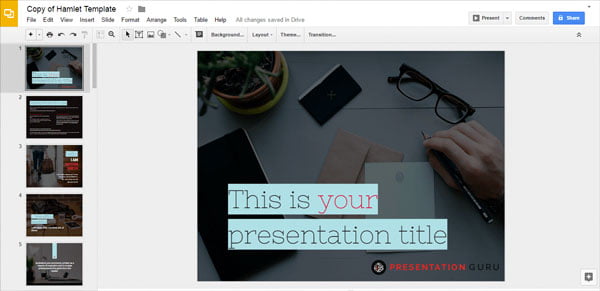 PPT Template [Google Slides & PowerPoint]
This is another free website which provides presentation templates. The templates available at PPT Template are available for both PowerPoint and Google Slides. While this is mainly a site for downloading PowerPoint templates, there is also a button for various templates which allows directly opening the templates in Google Slides. Hence, providing you with templates that come optimized for both websites.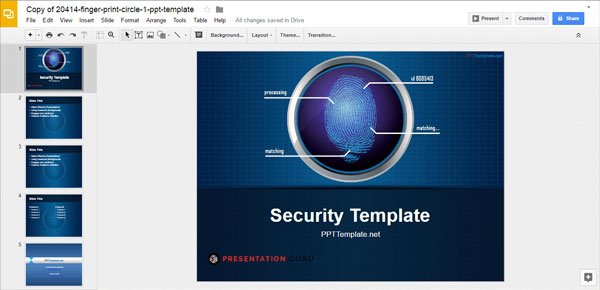 Slide Model [Google Slides & PowerPoint]
Slide Model is a website which offers both free and paid PowerPoint templates, some of which also come especially optimized for Google Slides. Unlike most free template providers on this list, Slide Model provides high resolution presentation templates, which is mainly because this is a website more suitable for professional presenters. However, there is also a vast collection of free templates that offer the same quality as the premium templates, giving presenters an opportunity to try out the high-quality free templates before committing to the Premium account.
You can download free PowerPoint & Google Slides templates at Slide Model by signing up for a free account.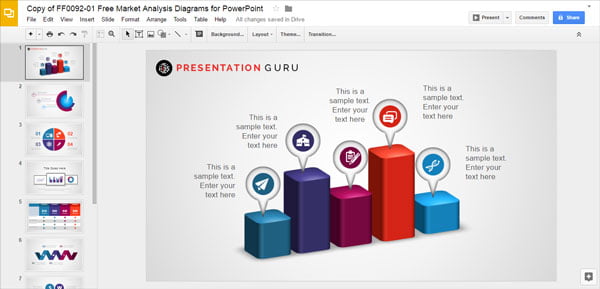 Graphic River [Google Slides & PowerPoint]
Graphic River is one of the most famous online markets for all kinds of templates, ranging from templates for websites, PhotoShop, web elements to PowerPoint, Google Slides and Keynote. Since Graphic River is an online market place, the templates are paid. However, the quality of presentation templates is top-notch, with arguably the best presentation template makers selling the highest quality templates you are ever likely to find online.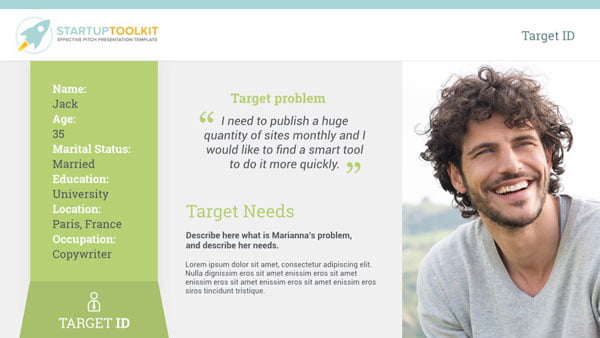 Prezibase [Prezi]
It's really hard to find templates for Prezi, let alone good ones. Prezibase is one of the finest websites for Prezi templates. It is actually a marketplace where you can find templates that can be instantly incorporated to your Prezis.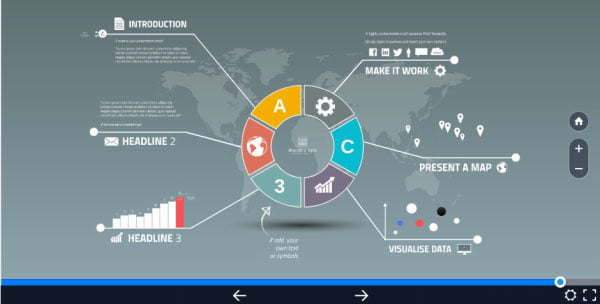 Wow Prezi [Prezi]
Wow Prezi is one of the few third-party Prezi template providers which offers some really nice templates for free. It is  mainly a Prezi design service, which also has free templates on offer for Prezi presenters.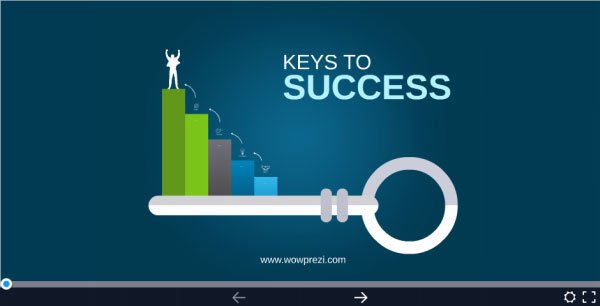 Prezzip [Prezi]
Prezzip is a website that provides premium Prezi templates, as well as all kinds of services related to making Prezis. Whether you want to get a presentation designed for your next presentation, need to convert a PowerPoint to Prezi, or need some help designing your Prezis, Prezzip can be your one stop shop for everything Prezi.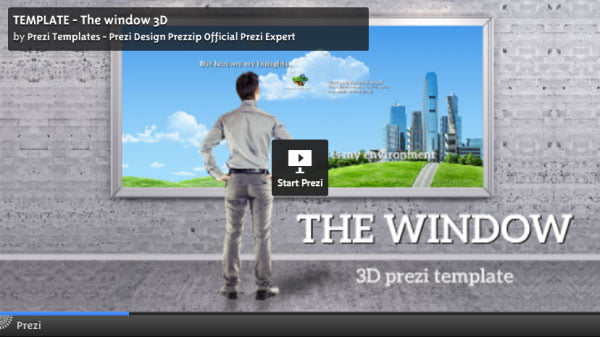 Ziload [Prezi]
Ziload is another premium templates provider for Prezis. It provides a wide range of Prezi templates for all kinds of presentation topics. There is also an option in the Freebies section of the website where you can download a template by posting a message on Facebook or paying with a tweet.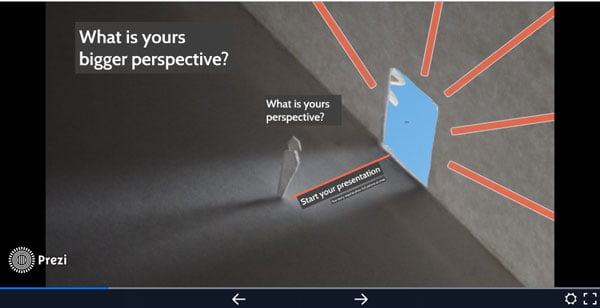 Jim Harvey [Prezi]
Last but not least, Jim-Harvey.com is another great website for downloading free prezi templates. Not to mention you can find a lot of useful tips at the website for making Prezis with a professional touch. The Prezi templates at Jim-Harvey.com are free to download, with templates that can be used with a wide range of presentation topics. You can download these Prezi graphics packs and insert the SWF files in your Prezis to create your presentations with a touch of your creativity. You can find out more about using these Prezi graphics packs here.
If you're looking for some nice Prezi tips, you might find the Prezi blog an interesting place for keeping an eye on new Prezi templates and useful tips.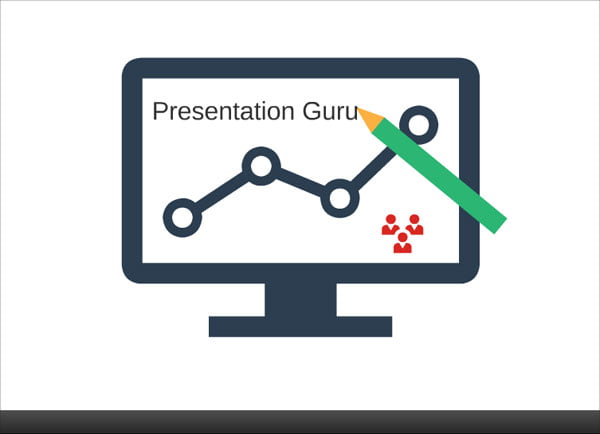 Whether you're a PowerPoint user, Prezi enthusiast or favor Google Slides for making presentations, the websites mentioned above can provide you with high quality presentation templates that are suitable for all kinds of presenters, including professional presenters, students, freelancers and people looking to make a good slideshow to quickly present their ideas and statistics before an audience.
If you know of a website that you think should be on this list, feel free to share your thoughts by leaving a comment below.