Hardware
How to Control your Computer Using an Android Device – And It's Free!


There are a number of apps which enable smartphone users to control PowerPoint presentations. While making your Android device a presentation remote using such an app isn't all that hard; these apps are often limited to controlling only PowerPoint slides. All-In-One (AIO) Remote is a free app which enables presenters to not only control their PowerPoint slides but the whole computer via an Android device.
Remote Control for Windows, Mac, Linux & PowerPoint Slides
What makes AIO Remote really unique is its ability to control a plethora of device types. You can use an AIO Remote to control a Windows, Mac or Linux computer, as well as an Android device from another mobile device. For the purpose of this post, we will provide you with instructions for controlling a Windows computer using an Android smartphone, using the AIO Remote app.
How to Use AIO Remote
Step 1: Download the AIO Remote for Android. To remotely control your computer, download the AIO Remote Desktop app.
When running the desktop version of AIO Remote, you might get a message like this one, indicating you need Java. You will need to install Java Runtime to proceed further.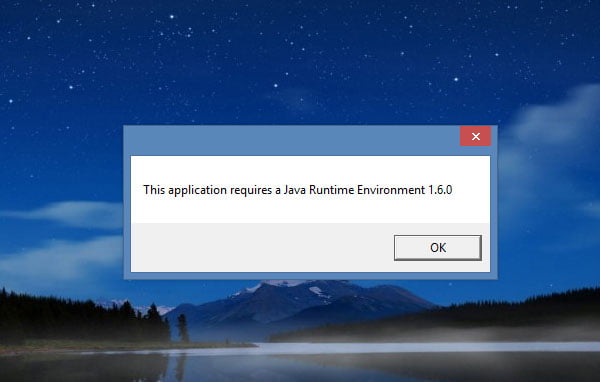 Step 2: Once the desktop version of AIO is active, you will need to go to the Settings tab to get the details regarding your port and IP to connect your smartphone to your PC. You can connect your device using either WiFi or Bluetooth.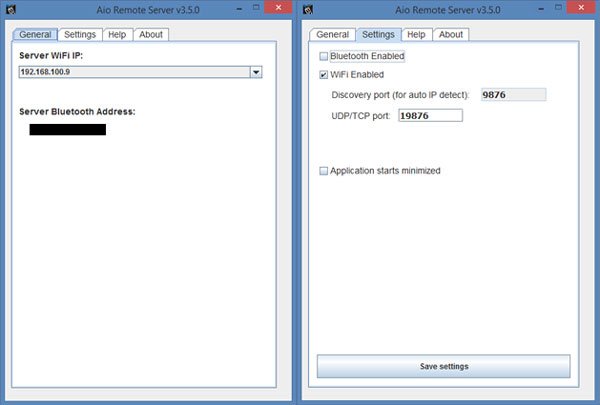 Step 3: From the mobile version of AIO Remote, go to the Connectivity option, click the '+' sign and add your IP and port. Also choose whether you would like to connect via WiFi or Bluetooth from the given drop down menu.
Step 4: From the connectivity option, click your computer name to connect your device. A green bar will appear once your device is connected.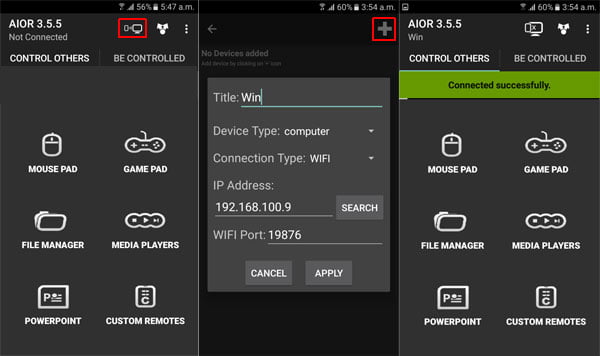 Step 5: Pick any of the given options to start controlling your PC. You can control your slides, cursor and keyboard, create custom remotes, as well as open your PC files via Android.
Turn Your Android Device into a Mouse and Keyboard
Using the Mouse Pad option, you can remotely control a computer connected to your Android device via WiFi or Bluetooth using AIO Remote. You can use the Mouse Pad layout to move around your mouse and tap the Keyboard option anytime to start typing on your computer remotely from Android.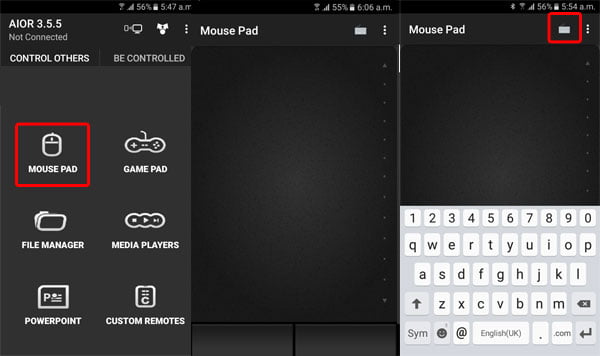 Browse and Launch Files on Your Computer
With AIO Remote you don't have to move back and forth to switch between your computer and Android device. You can simply find what you're looking for right from Android using the File Manager option on the AIO Remote.
This way, you can open any file on your computer by using Android as a remote. For example, you might want to quickly open a spreadsheet with some statistics to show your audience during a PowerPoint presentation. In such a case you can simply browse through your files and open the exact file using Android as a remote control for your computer.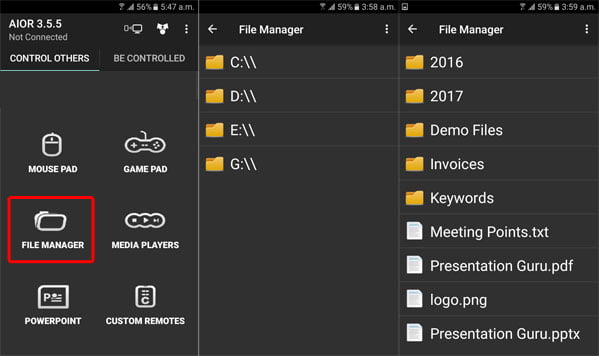 Start, Stop and Swipe Through PowerPoint Slideshows
If you simply want to control your PowerPoint slides, go to the PowerPoint option in AIO Remote. This will allow you to swipe through slides, stop your slideshow and turn the screen blank (using the B option).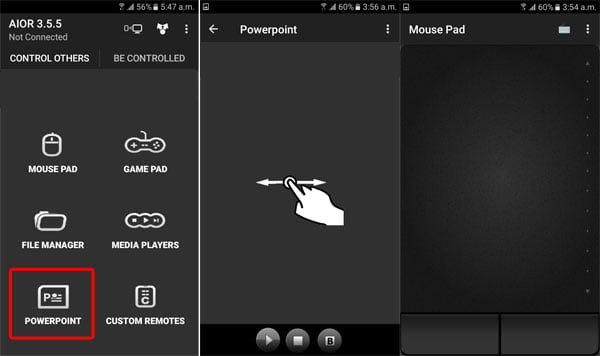 Turn Android into a Gamepad and Create Custom Remotes
There are also a range of other nifty features in AIO Remote. You can control your media players, create custom remotes and turn your Android into a Gamepad. The options given in AIO Remote are quite extensive, but it doesn't take much to figure out the utility of each option as the menus are quite self-explanatory.
What makes AIO Remote really useful is the fact that it not only provides options for controlling PowerPoint slideshows but enables complete control of your computer using an Android device. Furthermore, the app requires no root privileges and is available for free at the Google Play Store.
If you liked this, then you might also like:
The Best Presentation Apps for Android