Visuals
How To Create Beautiful Online Presentations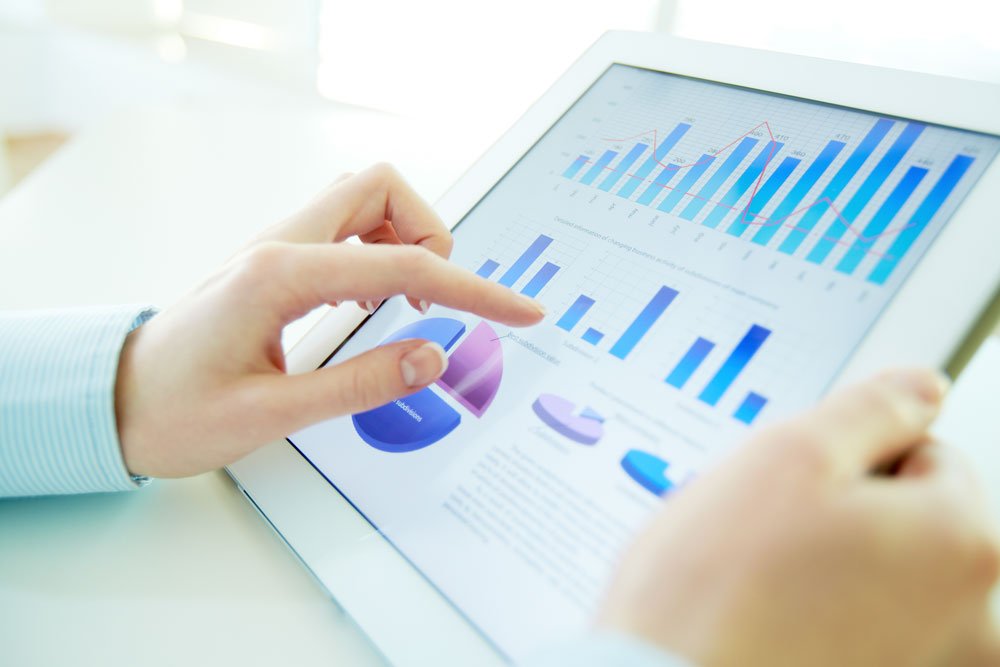 Our community stresses the importance of good visuals to great detail, including using visuals as a learning tool, and even using colour to make your presentations more memorable. Here, our tech writer Farshad gives some advice to create stunning visuals, specifically for your next online presentation. 
Making a presentation is usually not as hard as making it look good. While you might have very impressive content, with all the potential to win over an audience, your visuals might not be good enough to back your argument. This dilemma has many names and the most common term for it is 'Death by PowerPoint'. Not everyone has the ability to design slides that can be visually pleasing, with just the right combination of appropriate colors, fonts and images to make an impact. I'm sure many presenters would simply wish they could add their content to an app which can make it magically look good. This is exactly what Slide Magic aims to do.

Make Impressive Online Presentations by Simply Adding Content to Slides
Yes, it is that easy! Slide Magic is a web app which gives presenters a chance to generate visually pleasing slides without much effort. With Slide Magic you can create presentations using Modern UI like slides with tiles containing your text and images. While you will not get over the top templates or heavily animated slides, however, you will be able to create cohesive slides with a minimalist, yet impressive looking deck which can be easy to comprehend for your audience.
Once you login to Slide Magic you can begin making your deck via an option titled 'New'. You will also see a few sample presentations with instructions regarding the use of Slide Magic when you enter your dashboard. You might want to go through these decks to quickly familiarize yourself with the web app and to get an idea about how to make slides using Slide magic. Some of the sample templates are also useful for getting started with your presentation, such as the investor pitch deck shown in the image below.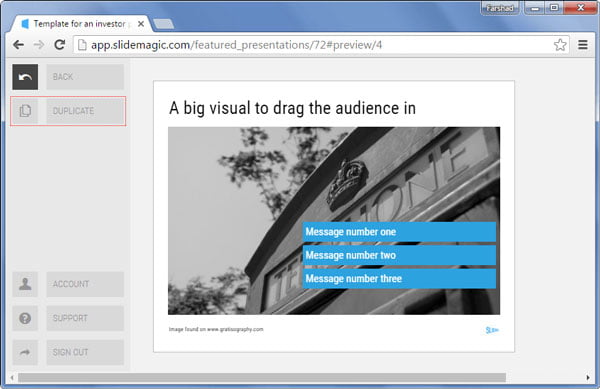 As you can see from the image below, you can add new slides via 'Insert Slide Here', which is an option located below each slide.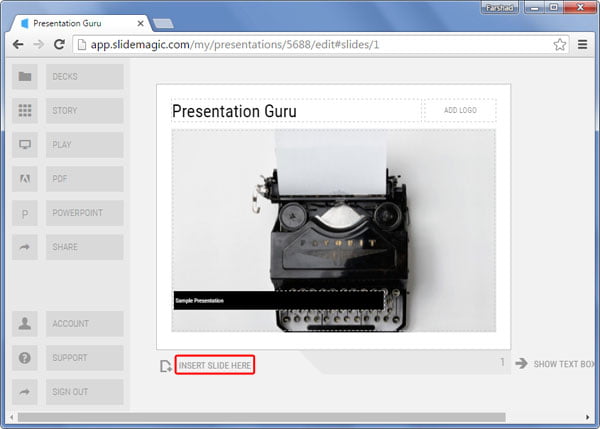 Create Beautiful Tiled Slides
When you think about Slide Magic, think tiles. There are a number of beautiful tiled layouts that you can choose from for making anything from text-heavy or comparisons slides, to lists, charts, picture slides and more.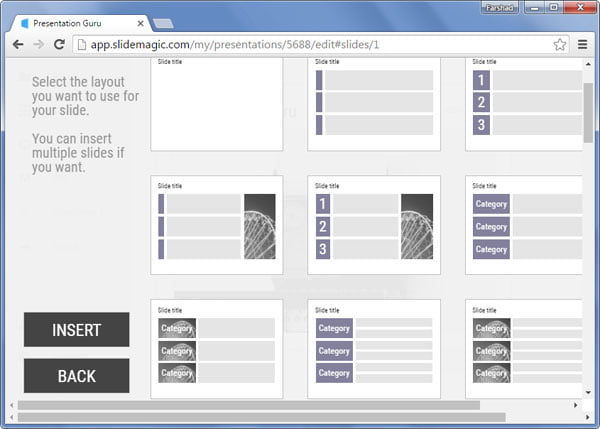 Once you pick a tile, you are given different editing options to help you add text, images, adjust your content and to color your tiles to stylize them. You can also add background images to fashion your slides. We created a slide consisting of pictures of different buildings using a grid layout. You can also choose to create a combination of pictures, text and your company branding to create a slide that best matches your requirements. Similarly, you can add a chart slide to display statistics or a picture slide to add a quote.
Add Images in Style
You can upload your own images, fetch pictures via URL or choose from the stock images provided by Slide Magic. The 'Library' contains your uploaded images, as well as some stock images which can be handy for use as slide backgrounds or to act as visual aid for your text.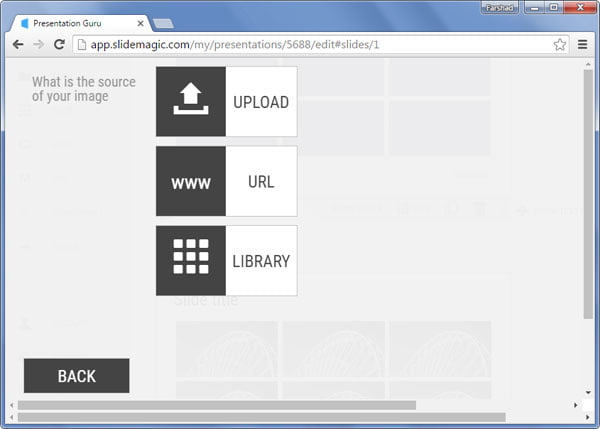 Once you upload an image, you are provided with some minor editing options to adjust your image according to need. Unfortunately, Slide Magic does not provide any elaborate filters or image retouching options.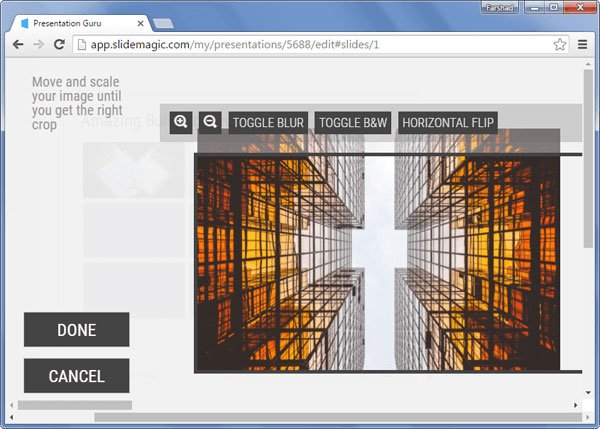 Here is a sample slide we created using various pictures of buildings. As you can see from the below screenshot, you can optionally add text to the right to describe your slide; as well as insert speaker notes for your convenience.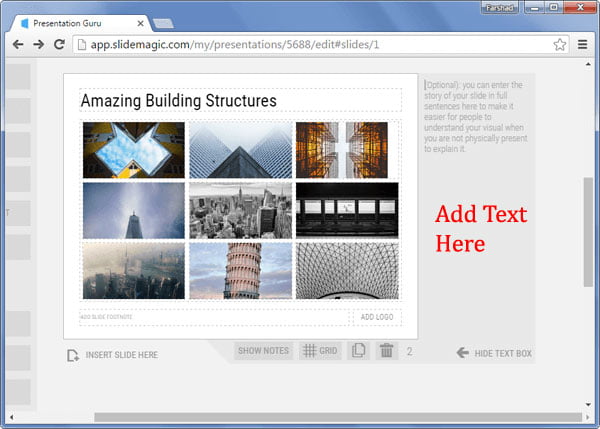 Choose From a Diverse Range of Slide Layouts
As mentioned earlier, there are a diverse set of slide layouts that you can use for making your presentations. The picture slide below is one example of how you can make impressive slides with very little effort.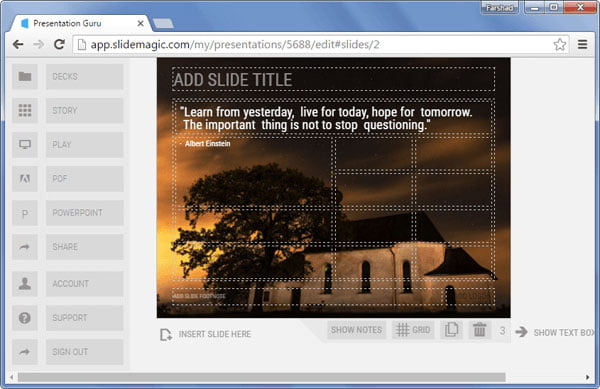 Present Slides From a Browser with Multi-Monitor Support
Slide Magic isn't just a place to make and download presentations, since you can also present your slides directly from the cloud. To begin presenting your slides, hit 'Play' from the left sidebar. This will provide you with an option to either Preview slides or to open them for a single or dual monitor. These options are quite handy to help presenters quickly setup a presentation for a single or dual monitor.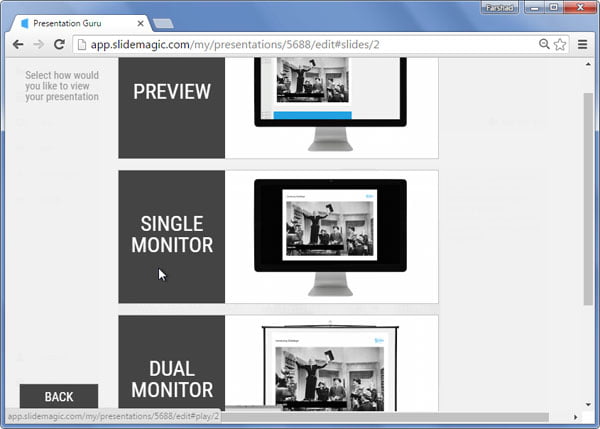 When you enter slideshow mode, you will be given some basic instructions for running your slides. Basically, clicking on the right takes you forward, whereas clicking on the left of the screen takes you backward. A double-click ends the slideshow.
With Slide Magic you can make your ordinary content look stylish, without the need for putting in a lot of effort. You can simply create minimalist slides on the fly using nothing more than an internet browser and have them available for use anytime via the web. Alternatively, you can also download slides offline.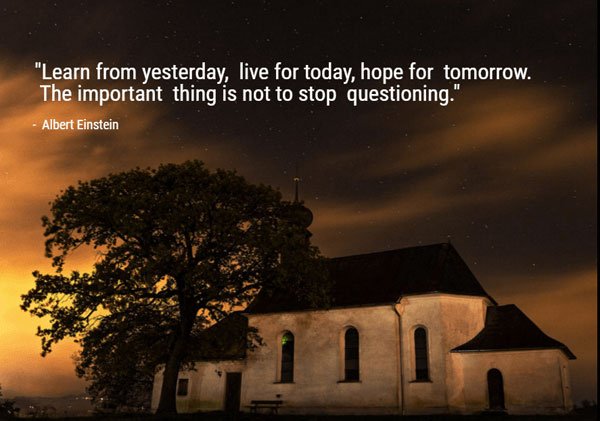 Here is a sample chart we created using Slide Magic. This screenshot is just to demonstrate how you can create diverse slides by simply entering basic information to a slide.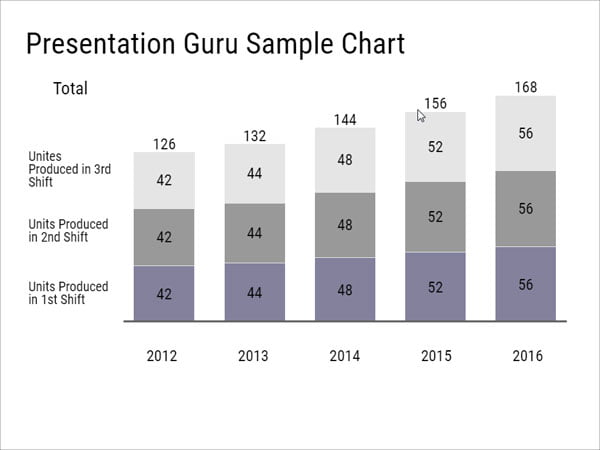 Download Slides as PDF or PowerPoint Files
You can also save your slides in PowerPoint or PDF format. There are buttons on the left sidebar (titled 'PowerPoint' and 'PDF') which queue your slides for rendering in the selected format, after which you are emailed a copy of your slide deck in your selected format.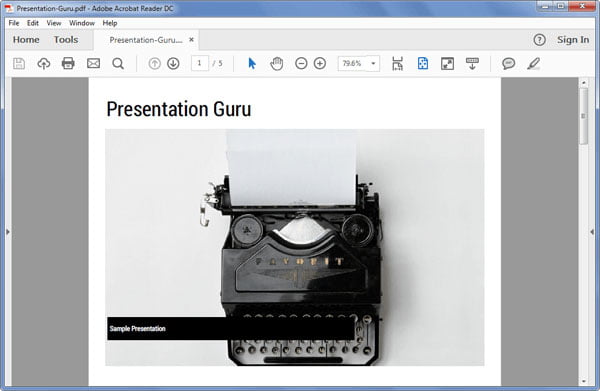 Share Slides and Collaborate Online
Last, but not least, you can share your online presentations and collaborate to create your slides by granting specific privileges to recipients. You can generate a URL with 'View Only' or 'View and Edit' privileges and send the direct link to the recipient for instant collaboration.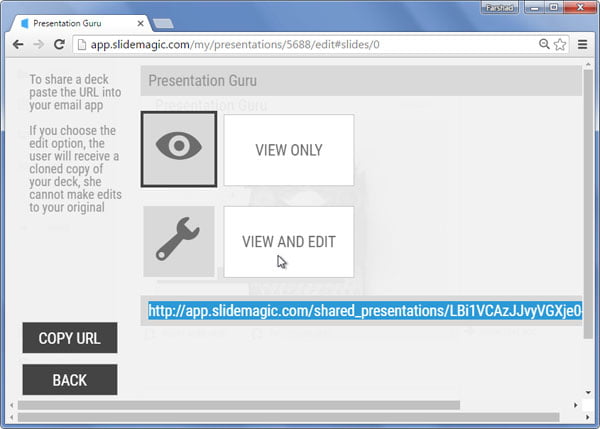 The Verdict
Slide Magic is not your usual presentation software. It has an unconventional, tiled interface which makes use of the Flat Design revolution that has reshaped modern websites. The Flat Design aims to make use of a minimalist layout, with a combination of solid colors, text and images to create something that is not visually overpowering and can be lightweight enough to load without hiccups. This means that Slide Magic isn't loaded with flashy animations or elaborate zooming UIs, however, it does offer ease of use, simplicity and the means to present your slides in style.