Technology
Conduct Web Conferences & Deliver Presentations Remotely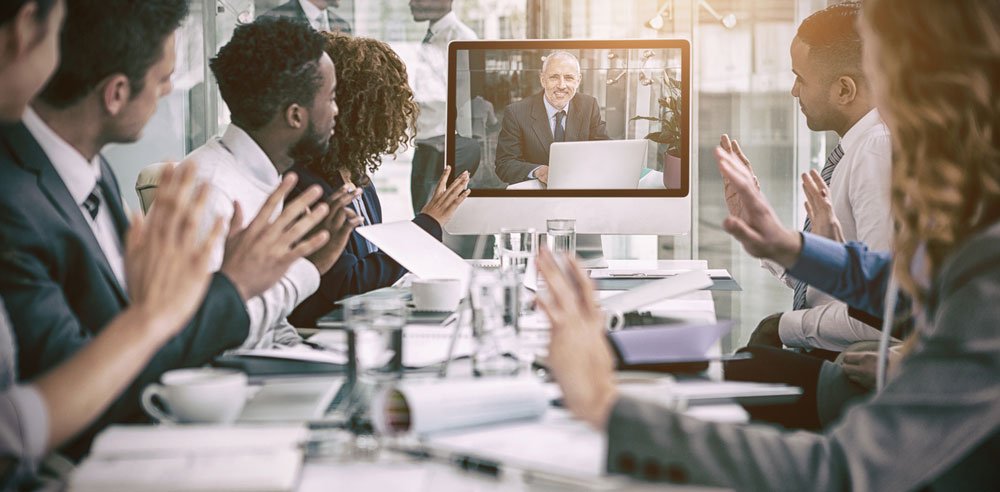 Remote meetings are a common feature for not only organizations with officials in regional offices but also between freelancers interacting with clients remotely. In a previous post we brought you a review of MightyMeeeting, which is a feature rich, remote meeting platform with the option to deliver presentations during web conferences.
Due to the various features like instant polls, audience response system and quizzes, MightyMeeting can be a better option than commonly used applications like Skype, & Google Hangouts. However, if you're looking for an alternative to the aforementioned that can offer simplicity even for novice users, then you might want to try join.me.
Conduct Remote Meetings with Up to 250 Meeting Participants
Usually, remote meeting apps limit the number of participants to 5-25 people. However, join.me allows 3-250 participants per web conference (depending upon the package you are using). While free hosts are limited to 3 meeting participants and 3 video feeds, the Business edition allows as many as 250 people to join your remote meeting. Furthermore, join.me offers a number of very handy features such as the ability to schedule meetings, record online meeting sessions, share files and user access management.
To get started, you will require signing up for a Join.me account and download the app for your specific device.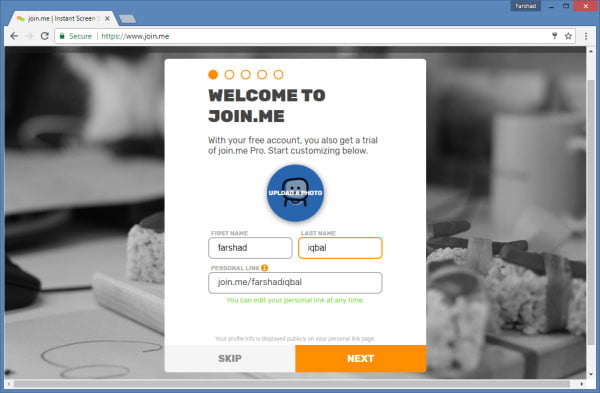 Start or Join Meetings via Windows, Mac, Android or iOS
From the join.me app, you can either join a meeting by entering the meeting code or simply start a new meeting session. Join.me has apps for Windows, Mac, Android and iOS (iPhone, iPod Touch and iPad).
If you're the one starting the meeting session, make sure you share your meeting code with all participants.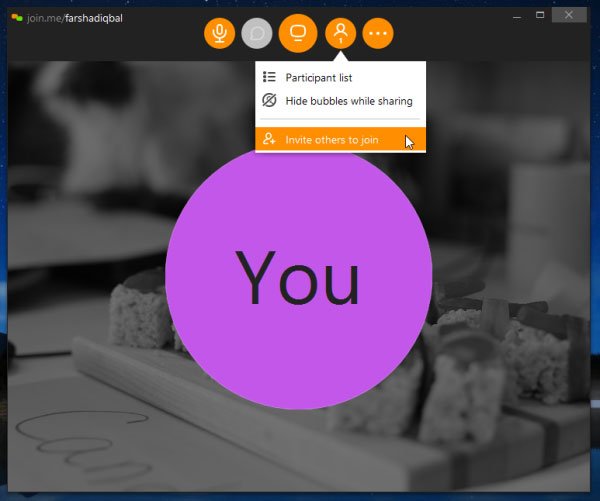 Join a Meeting without a join.me Account
Participants who don't have a join.me account can still join a meeting by entering the meeting code via web browser or a join.me app.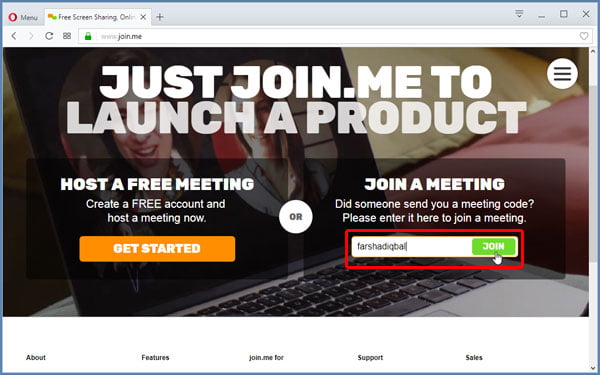 When joining a meeting via meeting code, you will be asked to enter a nickname to join the meeting. It is advised to pick a name that is recognizable for the moderator so that he/she can instantly allow you to join the meeting.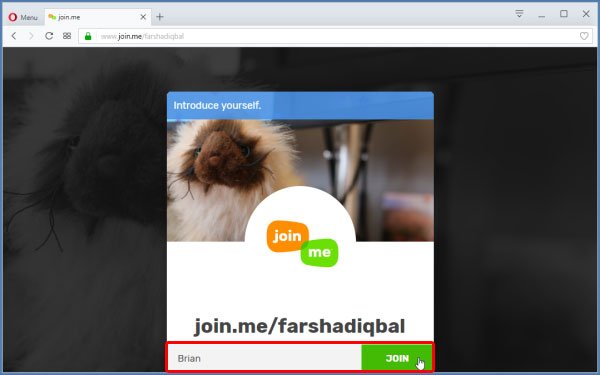 Control Access for Participants
Once a participant enters the meeting code, the moderator is given the option to allow or deny access to the individual. Once they are allowed access, a bubble shows up to represent the user.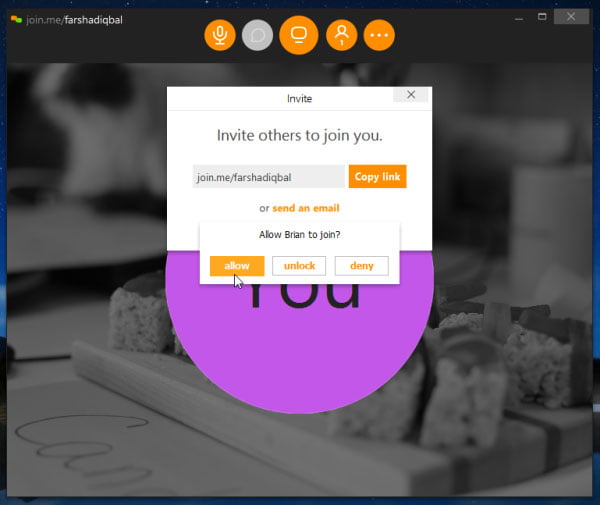 Share Screen, Record Meetings & Pass Presenter Role
Join.me provides a plethora of useful options for conducting remote meetings and presentations. You can share your screen, record meetings, share mouse control, as well as pass on presenter role to allow another participant to take over and proceed with a presentation, or to continue leading the remote meeting.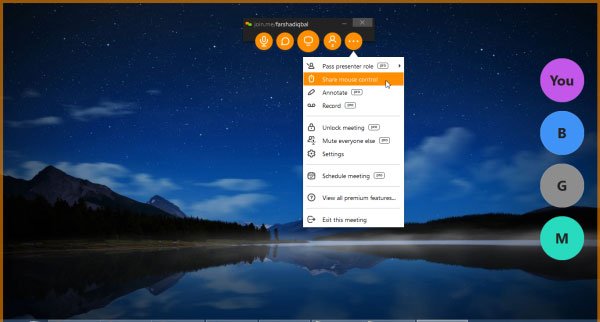 Send Text Messages or Start a Video or Audio Call
Join.me provides multiple options for joining a web conference including the option to initiate an audio or video call session. The app also allows users to send text messages to individual participants.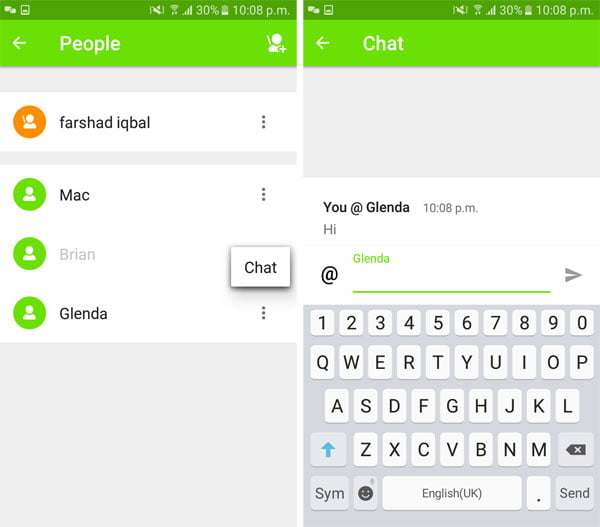 Join.me is a paid app with the option for end users to sign up for a 30-day free trial. Many of the features offered by join.me are hard to find in other commonly used audio conferencing applications. If you have a need to instantly share a file, present a PowerPoint via screen sharing or need to conduct a conference call between more than 25 participants, then join.me is certainly worth checking out.
In case you're worried about the need for multiple licenses for participants, it's worth mentioning here that participants can even join a meeting if they don't have an account by entering the meeting code. This ensures that you don't need to ask your clients, employees or other contacts to pay for the service as well.
 If you liked this, then you might also like:
A review of Mighty Meeting: How to deliver online presentations during remote meetings
A guide to the best platforms for hosting not just webinars, but also online meetings: 10 of the best tools for hosting a webinar
5 free ways to broadcast a webinar or live presentation