Resources
5 Free Ways to Broadcast a Webinar or Live Presentation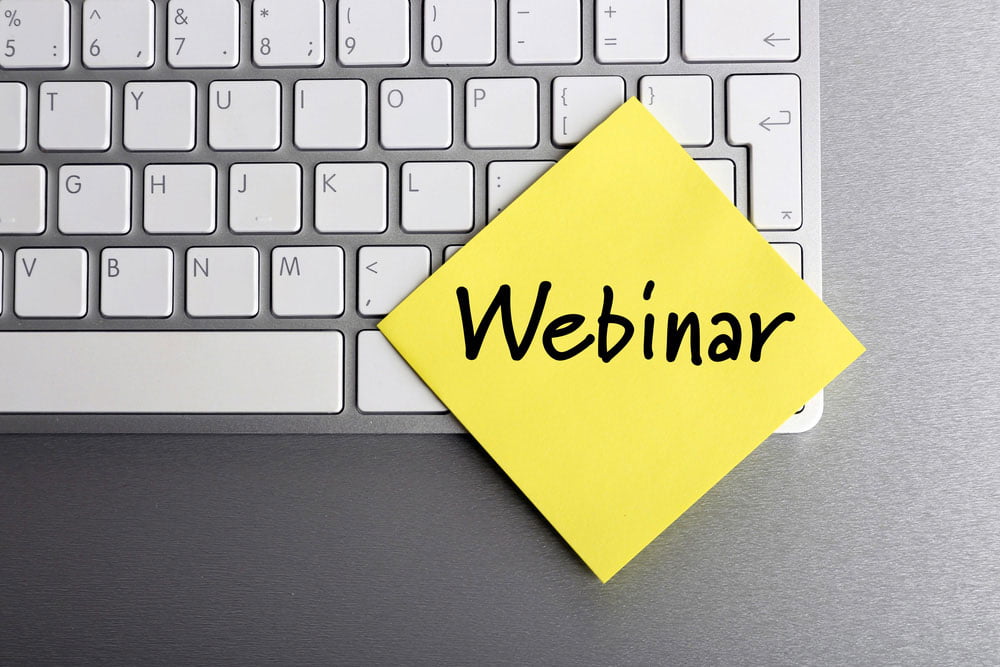 There was a time when broadcasting a presentation might have been considered too expensive for individual presenters or small businesses. To achieve such a feat one might have required access to costly video conferencing equipment or the need to hire the services of a specialist company to setup a webinar for you. But since we aren't living in the age of digital dinosaurs, all that has changed. There are a plethora of options that can enable individuals and organizations to broadcast their presentations live to a global audience.
We have compiled a list of 5 free ways of broadcasting a webinar or live presentation over the internet. The solutions given below can be used by not only students or freelancers but even small and medium size businesses for conducting an effective webinar or to broadcast a presentation session online.

Office Presentation Service
PowerPoint is the kind of presentation app which has so many interesting features hidden away in its convoluted Ribbon menu. This is perhaps the reason that many presenters have probably never even heard of the Office Presentation Service. This is a free option located in the Slide Show tab, which enables presenters to instantly share their presentation slides via web browser.
To initiate this service, open your PowerPoint presentation, go to the Slide Show tab and select 'Present Online'. This will open a dialogue box to enable you to connect to broadcast your slides. There is also a checkbox which you can optionally enable to allow your audience to download your slides. To proceed further, click 'Connect'.
You will be provided with a link that you can copy and share with your audience to enable them to follow your slides via browser. You can share this link in a number of ways, such as by emailing it to participants, by tweeting it or sharing the URL via OneNote.
To begin broadcasting your slides, click 'Start Presentation'. You can end the online presentation session anytime by clicking 'End Online Presentation' from the Ribbon menu.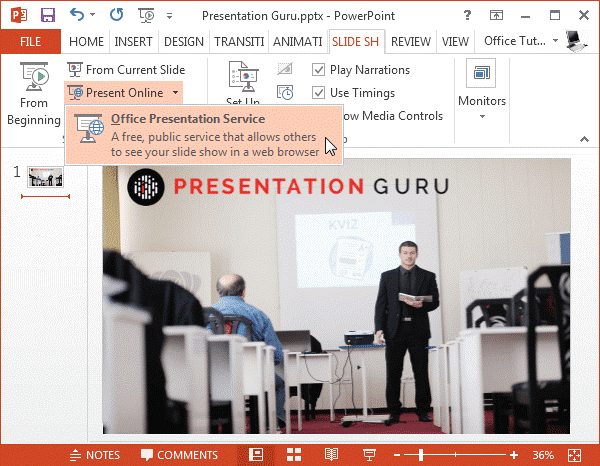 Google Hangouts
Google Hangouts is perhaps one of the most underrated apps when it comes to broadcasting presentations. The Video Call feature of Google Hangouts contains a screen sharing option by which you can share your entire screen or a single window with an individual or multiple callers.
You can start a screen sharing session by going to Google Hangouts and starting a video call. Invite participants and once everyone is connected, initiate screen sharing.
If you're using a web browser, this option can be revealed by clicking the three dots on the top right corner of the screen. As you can see from the image below, the available screen sharing options include; full screen mode, as well as the option to share one or multiple windows with your audience. We would recommend simply sharing the PowerPoint file which you might have opened to present before your audience. This can help improve legibility and to enable you to focus on your slides; as they are presented before your audience.
One of the benefits of using Google Hangouts is that you can explain your slides during a live call, as you present your slides, enabling you to remotely present a live presentation with reasonable broadcast quality.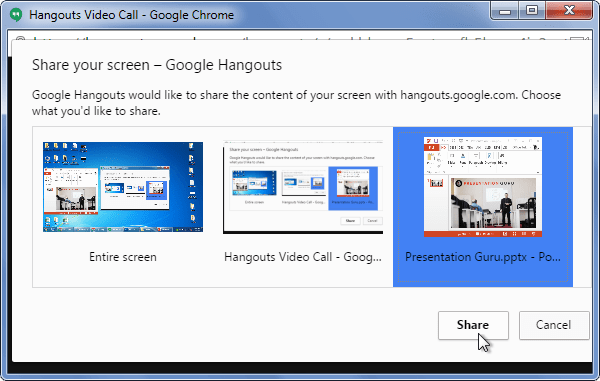 Skype
While the business edition of Skype comes more loaded with business class features, you can even use the free version of Skype for broadcasting a presentation with up to 10 people. You can begin sharing your screen during a conference call by tapping the '+' icon. Like Google Hangouts, you can choose to share the entire screen or an individual window (e.g. a PowerPoint presentation).
Since Skype is a multi-platform video calling service, it is easier to connect with audience regardless of the device they may be using. This can help share a presentation session more conveniently with a geographically mobile audience.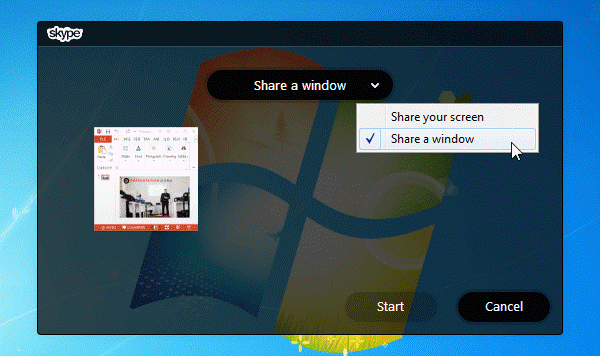 Presentain
Presentain is a web app for broadcasting Live presentations with the option to conduct polls and record your presentation session with voice over. You can get started by uploading a presentation file (PDF or PowerPoint) or import your presentation via Google Slides. You can broadcast your slides to a live audience and enable them to view your slides via designated URL and QR Code.
Presentain is particularly suitable for generating leads, as the audience can request follow up contact and ask questions during presentations by joining a presentation session using the presenter's shared presentation URL. Moreover, conducting polls during a presentation session can enable gathering instant audience feedback and make live presentations more engaging, while also enabling end users to connect with a geographically mobile audience.
Presentain has a free edition with limited functionality, however, this means you can try out the free edition and see if an upgrade is worth your money. The free edition of Presentain is limited to 3 presentations, 3 polls and 5 audience connections.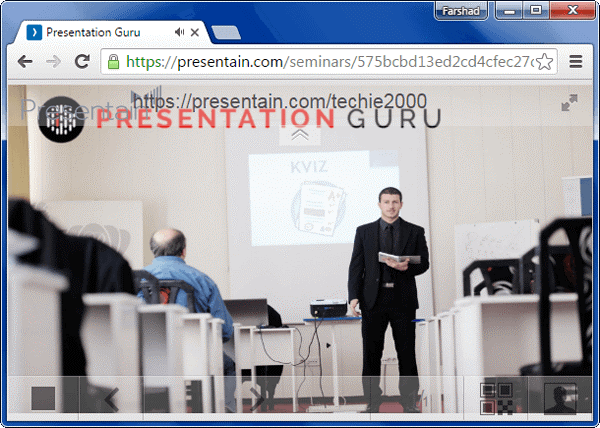 Prezentt
Prezentt is another web service which can be effectively used for generating leads and interacting with potential clients during and after a live presentation or webinar. Using Prezentt you can upload PDF presentations and broadcast them online for your audience to follow via browser. Furthermore, your slides are automatically emailed to your audience, once the presentation is over. Prezentt provides a number of options for interacting with potential leads, such as by allowing your audience to send in comments and questions during your presentation. Prezentt also generates statistics based on user interest to help you identify potential leads to follow up with.
While Prezentt does have a free version, it is limited to 4 presentations per year. This might beg the question as to why Prezentt is on a list about free methods for broadcasting live presentations? The answer is simple; Prezentt is an exceptional service which can be great for generating leads and if you don't present all that often, you might be able to make use of the free version with 4 presentations in a year. And if your leads pan out, you can always upgrade.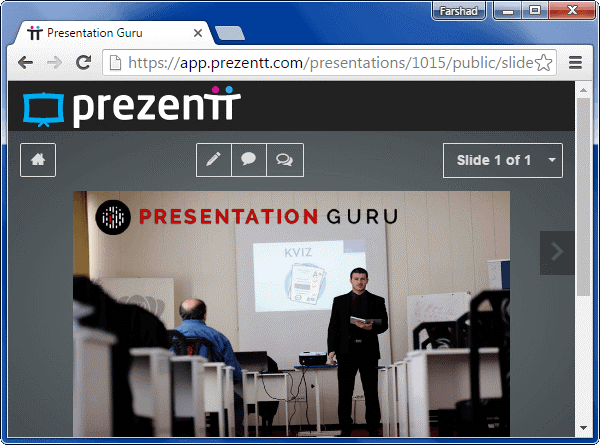 There are a number of services which offer broadcasting presentations live to an audience over the internet, each with their own pros and cons.
If you know of a good web service, app or method that deserves to be on this list, feel free to share your thoughts with us by leaving a comment below.
If you liked this, you might also like
10 of the Best Tools for Hosting a Webinar
Ellen Finkelstein's advice on how to design a really effective webinar: Why Webinars are Great and How to Design Them Effectively
Shane Purnell's guide to the four virtual speaking platforms that you should investigate if you have a message to share: Present in Four Places at the Same Time