Powerpoint
Five (Plus One) Ways to Share a PowerPoint Presentation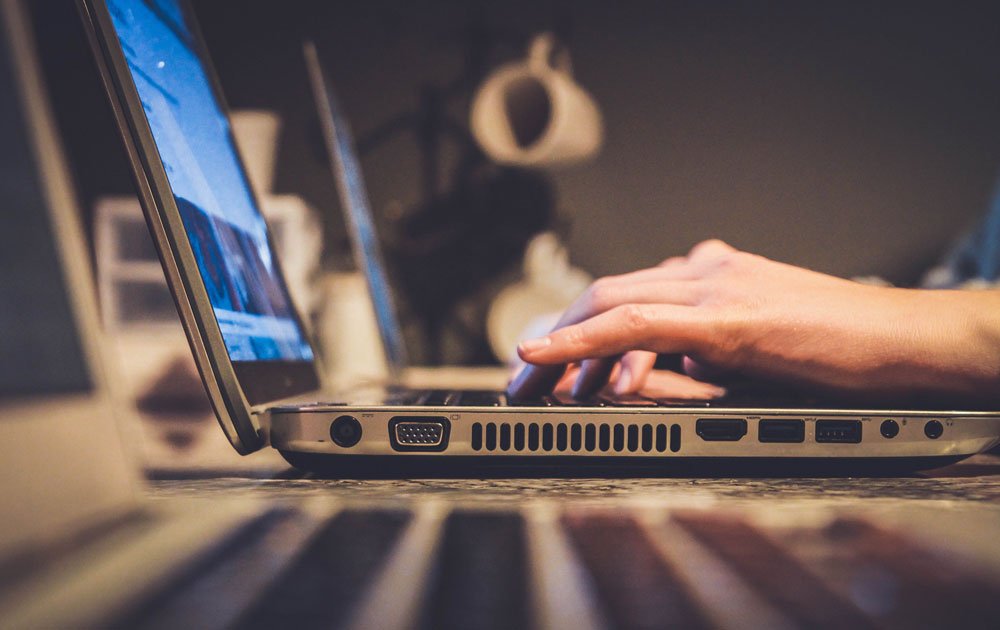 When you think of a PowerPoint presentation, slides on a projector or a large screen display come to mind. But, the typical classroom has changed. So has the conference room, for that matter.
If you're giving a presentation, your audience may not even be in the same room as you. Instead of being on the other side of the table, they may be on the other side of the screen.
Moreover, if your presentation is vital to your organization or classroom, chances are your listeners will want copies.
In these circumstances, how do you effectively share your PowerPoint presentation with your audiences?
The short answer, you share your presentations online!
But, how? Previously, Presentation Guru covered a few easy-to-use web services for sharing PowerPoint presentations. In this article, we're going to explore ways other than web services to share PowerPoint Presentations.
[This article contains affiliate links. For more information, see our disclosures here.]
1) Email
One of the easiest ways to send presentations to your audience is by email. All you'll need to do is compress the presentation or save a lower resolution copy to attach to the email, and then automate the sending process by setting up filters. For example, you can configure your email service to send your presentation to any incoming email with a subject that contains the word "Presentation". Gmail is one of the most popular email services and offers a plethora of customization and filter features.
However, it can prove tricky if your presentation is very large, but here are a few quick steps to compress your presentation:
Save a compressed version of your presentation (be sure to make a copy separate from the original, incase of unwarranted errors)

Left click on the saved ppt file
click on 'Add to Archive…'

Open the compressed file, click on a picture to access the Picture Tools menu.
Click on Format menu.
Click on Compress Picture icon.
In the compress picture box:

Uncheck "Apply only to this picture"
Check "Delete cropped areas of pictures"
Select "Email (96 ppi): minimize document size for sharing"
Click OK

Save file.
Now that the file is in a more manageable size, you can easily attach it to your email.
You can also email the presentation directly from PowerPoint to your contacts via File / Share.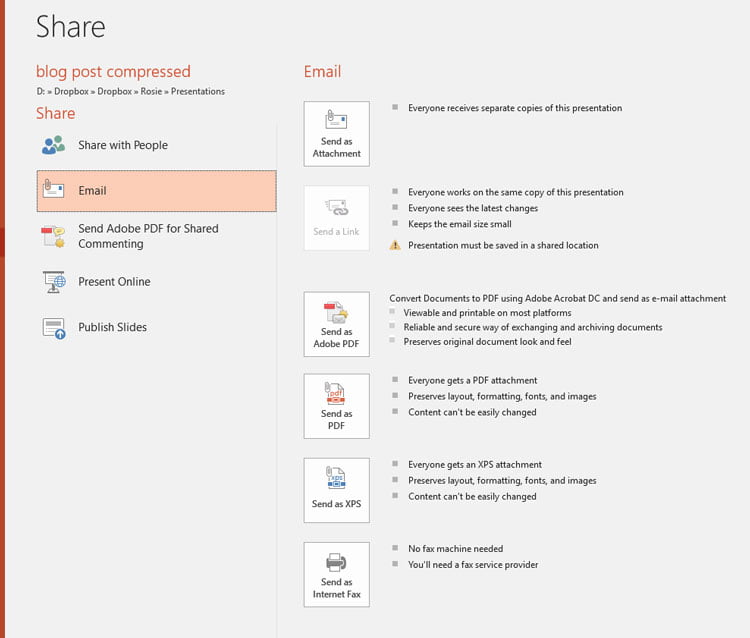 However if the presentation contains classified information, email is not the safest option because your contacts can download and modify them. In which case, you hsould look at some of the other options available.
2) File Sharing Services
You can upload your presentation to any of the file sharing platforms out there, like Google Drive, Dropbox etc. and then share the link with people. This works best if you only have to send it to a limited number of people. On the other hand, the people you share the presentation with, will need PowerPoint to access it, or else some features of the presentation may not be displayed correctly.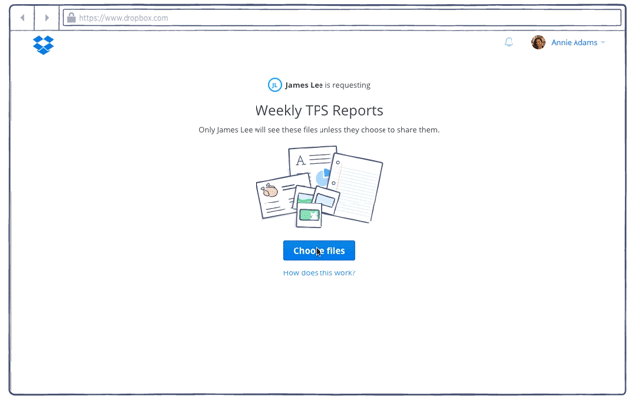 3) Embed Code
You can use a code generated, for your slide deck, by a third party service such as Zamzar or PowerPoint to HTML 5 and paste it on your website. You can convert the presentation to HTML 5 or Flash via any number of free and paid convertors. Once uploaded to the hosting service, you get an embeddable code which you can use on your website. HTML5 gets better visibility across all browsers and gadgets than Flash, so HTML5 would be the better option of the two. That said, some PowerPoint features cannot be rendered properly through HTML5.
You can also create an HTML 5 version of your presentation to embed on a website directly from PowerPoint Online. Embed feature is only available with PowerPoint Online and not with the PC or Mac versions.
The first step to creating an embeddable link, is to save your presentation onto your OneDrive account. Next, you'll need to sign in to PowerPoint Online and create the embeddable link.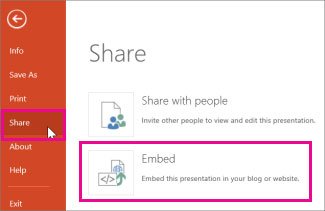 4) Make it a Video to Publish on Youtube
Did you know? One third of online activity is spent watching videos. So, why not convert your presentation into a video people can easily watch? PowerPoint 2016 offers a feature to convert your presentations to video. You can then choose to upload the presentation video to your Youtube account, where you can also receive instant feedback from your audience in the form of comments, likes, shares, number of views etc directly under your video.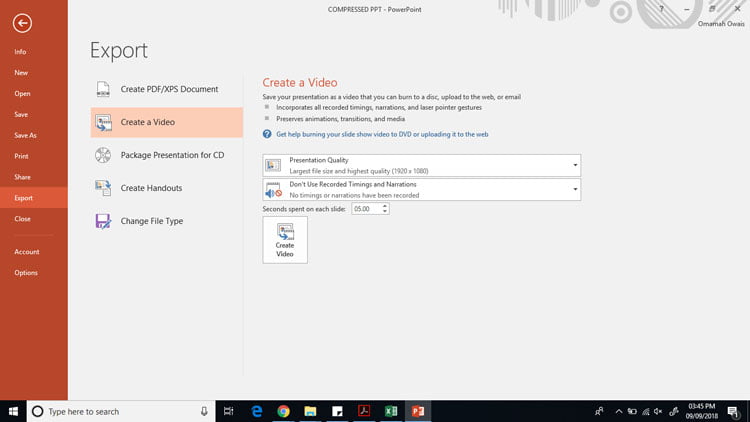 Other than PowerPoint itself, you can use different softwares, such as Movavi and ImTOO, to turn your presentation to video. They also offer you other cool features like voice over, music, animations etc.
5) Save as PDF
This one is as easy as it sounds. Just click on the 'Export' tab in the File menu, and then click on 'Create PDF/XPS Document'. It's that easy!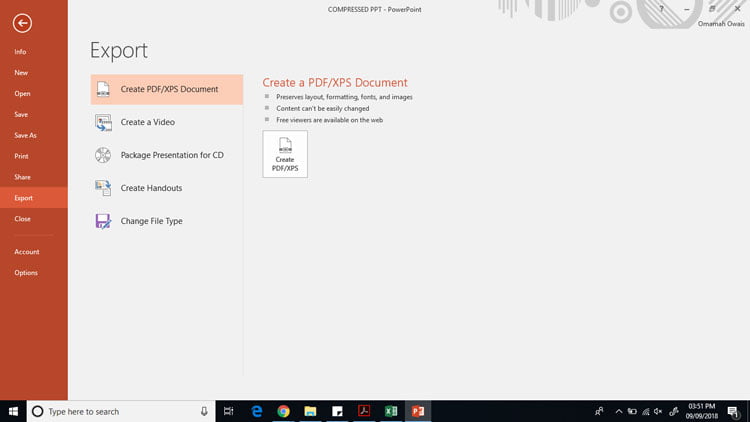 This is a great option when you're presenting to an audience that might not have access to Microsoft PowerPoint. There is hardly any computer or smartphone that can't open PDF files. All you'll need to do is send the link or file from a hosting service to your audience. For example, upload your PDF presentation to DropBox, Google Drive or OneDrive etc. and then share the link with your audience.
Honorary Mention – Microsoft Broadcast Slide Show/Present Online Feature
Although we said we'd be sharing ways that don't include web services, this one doesn't exactly count as one because it's built into PowerPoint itself. (Also, it wasn't mentioned in our last article!)
Microsoft PowerPoint 2010 started offering the "Broadcast Slide Show" feature. It has since improved and become even easier to share with your viewers. It enables the presenters to invite their attendees online, via a link. When clicked, the link directs them to a real-time, web based viewing of the presentation. The presenter can pause and resume the slide show during broadcast. The attendees don't need to have PowerPoint to view the presentation, all they need is a Windows Live ID to join the session.
However, to be able to use the 'Present Online' feature, you will need to have a Microsoft Office Pro or Business version of Office 365.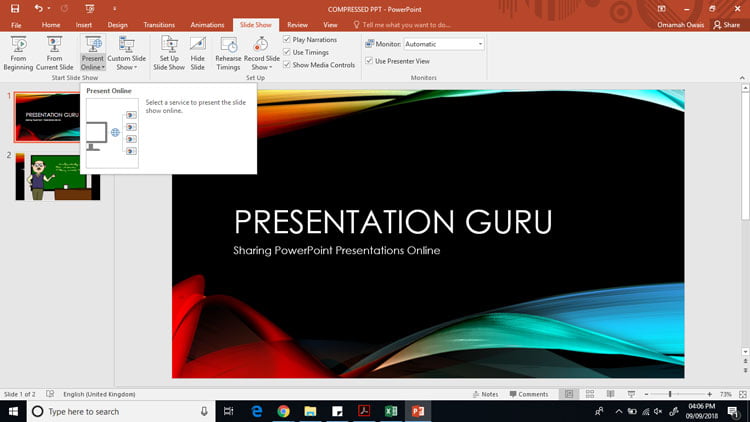 Not only can your viewers attend your presentation through a browser, they can even download the presentation, if you opt for it.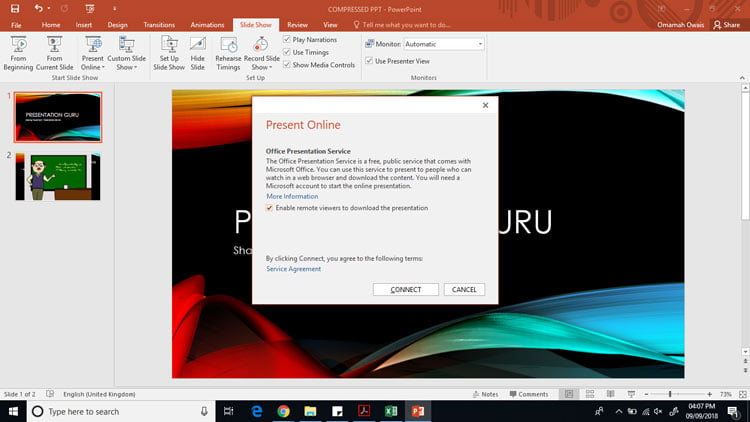 Depending on your security preferences, the options we've outlined above are the easiest ways to share your PowerPoint presentations with your audience. Additionally, to make it even more convenient for your in-room attendees, you can create a QR code of your shareable presentation and display it on the big display screen or projector before the start of your presentation. This way, all you audience will need to do is scan the QR and access the presentation, without having to manually put in the link in their devices.
If you liked this you might also like
Best Web Services for Sharing Presentations Online
The Most Useful PowerPoint Add-ins for Better Presentations – how to share a slide library with colleagues
Advanced Features of PowerPoint 2016 – real time collaboration options