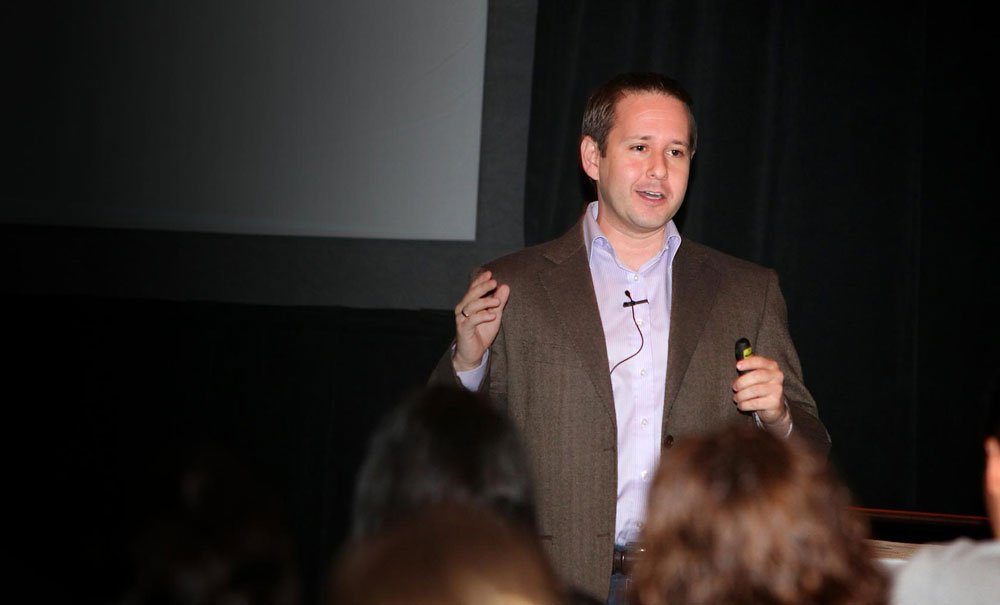 Nolan Haims has over 20 years of experience in the fields of visual communication, graphic and presentation design. He runs his own boutique consultancy that trains organisations to communicate more clearly and with fewer words. He speaks at  national conferences, writes about visual storytelling at PresentYourStory.com, is a Microsoft PowerPoint MVP and is one of the hosts of The Presentation Podcast.
We want to help our readers build their skills as presentation designers, speakers and coaches, learning from a wide range of our colleagues from across the world, so in this occasional series, The Guru's Big Five Questions, we ask the experts the same five questions about their inspiration, their hopes and their role models in the ever-changing arena of world-class presenting. This is what Nolan had to say:
What's the greatest speech in history and why?
The Gettysburg Address.
This was a speech that truly changed the world and, as Garry Wills details in his book, Lincoln at Gettysburg, redefined the United States and the U.S. Constitution.
In the span of just 272 words, Lincoln essentially redefined the U.S. Constitution, imbuing it with the spirit of the Declaration of Independence, and set the country on a path of equality and ever-expanding rights. It is not only a textbook masterpiece of oratory, but probably one of the shortest presidential speeches ever—at a time when 2-hour speeches for such a situation were the norm. Lincoln's economy of words is proof that less generally is more.
What's the greatest business presentation / sales pitch and why?
I'm going to have to go fictional on this one and say that the Mad Men Kodak Carousel pitch is my favorite business presentation of all time. Watch it now if you haven't seen it, but in a nutshell, Don Draper uses a series of his own family photos to sell Kodak on the idea that their slide projector is a "time machine" allowing the user to recapture the best moments of their lives and to return to places of love. Even if you separate the pitch from the larger plot undertones of the show, it's emotionally staggering—and effective.
The reason I love this pitch so much (and the reason that I show it in my training sessions) is that Don presents emotionally and personally, telling a story about a business product that very clearly resonates with his audience. Using only images and the name of the product on screen, he sells the human benefits and better future of this product's users rather than trying to make a logical argument based on features, numbers and specs. Don knows that the most effective messages are made personally, emotionally, with story and with images. And he does it in just a few minutes.
Who is the best political/cause orator today & why?
For my money, Malala Yousafzai may be the most gifted natural speaker on the world stage today. Her background story and efforts as a mere teenager in advocating for universal education for girls which led to her becoming the youngest Nobel Prize winner in history are reason enough. But all that taken with her natural technical technical ability as a speaker make her truly a prodigy. Watching her speak is a bit like watching Jordan play basketball. If you haven't seen "He Named Me Malala," I highly recommend it.
What's the one most important thing that anyone making a speech should do more than anything else?
Understand WIIFMA, or "What's in it for My Audience?" You'll hear lots of people say that a speaker must identify and know their audience, and that's absolutely correct. But you have to take it a step further and understand what your audiences actually want from you. A presentation on one topic should be different if it's given to the CEO as opposed to a group of employees. And it should be different still when given to an audience of potential clients or customers or journalists or government regulators.
This lack of understanding of WIIFMA is what usually leads presenters to talk endlessly about themselves at the start of a presentation—for example, a business pitch. Sorry, but those audiences care about themselves and their business. Get to the point of how you are going to solve their problems and make them money.
Who inspired you starting out in the business? Who inspires you now?
Garr Reynolds and Presentation Zen probably influenced me the most early on, largely because of Garr's belief in simplicity. These days I take a lot of inspiration from the graphic design world. Massimo Vignelli, Paul Rand, George Lois and Milton Glaser were all masters of simplicity in visual communication. And today, Vignelli's protégé, Michael Beirut, continues to carry the torch of visual simplicity and is one of my favorite designers. Getting to work with Beirut a few years ago on a pitch was definitely a thrill.