Hardware
Travelling Presentation Coach? Here's All the Kit You Need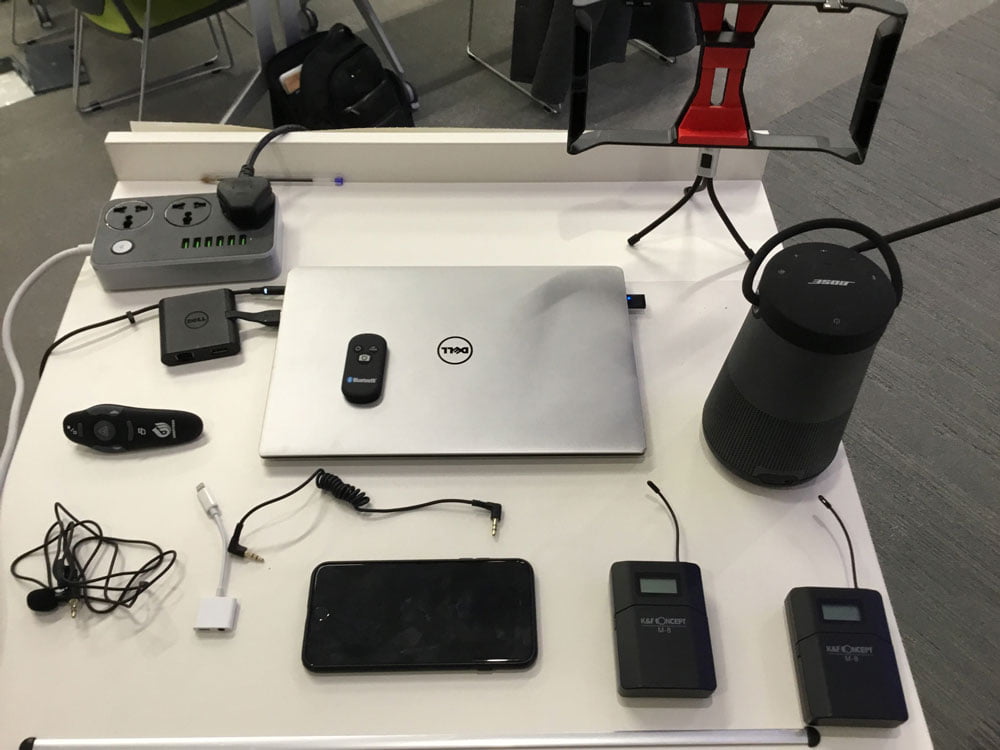 In this article, Jim Harvey explains the equipment that he takes with him all over the world when he's speaking, training or presentation coaching. Jim has also created a page on Amazon where you can see a selection of all of these devices to buy if you want to do that.
(Disclosure: Presentation Guru will get a few pennies commission if you buy them from our store, and that helps us fund this magazine, but Jim is recommending them because he uses them himself.)
The travelling presentation toolkit
In the last few weeks I have worked in Dubai, Munich, Milan and Paris. Just before Christmas I ran 2 presentation skills courses for 15 people in Barcelona, a one-day sales presentation masterclass in Seville, and finished the week in London working with the CEO of  a creative agency, in our regular coaching session to prepare him for his quarterly update to the whole business.
I travel a lot, as you can imagine. It's generally pretty good, and occasionally appalling, largely due to the airline industry. When I  travel, I try to minimise what I take with me, and tend to try to fit everything in to a rucksack and a small 'carry-on' suitcase so that I'm not relying on the airlines to deliver my precious cargo to me at 3am when all I want to be is asleep in bed.
But experience has taught me well. I try to take all the technology I'll need: video camera, tripod, laptop iPad, cables, everything; so that I am ready to meet any technical problems that the world of hotels and other people's offices can throw at me. I've had 20 years to get this right, and now I believe that I have the perfect little travelling combination to help me do my work and help my clients feel that they are getting value from their investment of time and money in me.
Power, Plugs and adapters
Wherever you go, as you know, there'll be different kinds of plugs. In these days of multiple devices, I tend to take a 4-6 plug UK extension cable and an international adapter with USB charger ports so that I need only one adapter and can use my standard UK plugs on my laptops, iPhone charger, Bluetooth speaker, etc. without problem. It also means that I only need to take one UK to international plug adapter with me – rather than one for each device.
Buy the Extension and USB Cable
Buy the International Adapter Plug
I also take a powerful portable battery with me so that I can work uninterrupted on the plane and always have charge ready for my iPad, iPhone and other devices as I travel. There's nothing worse than running out of power at the airport, especially when your boarding card is on your iPhone! I choose the Astro E1 Power Bank by Anker.
Video Camera
In-built smartphone cameras are so good these days that I have stopped taking any other kind of camera with me when I travel. I always use my iPhone 7 plus (I'll upgrade soon) as my video camera. I use a Macbook Pro 15" as my main presenting computer, and if I'm training or coaching, I will shoot the video on my iPhone and transfer it to the MacBook via 'Airdrop'. This works incredibly quickly: a 1GB video can be shared like this in HD format in under 5 minutes, and the quality is excellent. So my video camera kit is as follows:
In the informal sessions I hold the iPhone in my hand because the in-built image stabiliser makes for a steady and professional image, but in more formal sessions I tend to use a cradle to which I can attach a microphone to get better sound quality in a larger room. I also occasionally use a tripod, so that I can set up the camera and leave it in place, then using a Bluetooth remote control I can start and stop recording.
I always take a second laptop and tablet as backup just in case things go wrong. I once ran a 2-day Presentation Skills programme in a large, modern office with no electricity, just using my iPad Pro.
Sound capture
Boom Microphone
If I'm running a presentation coaching session then I'll often use video to help with feedback and specific skills coaching. The sound and image recording quality on an iPhone is superb for most occasions but, if I want better than usual sound, I have many options depending on the situation.
The simplest option is to use a cradle for the camera, that incorporates a 'boom' microphone that clips onto the cradle and connects to the camera via the iPhone's 'lightning' port. This will add 40% more sound quality to the recording.
Wireless Microphones
If you want better sound than the boom microphone setup described above then you can go for the 'wireless' option. This is a little more expensive, but if you want a better quality audio then £100/Euros is very little to spend to get a truly mobile experience.
The microphone transmitter clips to the speaker's belt or waistband, and the speaker wears a clip-on microphone on their lapel; and the receiver is attached to the camera rig/cradle. The set up receives broadcast quality sound from up to 50m away. It works brilliantly for the price and means that you get the best sound possible in any coaching or rehearsal session.
Buy the budget Wireless Microphone
If your budget stretches a little further then for around £280/Euros you can buy this brilliant arrangement from RODE.
In a future post, I'll create short video demonstrating how all of this technology works together, but for now, here is that travelling presenter tech list in full. Do tell us, in the Comments section below, what pieces of kit you couldn't live without. We always love to hear other people's suggestions.