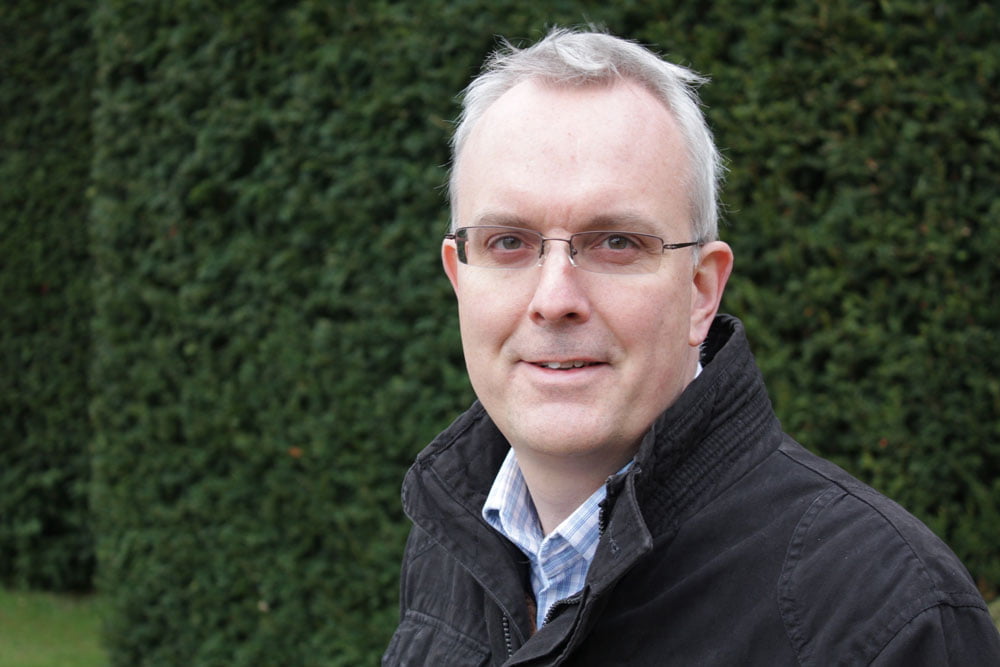 Stephen Welch is an independent communications and leadership consultant. He works with individuals and organisations to improve how they communicate their messages and drive change. He is a Fellow of the Royal Society of Arts, and a Council Member of the Public Relations and Communications Association (PRCA). He is also a valued contributor to Presentation Guru and the articles in his 'How to…' series are full of sound advice and valuable tips.
We want to help our readers build their skills as presentation designers, speakers and coaches, learning from a wide range of our colleagues from across the world, so in this occasional series, The Guru's Big Five Questions, we ask the same five questions about inspiration, hopes and role models in the ever-changing arena of world-class presenting. Here are Stephen's thoughts:
When I got asked to answer the "Big Five" questions, I resolved to avoid clichés like the plague. My fellow columnists have given some great answers – and I agree with many of their choices – but I wanted to do something different.
Here in the UK, we play the play the sport of cricket. Every year, a magazine called Wisden nominates its top 5 players of the year. But here's the rub: you can't win twice. Previous winners are ineligible. So really the competition is "Best 5 of the Year Who Have Not Won Before". With that in mind: here are my answers, based on the Wisden principle … previous winners need not apply.
What is the Greatest speech in History and why?
Ronald Reagan – Pointe de Hoc speech on the 40th Anniversary of D-Day.
This one gets me every time. I love its rhetorical flourishes, such as…
"These are the boys of Pointe du Hoc. These are the men who took the cliffs. These are the champions who helped free a continent. These are the heroes who helped end a war."
… one of the best examples of auxesis I know (actually double auxesis boys-men-champions-heroes; PdH-cliffs-continent-war). But especially powerful given the Boys II Men (Champions II Heroes) were sitting right in front of him. Reagan was known as the Great Communicator and this speech, written by Peggy Noonan, is him at his prime.
National Review called it "perhaps the greatest speech made by an American politician in that century." Which his pretty good going, seeing as the competition (as nominated by my fellow columnists includes JFK, Martin Luther King and Bill Clinton.)
Asiatic content written in an Attican style. And he praises us Canadians. What else can you ask for?
What is the great business presentation / sales pitch and why?
When we think of business presentations, we think of sales pitches. We think of pitches that convince people to change their minds. We think of speeches that have made a difference to a company or an organisation. Or the world.
Many of my fellow columnists have (rightly) nominated various presentation from Apple, Inc. My nomination is not from Apple but about apple. Ladies and gentlemen, as an example of the best sales pitch ever, I give you the old silver-tonged devil …. the Devil.
His sales pitch to Eve, if we believe the literature, has to surely be the one with the biggest long-term implications. In John Milton's version, this speech is spread over a couple of hundred lines of Paradise Lost. Like all great sales pitches, it starts with flattering the client:
"Wonder not, sovran Mistress … thy Celestial Beautie adore … with ravishment beheld … where universally admir'd."
The second phase is basically the first ever 'before and after' story. The serpent tells Eve how he was just a lowly creature, ate (and sated himself on) the fruit, and, lo, now he has extra gifts:
"Sated at length, ere long I might perceive strange alteration in me, to degree of reason in my inward powers, and speech…  
Thenceforth to Speculations high or deep I turn'd my thoughts, and with capacious mind consider'd all things visible in Heav'n, Or Earth…".
In other words: buy this product and you will become a better person. This is the classic 'testimonial': still used today for weight loss, beauty products, etc.
For the third phase, they travel to the Tree but Eve is still doubtful: so, like all salesmen, Lucifer listens to her objections and then bats them away one by one, ending with:
"Here grows the Cure of all, this Fruit Divine, fair to the eye, inviting to the taste, of virtue to make wise: what hinders then
To reach, and feed at once both Bodie and Mind?"
Eve basically says, "uh, yeah, you're right, nothing hinders me", and reaches up……
And the greatest sales pitch in history is over.
Who is the best political / cause orator and why?
I happened to be on a business trip to Berlin when I got the request to write this column. So, if you want the best example of how a politician bent a people to his will, and, through the power of oration transformed himself from a loser artist in Vienna to one of the most powerful people in the world in the 1930s and 1940s, I think you know where to look …. (in his book You Talkin' to Me, Sam Leith provides a more detailed analysis his technique).
Instead, I'm going to nominate Nancy Astor's maiden speech to the UK House of Commons in 1920. She was the first woman to take her seat and met with prejudice and animosity. This is maybe not the world's greatest speech (otherwise I would have nominated it above) but stands out for its circumstances and situation*.
My fellow columnists have nominated Winston Churchill a few times. A brilliant orator but, by today's standards, antediluvian. Apparently, after Nancy Astor's speech, he remarked "When you entered the House of Commons, I felt as if a woman had entered my bathroom and I had nothing to protect myself with except a sponge." A revealing 1956 interview with her can be heard here.
"I wanted the world to get better, and I knew it couldn't … if it is going to be ruled by men. As a matter of fact, I think it is amazing how well the men did for 2,000 years, considering that they tried to do it alone."
So, perhaps not on this speech in particular but for her wider work, she gets my vote in this category. And for giving us the mental image of a naked Winston Churchill.
* On the same day that Nancy Astor took her seat in the House of Commons for the first time, two women journalists also broke new ground becoming the first to report from the press gallery. It's quite the tale… You can find out more about their story here.
What's the one most important thing that anyone making a speech should do more than anything else?
Preparation / rehearsal / practice.
The world's best actors, the world's best orators, the world's best comedians … they all practise and rehearse. Many many times. These people are professionals and they know the value of practising. And yet, many amateurs think they don't need to practise. Are you really better than the professionals?
One of the best pieces of advice I ever got was this: if you are talking to 100 people for an hour, this means they are giving you 100 hours of time. What is a fair exchange for you to invest in return?
Who inspired you when starting out in the business? Who inspires you now?
Edward Tufte. Now and forever.