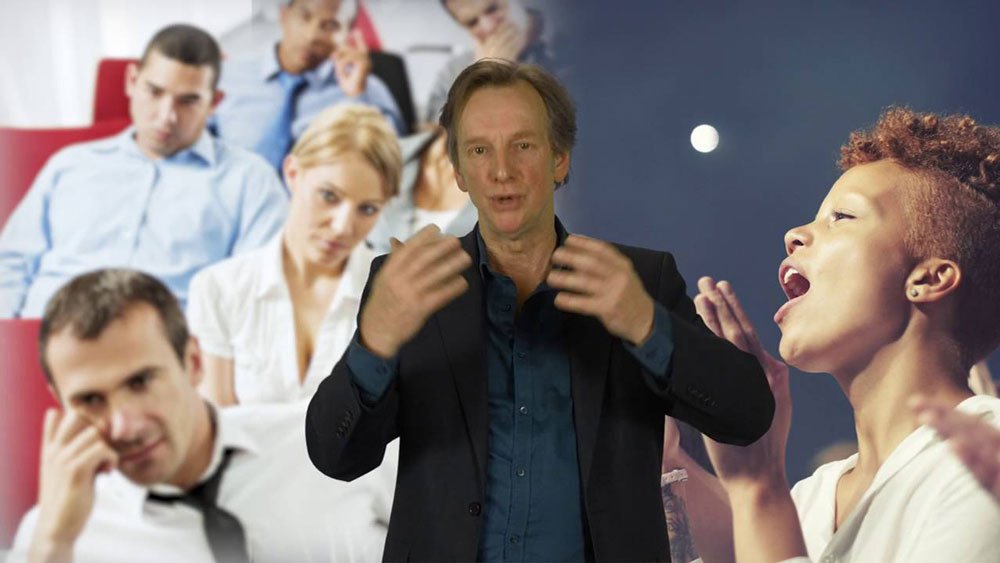 Nigel Barlow is a keynote speaker to many of the world's most successful brands, focusing on applied innovation. He also coaches speakers and creates conferences and events that really 'rock'. Presentation Guru's own Jim Harvey has previously reviewed his book, Rock Your Presentation, giving it 5 Gold stars!
We want to help our readers build their skills as presentation designers, speakers and coaches, learning from a wide range of our colleagues from across the world, so in this occasional series, The Guru's Big Five Questions, we ask the experts the same five questions about their inspiration, their hopes and their role models in the ever-changing arena of world-class presenting. This is what Nigel had to say:
What's the greatest speech in history and why?
There are obvious contenders here: like the Gettysburg Address, which was less than three minutes in length and followed on from a forgotten four hour speech by whats-his-name; Martin Luther King's great speech; and many of Churchill's.
I cannot really answer this question except to say that in the first two of these examples, Lincoln and MLK weren't sure what they wanted to say until they got up to speak. Churchill was also famous for rehearsing his ad libs. So the message here is to allow yourself to be in the moment, and whatever you've prepared, to improvise on top of that.
What's the greatest business presentation / sales pitch and why?
I rate music producer Tony Visconti's pitch to David Bowie which got him the job of producing Bowie's legendary Berlin Trilogy. Visconti had a new piece of kit that allowed phasing in of different instruments at different times. 'What does it do?' asked Bowie sceptically. Visconti really went for it, and said, 'It fucks with the fabric of time'.
Wow! If you consider the space cadet that Bowie was at that time, this was a brilliant way of really getting into his head. As I say in Rock Your Presentation, the best pitches are those that get under the rational radar of the listener, and get into their heads!
What's the best political/cause orator today and why?
I have to declare an interest here – I'm a trustee of the David Lynch Foundation, teaching meditation to the most stressed and at-risk people in the world: abused women, refugees, street children, service people with PTSD, etcetera.
David is not a natural orator, but speaks brilliantly and movingly from the heart about the joy of filmmaking and the power of Transcendental Meditation to change lives from within. It's because he speaks with a clarity that comes from an inner depth of experience that he is so powerful.
What's the one most important thing that anyone making a speech should do more than anything else?
From the answer above, I'd say learn to meditate. it's only when you are fully awake and simultaneously relaxed that you can communicate in a way that touches hearts and minds.
The second most important thing is to find a way to be your animated self . . .
Who inspired you when starting out in the business? Who inspires you now?
Tony Buzan, creator of Mind Maps, was  a great inspiration and mentor to me in the early days.
The people who inspire me about speaking in business today are not business speakers – they tend to be musicians performing live from whom I've learned a great deal about the art of engaging and touching the listener.