Resources
Free Online Resources to Make Your Presentations More Visual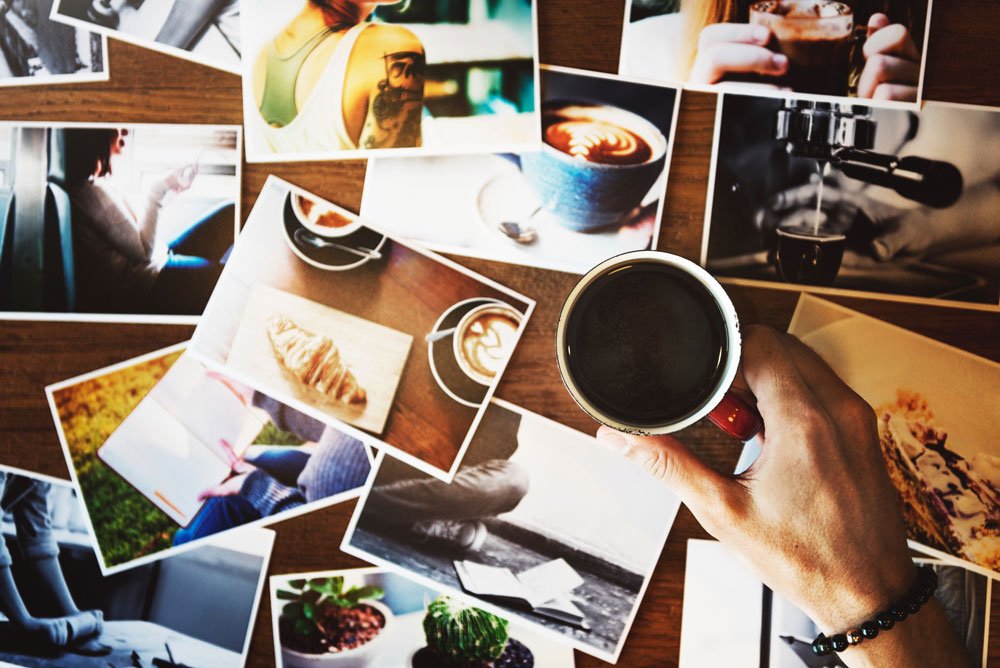 No matter what the ultimate goal of your presentation is, you can't achieve that goal if your presentation doesn't effectively transfer information.
It may feel counterintuitive, but visuals are the best way to transfer information in a presentation.
A picture is worth a thousand words, as they say. That goes for communicating and creating. It takes more time to type a 1000 words and make sure they fit on your slides than it takes to drag and drop a video or picture in your slideshow editor.
And, even if you take the time to put those 1000 words into your presentation, all it does is make it difficult for your audience to pay attention. There's nothing eye-catching or engaging about blocks of text on a big screen.
All that text also makes it difficult to remember the information in your presentation. Think about it. If you have text on the screen and you're talking, people must read and listen to you speak simultaneously. That's pretty much impossible. Your audience will either miss what you're saying or fail to read the text on your slides. Either way, they're only getting 50% of the information, at best.
The bottom line is that text isn't effective in presentations. So, use it sparingly. Lean heavily on visuals.
Visuals make it easier for people to understand the information quickly and commit it to long-term memory. This means there's a much greater chance that all the work you put into creating your presentation will pay off when people use the knowledge you gave them.
But, you need a good stockpile of visuals to use. Otherwise, it's hard to get visuals that fit your subject matter. You could end up spending just as much time finding the right visuals as it would take to type out thousands of words.
So, we've created a collection of free online resources. That way you have visuals in your back pocket to make your next presentation communicative and memorable.
VIDEO RESOURCES
Video is easily the most engaging visual format. It also enables you to use pre-recorded audio, instead of speaking yourself. This is handy for those who get nervous in front of a crowd. But, careful not to replace your entire presentation with a video.
Biteable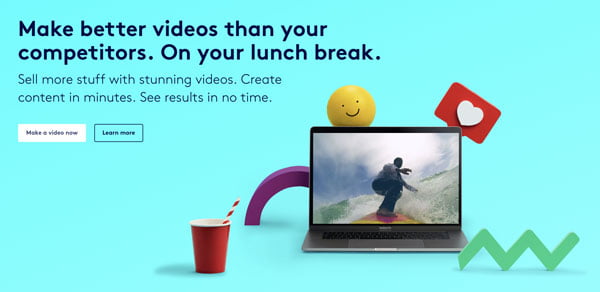 Biteable is a hybrid of stock video library and video maker. They offer stock footage from Shutterstock on the site. And, there's an online, browser-based video editor that's great for creating presentation videos and inserting them into your presentations.
The video editor is robust enough that you could create entire video presentations with it–complete with audio–if you wanted.
Pexels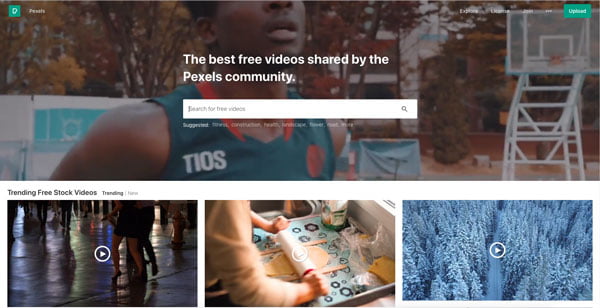 Pexels has a large collection of stock video clips with a wide variety of themes. Their library is categorized by theme. So, it's best to use general search terms to sift through their video library.
There's a decent selection of free video clips. But, you'll have to pay for most of the high-resolution videos.
Pixabay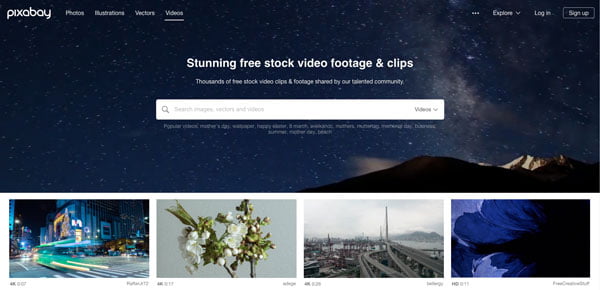 Pixabay is a library of free videos. The site is supported through donations and advertisements. All the videos shared by Pixabay are free. Since it's free, the library is slightly smaller than some other sites. But, there's still a lot of really good videos here.
However, you'll see Shutterstock videos in search results and suggestions. You'll have to pay for Shutterstock videos. The revenue from Shutterstock sales helps support Pixabay.
Videvo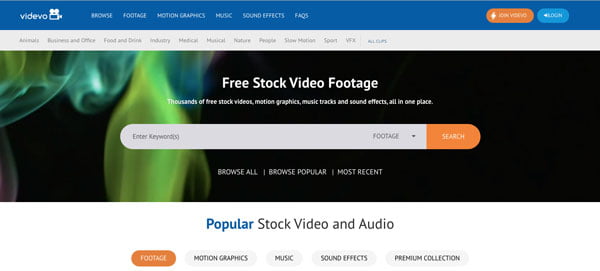 Videvo is similar to the other stock video libraries. However, in addition to their extensive selection of stock videos, they also offer free music and sound effects to augment your visuals.
Additionally, the site offers a premium library of 20,000 additional video clips. You'll need to pay for a subscription to get access to the premium videos. But, the premium footage is available in higher resolutions and comes with extended licenses.
Photography Resources
Maybe you just need some supporting imagery to supplement what you're saying or add some pop to what little text you have. Often, the right image is all you need to make your point.
Unsplash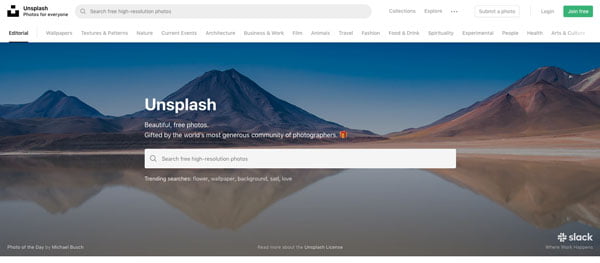 Unsplash specializes in offering excellent photographs for free. There are no paid features on the site. Everything is free. Contributing photographers give their photos to Unsplash at no cost.
It's easy to find photos in their library through the Unsplash collections, which organize the photos into various categories.
Pexels

Pexels offers stock images, in addition to their video footage. Similar to their stock videos, there are a ton of free images available on the site. The free images are remarkably high quality.
However, there's also a library of premium images, which are even better. There's a small fee per image to get premium images without the watermark.
Pixabay

Pixabay is another of the free video libraries that offers images. Pixabay also has vector images and illustrations. Just like the stock video collection, there are Shutterstock images available on the site. But, there's a fee to remove the watermark.
Illustration Resources
Illustrations are nice if you need something a little less serious than a photography, or cleanly combining imagery with text. A good illustration is great for visually summarizing a complex idea to help people understand and remember it.
Vecteezy

Vecteezy offers an excellent supply of free vector art. There are illustrations which are only available with a Vecteezy Pro account. They offer three pro account plans, based on your anticipated image downloads per month.
The vectors are exceptionally high quality, though their selection of free vectors seems a bit smaller than some other libraries.
Freepik

Freepik specializes in vector art illustrations for backgrounds and combining images and text. They also have a library of photos. But, it's not as extensive as their selection of vector art.
VectorStock

According to VectorStock, they offer 322,928 free images. That's a ton of free vector images, and they have a wide variety of vector images with good poster layouts, just in case you need to go old-fashioned for your presentation.
They also offer premium images. If you're willing to pay for a subscription, you can get premium images for $0.69 apiece. Otherwise, premium images can cost up to $14.99 each.
UnDraw.co

UnDraw is a bit unique in their vector offerings. The colors in their vector images can be customized on the site before you download them. It's nice for creating a theme for your presentation.
However, their search functionality isn't as advanced as some of the other free imagery sites. So, you may have to do some browsing to find what you like.
Icon Resources
Sometimes you have to use text in your slides. Imagery makes your words more interesting. Often, adding small visuals to your slides helps you break up the text and make it easier to read. Icons are excellent images to pair with lines of text.
Noun Project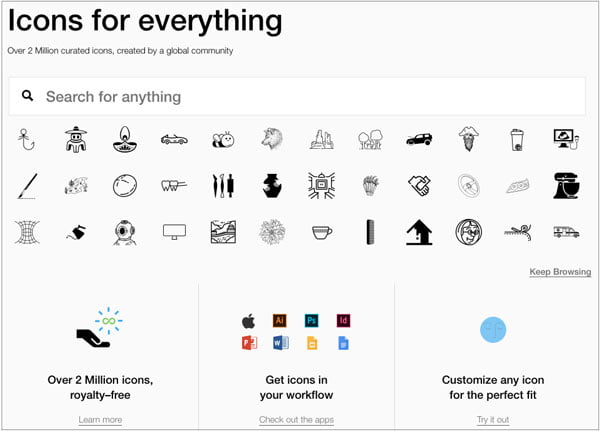 Noun Project has—you guessed it—icons for everything. And they do have a ton of icons. Almost any search query comes up with at least a few icons. You can also customize icon colors to match your other visuals and presentation theme.
FlatIcon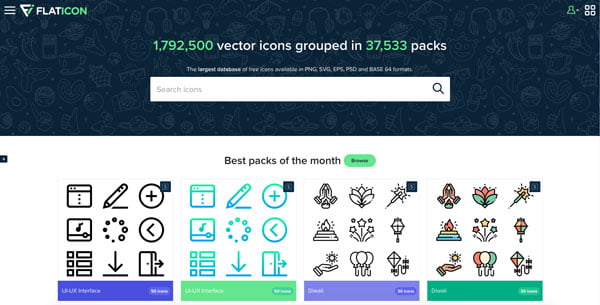 As you can see, FlatIcon boasts 1,792,500 vector icons. Icons are downloaded in packs, which are grouped according to their intended use and theme (i.e. UI/UX). However, you can download single icons, if you don't need a whole pack, which can be 50 icons or more.
There are also premium packs and icons, which are available through a monthly subscription. If you're using the site as a free user, you'll occasionally get Shutterstock popups.
Icon8
Icon8 offers icons in in packs, as well. However, there's a browser-based icon editor that lets you customize icons before you download them. That way, you can create your own custom icon collections.
Interestingly, Icon8 also offers a suite of free graphic design software. If you're able to familiarize yourself with it, you could create some really custom visuals for your presentation.
Infographic Resources
Infographics are a great way to illustrate statistics, reports, and visualizing almost any other numeric data. Infographics also make your data more interesting. Nothing puts people to sleep faster than a bunch of text that looks like it came from a high-school algebra book.
Venngage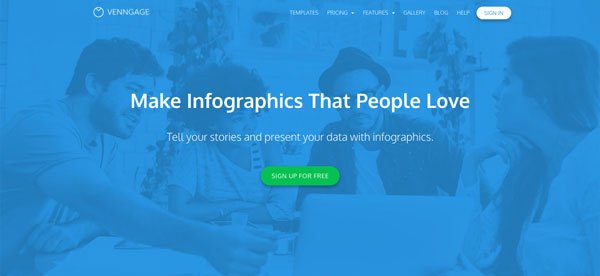 Venngage is a great resource for creating your own infographics. They have templates to work from, and it's easy to build an infographic right in your browser.
However, it requires an account to create infographics. And, you'll have to pay to access all the features on the site. But, if you're a student, you can get limited access to the premium features for free.
Visme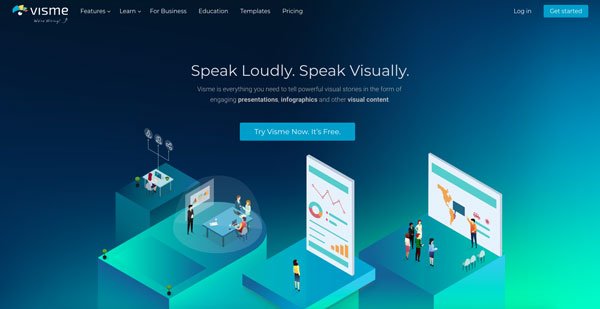 Visme offers more free access to their templates and infographic creation tools than some other infographic services. A free individual account provides access to nearly the entire platform, with some limits on what you can do and how many infographics you can create each month.
But, as seems to be the case with infographic creators, you must create an account to use the service.
Piktochart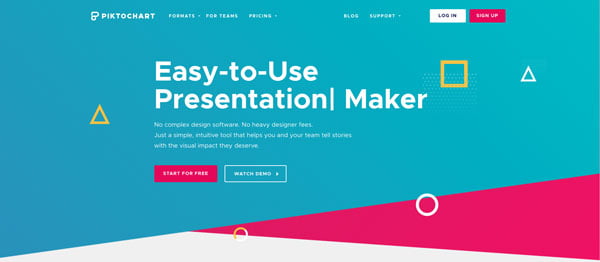 Piktochart is an infographic maker with some features that are handy for creating presentations. The editor is easy to use, and they have a broad variety of templates for creating infographics for almost any purpose, if you're the type that likes to use a single tool for multiple things.
You can use the infographic editor, templates, and stock images for free. However, you'll need to pay for a pro account if you want to remove the Piktochart watermark.
Font Resources
Sometimes you have to use some text in your slides. When that happens, you might as well use fonts that make your words easier to read and more attention getting. You can also use your font to match your text to your presentation content and theme.
Google Fonts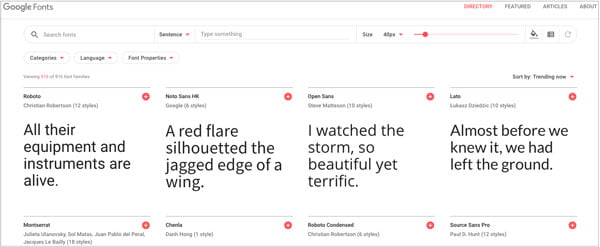 Google Fonts might be the premier font library on the internet. One impressive thing about Google Fonts is the information it gives you about each font. Before you select a font, you can see how every character in the font looks, in a variety of styles, and even in other languages. There's also information about which countries the font is most popular in and how many websites feature the font.
So, you can make a really informed decision about which font you use, and even match your fonts to your audience.
1001 Free Fonts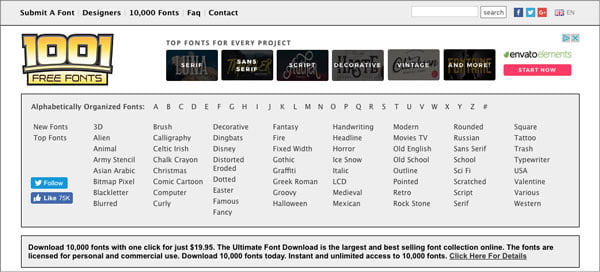 The 1001 Free Fonts website might look like it's from the 90s. But, they do have a lot of free fonts in a variety of themes. Finding fonts can be a bit clunky, since their search function is fairly simple. But, if you like to peruse, this is a great place to do it.
There are premium fonts, which you can purchase in a pack of 10,000 fonts. However, this is probably only valuable for you if you need a LOT of fonts with permission for commercial use.
Font Squirrel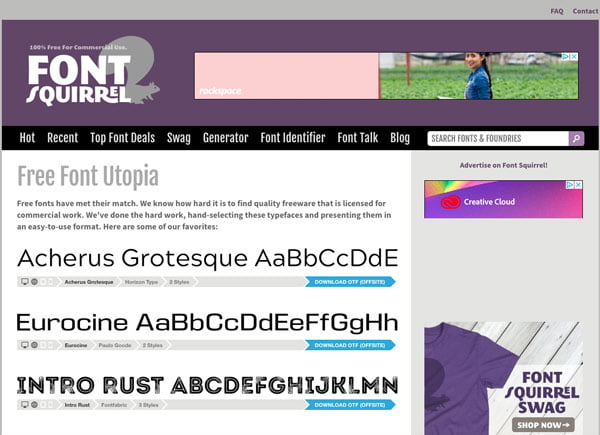 Font Squirrel is another font library with an old school website. However, all of their free fonts are available for commercial use. This is handy, but it means that their library is a bit more limited, since getting commercial use permissions can be tricky.
So, if you need commercial permissions, Font Squirrel is a great resource, since there's no need to check to see if you can use a font commercially.
Da Font

For whatever reason, it seems that font libraries prefer a retro website look. Da Font offers a pretty wide variety of fonts, which can be installed in your OS, so you have organic access to them.
The searching and browsing capabilities are a bit simplistic. But, their font categorization is pretty sophisticated. And, there are 42,010 fonts. So, it's a decent resource if you need fonts that you can't find anywhere else.
(If you're looking for fonts that are free for commercial use, it's worth checking out this article: https://www.websiteplanet.com/blog/best-free-fonts/.)
Add Your Visuals
Visuals add a lot to your presentation and help people pay attention and understand your message. Good visuals also make your presentation materials look a lot more professional.
So, give some video and images a test drive, and see how your audience responds to your next presentation and how much of it they remember. You'll find that a presentation with more visuals and fewer written words keeps people engaged and conveys your message more effectively.