Powerpoint
5 PowerPoint Hacks That Will Make You Look like a Pro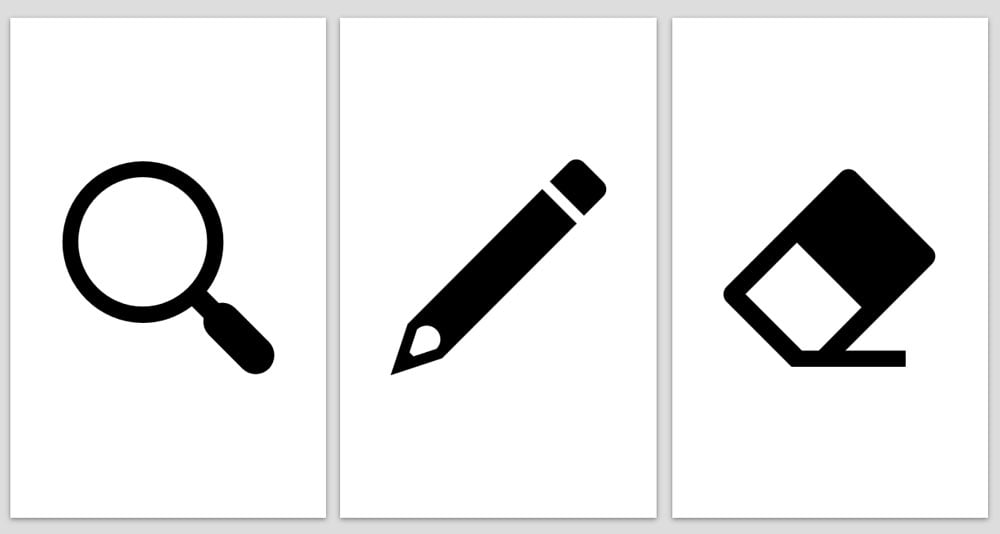 Investing in improving your PowerPoint skills is definitely worth the time and effort. But while designing the perfect PowerPoint is one thing – and we have plenty of advice on creating a great looking presentation – the best looking slide deck in the world can crash and burn if you aren't equipped with the skills to present it.
We'd always recommend getting yourself familiar with PowerPoint software. Not only will these skills give you that inner glow that comes when feeling more comfortable delivering presentations but these are skills to increase your value to your current and future employers and who know what doors they could open for you.
We've put together 5 PowerPoint hacks that will improve your delivery. You can investigate all these hacks in 'Presenter View'. To activate this, go to Slide show tab -> Monitors -> Use Presenter View.

Then when you change to presenter mode at the bottom of your screen…
…you will get a dashboard view on your laptop/desktop while displaying the full slide view on the output screen. The dashboard view gives you an earlier and next slide preview so you know what's coming up and also the narrative notes for each slide. It's really rather useful!
1) F5 to start your presentation
If you're really prepared you are of course already in Presenter Mode and all set. Otherwise, just click on F5 and you're good to go – it couldn't be simpler. Presenter Mode opens up and you're off!
2) 3 keyboard shortcuts to navigate your way through your presentation
There are lots of keyboard shortcuts to learn but, honestly, who ever does? Our brains are too cluttered remembering our ever-increasingly list of usernames and passwords without trying to squeeze in even more.
But it is worth remembering these three. They will help you move seamlessly around your presentation . Your audience won't really be aware, or even care – but they certainly will if you don't!
N – move to next slide (of course, you could just press Enter or the forward arrow)
P – go back to previous slide (often quicker than looking for the back arrow)
Slide Number + Enter – go to a specific slide (great if you know your presentation well and can take the audience to a particular piece of information, possibly even to answer a question)
3) Zoom in to focus on a particular area of your slide
On the Presenter dashboard you will see a small magnifying glass symbol in the bottom left hand corner of the current slide. Click on that to activate and a box appears which you can position over whatever you want to focus on. Click again and you zoom right in. Click on the magnifying glass icon again to zoom back out.
This is really helpful if you need even more emphasis to make your point.
4) Draw or write on your slides while presenting
Look again at that bottom left hand corner and you will see a pen symbol. If you click on that you can turn your mouse pointer into either a Pen or Highlighter. You choose. The Pen will allow you to write on the screen or perhaps underline, circle or draw arrows to draw people's attention to particular points. It's not the easiest thing to control so I would suggest you practice a bit if you think this is something you might want to use. The Highlighter also does just what you would expect – highlight any particular point just as you would on paper with a pen.
If you click on the pen symbol again you will see how easy it is to erase anything you've done.
5) Get your audience's attention with a blank screen
If you need to refocus your audience's attention on to you and what you're saying, simply switch to a blank screen. You're not competing for attention then and your audience have nothing to do but turn to you. This is a good technique to use, as John Zimmer suggests in his article Rethinking Final Slides, at the end of your talk, but indeed anywhere you need your audience to listen, and listen well.
Click Ctrl + B on your keyboard and they screen turns black; click Ctrl + W and the screen turns white.
Click any key on your keyboard to move back to your presentation.
Master these simple tricks and it will increase your confidence when presenting. Increase your confidence and presentation success will follow.
Please let us know if there's any other tips that we should know. And if you want to find out about all the keyboard shortcuts available in Presenter Mode, read this article,  Look Effortlessly Expert as you Present with PowerPoint, or watch the video that goes with it.