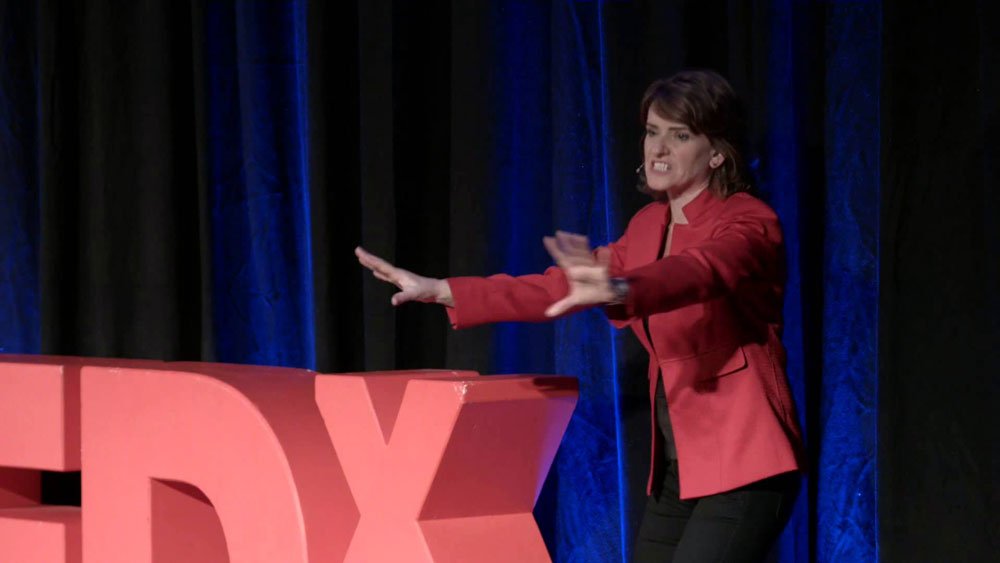 Olivia Schofield is a Keynote speaker, executive coach and trainer. She is the founder of Spectacular Speaking and co-founder of Vocal Women and Cradle of Growth.
Growing up with a speech impediment imposed enormous challenges to her self-confidence. However despite, or perhaps because of, that she made it to the finals of the World Championships of Public Speaking. Her clients include American Express, Heineken and Shell. Her Keynotes include Risk & Innovation, Gender Equality & Inclusion and Change & Reinvention.
We want to help our readers build their skills as presentation designers, speakers and coaches, learning from a wide range of our colleagues from across the world, so in this occasional series, The Guru's Big Five Questions, we ask the experts the same five questions about their inspiration, their hopes and their role models in the ever-changing arena of world-class presenting. This is what Olivia had to say:
What's the greatest speech in history and why?
When I ask my seminar participants to name great public speakers from the past, the answers tend to range from JFK to Gandhi and from Martin Luther King to Steve Jobs. Aren't there any great female speakers? It is true that traditionally we think of male speakers when we are asked to name a great speaker, but though great women speakers don't go way back, there are women out there. I've chosen to focus my answers on the women.
This speech by Susan B. Anthony on a Women's Right to vote from, 1873 is one of the oldest and most famous speeches, obviously not available on video and nor audio, but it's very poignant presently with the Brexit. Walking along the street to the mail box to cast my postal vote for one Europe, I was reminded of those women who gave speeches that changed something fundamentally important. Now if speaking at it's best isn't about changing the world for a better place then don't speak.
"It was we, the people; not we, the white male citizens; nor yet we, the male citizens; but we, the whole people, who formed the Union. And we formed it, not to give the blessings of liberty, but to secure them; not to the half of ourselves and the half of our posterity, but to the whole people — women as well as men."
Maya Angelou became the second poet in history to speak at a presidential inauguration in 1993. She used the language of poetry to stir her audiences and reach into their hearts.
J.K. Rowlings speech at the 2011 Harvard Commencement told her story of being turned down by most of the publishing industry.
Oprah Winfrey in her Harvard Commencement speech 2013 doesn't shy away from the childish excitement of getting to Harvard at last…. even if it is as a speaker rather than a student. She is comfortable being herself and being oneself is crucial to being a great speaker.
Arianne Huffington of the Huffington Post. In her Tedx Women talked about the dangers of sleep deprivation. Despite a strong accent, her speech is witty and relevant, but a simple idea. She doesn't feel the need to appear smart. Now that's what I call smart!
Sheryl Sandeburg in her Ted Talk 'Why we have too few women leaders', speaks with her own voice with no need to be knowledgeable or appear an expert.
What's the greatest business presentation / sales pitch and why?
Naomi Climer's inauguration speech as the first female president of Institution of Engineering and Technology, was sensational. Highly entertaining, engaging and beautifully engineered, the visuals and video inserts she used, enhanced her speech both factually and entertainment wise. She talks personally and humorously about her life whilst lifting her credibility beyond any level of doubt, still managing the humility we Brits love so much. The sound bites from this speech made it into all the top newspapers securing her organisation extensive coverage and fantastic brand strengthening opportunities. She will be a tough act to follow for the incoming president.
Who is the best political/cause orator today & why?
Hilary Clinton's LGBT speech stands out. Speaking passionately and convincingly, on a controversial subject for the greater good of humanity. Remarkable is her focus as she seeks to convince each and every nation present. No sign of autocue or notes, just the urgent need for her message to be heard and acted upon.
"Gay rights and human rights are one and the same. "Gay people are born into, and belong to, every society in the world. They are all ages, all races, all faiths. They are doctors and teachers, farmers and bankers, soldiers and athletes. And whether we know it or whether we acknowledge it, they are our family, our friends, and our neighbors. Being gay is not a Western invention. It is a human reality."
What's the one most important thing that anyone making a speech should do more than anything else?
Instead of trying to sound like a professional, try and sound like yourself.
"An actor is an expert at being someone else, but a speaker is an expert at being themselves. Be yourself."
My quote.
Who inspired you starting out in the business? Who inspires you now?
When I started speaking in public, it was through Toastmasters, an International amateur speaking organization. I had no idea at that point that speaking was a profession. It was my audience's reaction, the change I saw in their minds and their encouragement that inspired me to continue to speak. Since those early days, I've watched many speeches and have been inspired by different speakers for different strengths and skills, Victoria La Balme was probably the one that made me realize that being theatrical, female and an ex-dancer were not negatives, but in fact they were positives.