Message
Persuasive Presenting: 3 Strategies for More Effective Leadership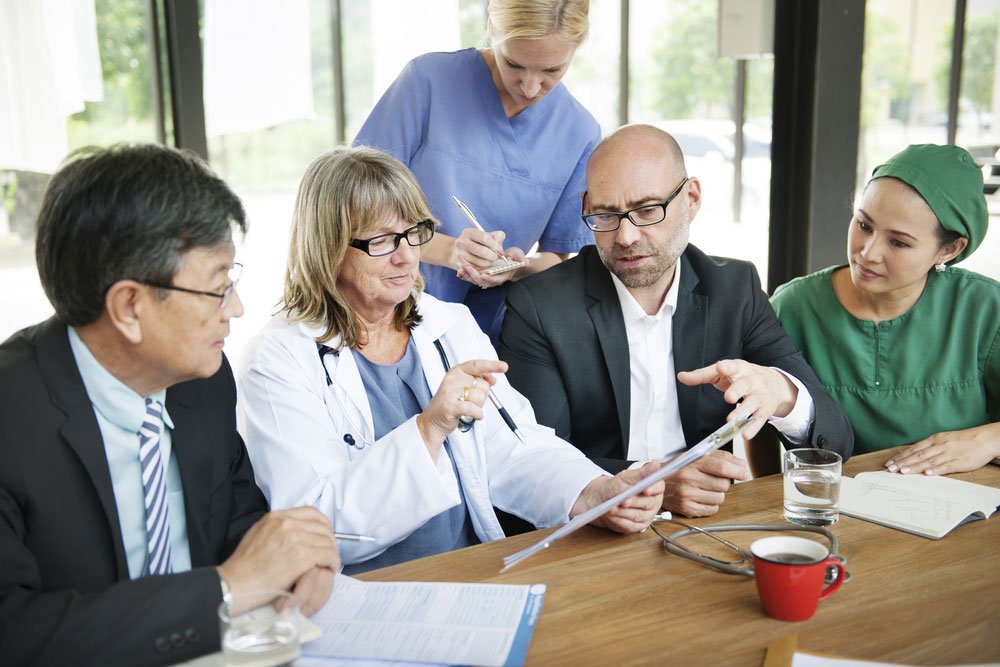 Internal communications require just as much care and attention because what – and how – we communicate to our teams is ultimately what will drive our success. We can concentrate so much on how we present our business to the outside world, but a key part of leadership is how we mobilise our teams (often multidisciplinary) to act towards a common goal. This article, albeit written from a healthcare perspective, is equally relevant to anyone, in any industry, who has a team to lead and a vision to share. Rafic Habib explains more…
How often do we consider the strategies for effective leadership in healthcare management? The industry provides extensive training for its healthcare professionals to navigate patient experiences and provide quality care, but it takes a combination of business acumen and medical know-how to succeed as a leader. The question is, what is the key to being an effective leader in healthcare? In an era where digital transformation, healthcare innovation and rising costs are a reality, great leaders must champion change.
Presentation skills play a huge part in this. Presenting persuasively is a fundamental part of uniting an audience around a shared vision and engaging them to take action – whether it be inspiring your team, your board, your investors, or even your patients. You must successfully communicate a vision for your organisation and for your care, and it is critical that everyone understands the goal, the path required to achieve this goal and their role in facilitating its success.
Here I explore three strategies for effective and persuasive presentation that are essential for leaders seeking to manage change, empower their teams and unite an organisation around a shared goal.
1) Understand your audience
Good leadership is more than responding to problems as they occur. A good leader needs to stay agile, think outside the box and anticipate pressure points before they arise. Preparation and foresight in management is always important, but in healthcare it is essential. Your role is to lead and your goal is to be assertive, persuasive, empathetic and decisive. You must know your business and your audience's desires.
A great doctor, healthcare leader and friend, Associate Professor Peter Illingworth, once said to me: "I am allowed to know "nothing" about my patient only once". This applies not only to your patients but also your team and your business.
To this end, you need to understand your team just as much as you understand your patients. Granted, it is important that you have the "right" team on board – and many clinicians already have. Once you do have the right people, it is your responsibility to truly understand who your people are; what challenges they face and what makes them come to work in the morning? As Simon Sinek asked in his famous TED talk, you must ask, "What is your why?"
Only then can you work to establish what they need from you to succeed. How can you make their life easier?
The purpose of this research is not to resolve problems single-handedly. Your mission is to be able to interpret their needs, engage them in the discussion, and evaluate their goals in light of organisational and personal objectives. Healthcare organisations are complex and dynamic: it is an industry that requires a great diversity of specialised talents in order to operate effectively. These disparate skill sets require the same coordination of resources as any other business.
Identify how these systems interact; work out how they add value to you and your team; then work to optimise, streamline or improve them to suit your practice. From an HR perspective, seek to understand your team's existing processes and show that you understand their world. Coach and nurture your teams, but try not to overprescribe.
2) Present with clarity
Professionals across all industries often struggle to present ideas clearly. This is why we end up with overloaded PowerPoint presentations that do little to engage or inform us. We see many doctors investing an incredible amount of energy preparing a clinical presentation, which they deliver brilliantly, but this tends not be be the case when the topic is not clinical.
In setting out to present on a topic, too often it seems the presenter is trying to understand the concept as they write the presentation. Imagine building a house with no blueprint or design. It sounds ridiculous but this is often how, in management, we work on our communications.
Clear and precise internal communications to your team, backed with a convincing presentation, sends a clear signal that the team are valuable to you and that you have taken the time to prepare a key message for them.

This will result in better engagement, deeper understanding and, most importantly, organisational action.
Less is more
The best presentations are persuasive with a clear call to action. Aim to prioritise one goal for every presentation. Start with the simplest version of the idea you want to communicate. Until you can summarise what you want to say in a single sentence, you're not ready to present it to others.
If you feel the idea is longer than a sentence, refine your thinking. After all, if you can't clearly distil your own idea, how will you convey it to others?
When you have the core of the idea, explain it with straightforward language, be concise and use as few words as possible.
Visual metaphors
You may want to include visual metaphors that will illustrate your concept. New research in the Journal of Consumer Psychology finds that visual metaphors can prompt participants to have better insights than those who are shown no imagery.
It is very difficult to picture 'cooperation' – but a beehive, buzzing with activity, presents a clear mental picture to an audience. Empowering this ability to imagine not only what is, but what can be, is crucial in effective change management.
'What's in it for me?'
Finally, speak directly to your audience to ensure that the topics you've raised relate to them and their day-to-day life. Steve Jobs referred to it as the "so what?" moment. Ask your team, "So how does this affect our day to day? Why will these changes make us more effective?"
People have the strongest responses to things that directly affect their lives, so leverage this in your presentations.
3) Tell your story, sell your vision
We understand the world through stories. Our very memories are structured to have a beginning, a middle and an end; heroes and villains; excitement and tragedy.
Stories are emotional frames that allow us to place ourselves inside the perspective of another. Understanding this, is central to effective persuasion.
You must be able to communicate two key ideas – who you are and what you want. This is important because your team needs to know that you as a leader are taking the business on a journey that they want to be a part of. In their own minds, they will place themselves at the centre of this story because they know their mission and what they need to do in order to achieve this goal.
In an article in Forbes, President and CEO of Geisinger Health, Dr David Feinburg describes storytelling as a key leadership tool. "In the healthcare business, our stories are better than what you're seeing in Hollywood. These are real-life people who are struggling and when we get it right, it feels really good."
As a result of this storytelling approach, patient satisfaction scores have increased across all departments and the health system has its best retention rates on record.
Feinburg's success can be attributed to his ability to vocalise – to present – the vision of the company he leads. Anyone looking to emulate his success can review the communication strategy he developed at UCLA, which he refers to as CI CARE.
However, the heart of persuasive storytelling isn't just the words you say. After all, it's one thing to merely paint a picture of what success could look like – it's another thing to support your vision with tangible insights, experience and data. Like the best business decisions, the most compelling stories are informed by facts, therefore leveraging the information at our fingertips is crucial. You want to translate the numbers into actionable insights, and weave these into the vision you're selling.
When pioneering smarter and more efficient delivery of care, consider the tools at your arsenal – your practice management system will often uncover great insights to steer the direction of your story. For example, when engaging in a conversation around efficiency, you might identify the following figures:
The steps involved when onboarding a patient
The average time patients wait when moving between waiting rooms
The time support staff spend following up on patients
Who is referring patients to you and why
Persuasive presenters tell compelling tales of change, weaving together strategy and supportive statistics into a vision that empowers their audience.
The time is now
The speed of medical progress and technological advancement, along with a much more engaged and informed patient, will disrupt many traditional healthcare management strategies. Be as good a leader as you are a doctor and that will help prepare your practice or organisation for all the changes and advancements that are on the horizon.
Always be prepared and present with a good story – it's a great way to get your message across and to align your people to help you be bigger and better, because you can't do it all yourself.
Rafic has given us practical examples and direction to use in real-life situations. What are your essential tips for effective leadership and persuasive presenting?