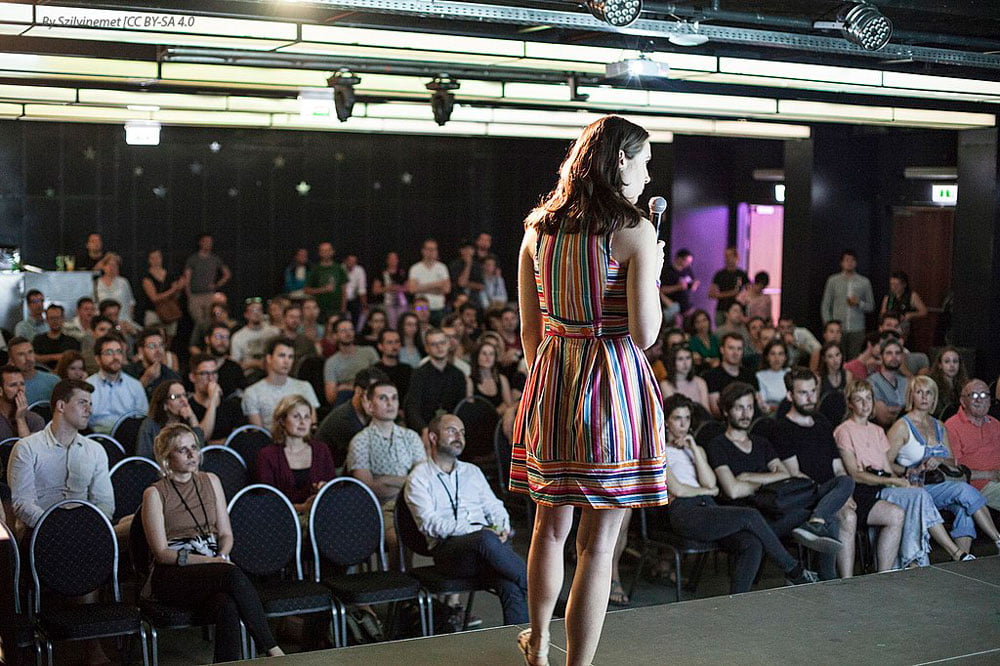 Through the years, we have heard of many presentation formats and styles that were all created to help solve a big problem: boring presentations! One of them is PechaKucha™ 20X20 .
What is it?
Whatever the way people pronounced its name since its creation, PechaKucha can be defined as simply as a concise way to present. The presenter shows 20 images for 20 seconds each in an automatic slideshow. That means you have 6 minutes 40 seconds to tell your story and have a memorable message. Yikes! I know many presenters who cannot constrain themselves THAT much and I'm sure you probably have a few examples in mind right now.
Why create such a format?
The creators of PechaKucha are Astrid Klein and Mark Dytham, two architects who were tired of long and never-ending presentations. They say it's because architects and most creative people talk too much – I tend to agree with them! So, in 2003 they held their first PechaKucha night in Tokyo. Since then, it has grown into an international movement where local organisers bring people together for fun and informal PechaKucha nights around the world.
The main goal is to allow people to share ideas, creative projects, work, trips, passions – anything you love! Visit their website for more information about events near you.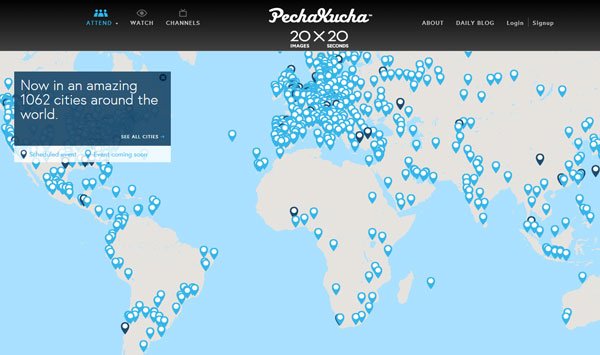 Why should inexperienced speakers try this presentation format?
Some people might think PechaKucha is too complicated for them. But the creators have proved that anyone can present, from a 5-year old talking about her artwork to a 69-year old showing her cake creations. And I have also proved to some newbie presenters that it was the perfect platform to get them more comfortable in front of a crowd.
The main reason? You get to choose a topic you love and know about and present it in a friendly and casual environment. What better way to get in front of a crowd than talk about something you know and love! Oh, and since PechaKucha nights are usually held in places where people can also have snacks and drinks, it usually makes everyone more comfortable and friendly.
One of the main fears of public speaking is forgetting what you have to say. If you start with a fun subject that you are passionate about, it will at least make you confident that you can easily talk about it. As PechaKucha is an image-based presentation format it makes new presenters realise that they don't need bullet points to talk about something. That, in itself, is probably one of the biggest advantages I see.
Becoming comfortable talking without or with very little text on slides usually makes moving on to longer presentation formats easier. And once you've been through such a short and fun-type of presentation, it will make you trust yourself and be more confident in front of a group.
What's the advantage of trying PechaKucha for experienced speakers?
Through the years, many experienced speakers I have worked with all had the same flaw: they were over-confident and thought they could wing it every time they were asked to speak. I would say that trying the PechaKucha format is the cure for most of them! It's completely different from what they have done in the past and forces them to rethink the way they present.
First, having to choose a topic that does not fit with either their technical knowledge or data-heavy usual subjects flips their brain into a more creative way of thinking. Having to craft a type of story with images already takes many of them out of their comfort zone – which is a very positive thing when we're too comfortable in our speaker shoes.
The other big thing is realising they are totally losing control over slide changes. Why is that good for experienced speakers? Mainly because it makes them realise that they need to practise even more to be able to say what is relevant for each image and make it on time for the next image.
In a PechaKucha environment, you can't go on forever and digress at every slide you show. That type of exercise usually makes them rethink their other presentations and realise that, most of the time, you are better off with less information that delivers more value or has more meaning to your audience.
Here is an interesting example of a PechaKucha talk about creativity and candy creation. Remember, it's only (exactly!) 6 min 40 sec.
And since I love science and art, I'm also sharing this one for your enjoyment.
What can you learn from trying the PechaKucha format?
Whether you are brand new to presenting or have been taking the stage for many years, here are the key takeaways you will get from trying the PechaKucha format:
Think about your topic or idea before opening a presentation tool.
Learn to put together your talking points in short snippets – Okay, 20 seconds is very short, but maybe you will think twice before putting a slide up for 20 minutes the next time you talk.
Find relevant images that enhance what you say or help you make your point.
Learn to practise ahead of time to be able to fit your words into the 20 second per slide frame, and prepare your speech transitions to the next slide in case you finish early or a little late.
And finally, learn to trust yourself more when you deliver your content. It does not matter if you forget some words or add a couple, as long as you respect your timing and your overall message.
Do accept the challenge of trying to present in a PechaKucha night. You will step into a totally new experience that will benefit you for the rest of your life. You'll find all the information about events near you on the PechaKucha website.