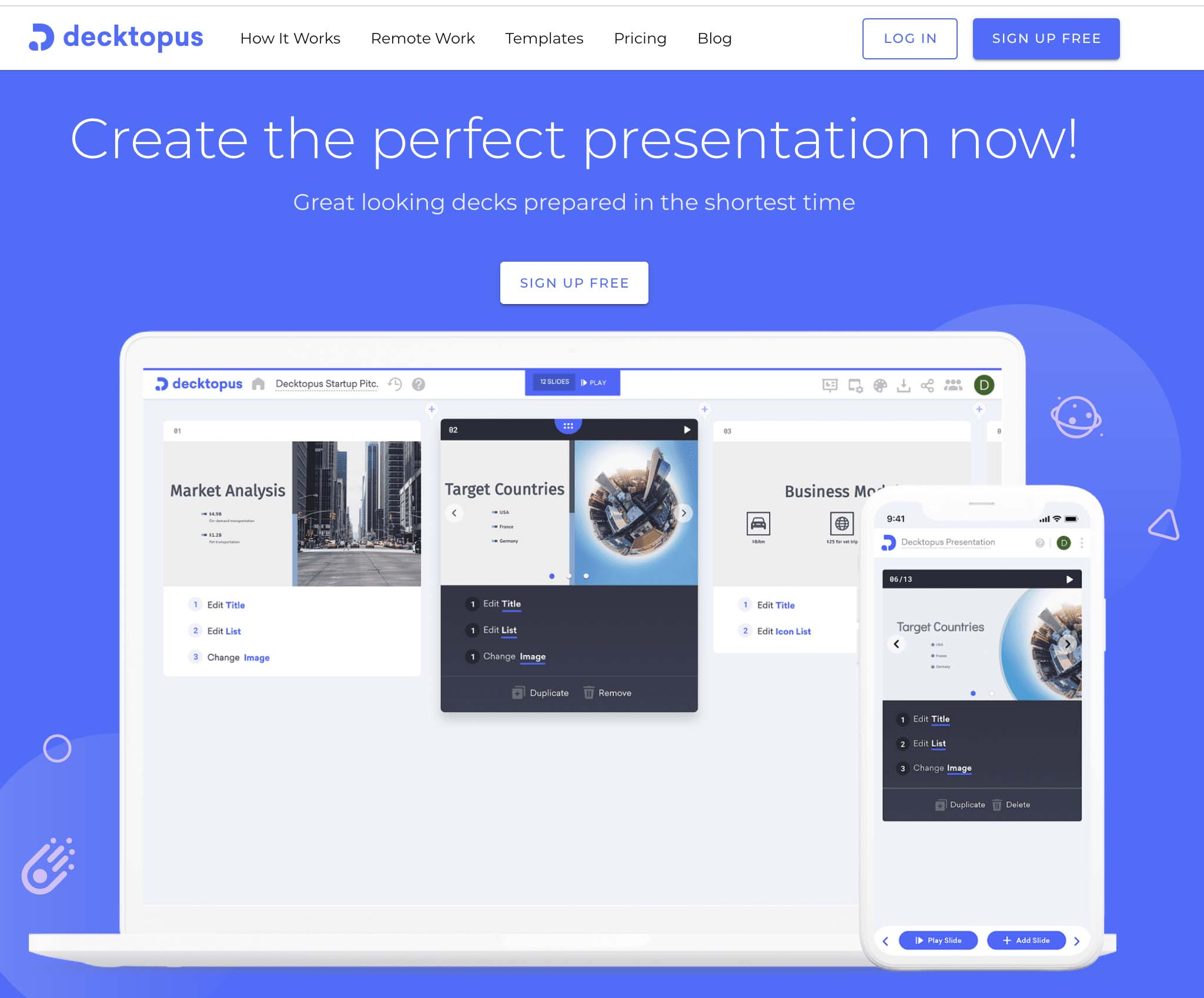 We get lots of products pitched to us here at PG. Most of them sound good but disappoint – Prezi being probably the biggest disappointment of the last decade. I was contacted by a person to see if I wanted to try 'Decktopus', and I thought, OK, I'll give it a go. Here's their offer in a short video:
On first use, I couldn't see the 'big idea' that might raise this tool to the top of anyone's list of paid-for presentation apps, and get them to subscribe. I decided to talk to the founders of the business and let them try to explain what I was missing. I'm very glad that I did. I met Noyan Idin, and Ugur Yigit in a Zoom call to help me understand their thinking, and in listening to their story I realised that the story behind it is the product. I'll let Noyan, tell the story of how it all started.
'I was the president of the entrepreneurship club at college and I was responsible for organising events to fuel the entrepreneurial spirit in our school. The general structure of the events was that participant teams would have to come in, find a business idea, build a business model, prepare a pitch deck and finally pitch the idea to the jury.
What's more, they had to do all that in a time crunch- 24 to 36 hours to be precise. As we led these types of events countless times, I had the chance to observe the many difficulties such events imposed on its participants. Most of the teams were extremely successful in finding a business idea and building a business model – so the content for their presentations were complete. Yet, even though they had great knowledge of their content, this did not reflect in their presentations.'
That short story answered 'the great entrepreneurial question', the question that lies behind every great product or service in history. The question is:
What is the problem this product is going to solve for the users?
Listening to the history helped me understand the thinking behind the product. The 'big idea' is speed. The product is designed to help novice presenters get from a blank sheet of paper to a shareable presentation deck in less than an hour. It recognises a simple truth, that it takes a long time and a lot of practice to get good at writing and delivering presentations. As Noyan goes on to say,
'I saw so many great ideas lose their 'spark' behind bad presentations. This is because presentation making isn't only about the content; you also need a good eye for design. But, as is the case with all skills, an eye for design is not gifted to everyone and requires a lot of practice to master.' This insight reflects my own experience.'
Most professional people aren't confident in creating the presentations they deliver
I've spent thousands of hours helping businesses prepare to pitch their services to customers. It's a time-consuming and sometimes frustrating process. Engineering companies tend to be run by engineers. Software companies by programmers; accountancy firms by accountants, especially at the start-up stage. Entrepreneurs tend to have ideas and energy, but they don't tend to have marketing teams and communication professionals to help them get their ideas out into the world, and that is a big problem for the most gifted innovators. The same problem exists in larger corporations too.
Nearly everybody in the business world knows what they do. Most people know how they do it. But very few people can explain the value of it to their audience. I've seen hundreds of very capable professionals struggle to describe their purpose to a non-expert audience. For start-up newbies pitching their idea to investors, this lack of knowledge and experience can, literally, cost them their business.
The very best speakers are better at 3 things than others
They know what they want to say and can make their story relevant and interesting

to a specific audience.

They can create simple visual aids to help them tell their story in a memorable way, to help them stand out from the crowd.
They tell their story as themselves with skill and really connect with even the most sceptical audience. And professional investors tend to be professionally sceptical.
Decktopus will help the entrepreneur with all three of these things.
So how does Decktopus work?
You get lots of pre-prepared presentation decks and presentation designs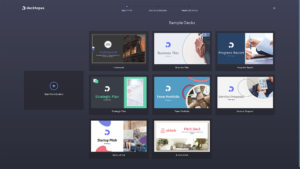 Sample decks include:
Homework Deck
Business Plan
Progress Report
Strategic Plan
Team Portfolio
Service Portfolio
Start-up Pitch
Airbnb Pitch
Each sample deck has a clear outline, suggested content, and a surprisingly large number of slide layout options for you to use. If you want to prepare a sales presentation, you don't have to think about the outline, you just replace the sample content with your own words and data, add the slides that you want, in the layout that you want, then your presentation is ready.
'Oven-ready' images, icons and gifs
Decktopus also offers a good selection of 'oven-ready' images, icons, gifs, and memorable quotations to help you add a little more power and impact to your story.

If you want to use an image, without leaving the platform you just choose an asset related to your subject from the extensive Decktopus image library. You can, of course, upload your own images to use if you want.
Each sample deck can then be reformatted into a different style
Once you've created your draft presentation, you can then reformat the whole presentation into a different style by using the broad range of templates provided as a part of the package.
Each template is created by professional designers and has its own style

Design categories include:
Cheerful
Minimal
Elegant
Dark
Formal
Retro
Creative
Abstract
There are different templates included under each category. The user just selects a template and then a style. If you want to  create a formal presentation;, let's say for a Board Meeting, you can select a template under the 'Formal' design category. Then Decktopus automatically switches fonts, colours, and styles to suit your choice.
The process works like this
Select a Presentation Type (Homework, Startup pitch, Sales etc. or blank) (decks.png)
Select a Design Category (Minimal, Formal, Cheerful, etc) (templates.png)
Select a Template (cheerful.png – templates of the "cheerful" design category)
Your finished deck can be shared, downloaded as a PDF or presented on your device
Decktopus makes it easy to use your presentation once you've finished designing it. You can share/collaborate easily through the app, and you can download the presentation in PDF format for sharing before, during or after your presentation.
Decktopus can also help you rehearse your presentation
Most presenters don't rehearse their presentations anywhere near enough.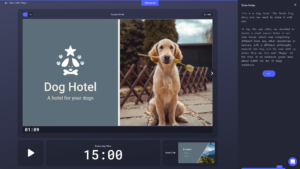 This means that inexperienced presenters are often are more nervous than they should be because they are worried about getting the timing right, forgetting what they want to say and making all the mistakes that they can imagine. Rehearsal is the only cure!
There's a rule of thumb that suggests you don't even know your story until you've said it out loud at least 6 times. So Decktopus has created a 'Rehearsal feature' to encourage better preparation for that important speech. The rehearsal feature allows you to write your notes or transcript into the deck rehearse to a set a duration for each slide. This then helps you rehearse with your notes and be confident that you'll finish exactly on time.
Decktopus also provides lots of video hints and tips to help you build your skills and confidence
There's a really useful set of videos built into the app, linking back to their YouTube Channel, to help you get better as you prepare. They cover all kinds of practical help on subjects like:
Starting a speech
or Body Language advice
When did Decktopus launch and how is it doing?
Decktopus was founded in March 2019 and launched a Berta version in December of that year. The paid version was launched in July 2020 and so far they have signed up over 50,000 users in the free and paid versions. Most users are from the US, Canada, UK, and Australia. Interestingly, 67% of Decktopus users are female in the 18-24 age group. Their other early market research suggests that their users are entrepreneurs, freelancers, fashion designers, restaurant owners, church groups and generally people who don't need the cost, complexity or designer features of PowerPoint, Keynote, Google Slides or Prezi.
What are the competitor products?
Not PowerPoint and not Keynote because they are designed for designers and corporates, and they both take a long time to learn. www.beautiful.ai  is a close competitor whose original intention was almost identical to Decktopus, but they have changed their strategy and have provided many more customising options than Decktopus, so it seems that they have ambitions to be a little bit more like PowerPoint and the 'big names' in the presentation software world.
Weaknesses in the product
In talking about the weaknesses of the product, it is only fair to mention that most of the weaknesses are deliberate, in that Decktopus is really clear that they have created a tool that maximises speed to the finished presentation and minimises choices and option in design and formatting because they believe that their users don't want it.
Their thinking is that if they offered more customisation choices it would damage their 'speed promise', but to be fair to prospective customers it's worth noting that Decktopus is limited in the following areas:
There is no animation for text or images on slides, so everything appears at the same time.
There is limited customisation of the slides, templates and design styles so you have to fit into their structure.
In summary
I've loved getting to know the product. It is a breath of fresh air. Decktopus is easy to use, designed for the novice presenter, and like a patient and faithful Executive Assistant, it forgives your lack of experience and just gets on with helping you to prepare your pitch deck when you really need it.
Decktopus's gamble is that they are the best product in the market to design good-looking presentations in the fastest possible time. The market will decide whether they are right, and I wish them the best of luck.
How can you sign up?
We haven't been paid for this product review, but we would recommend that you sign up for a FREE trial or package here if you want to test it out for yourself.