Resources
CoSchedule – Everything You Need to Get Organized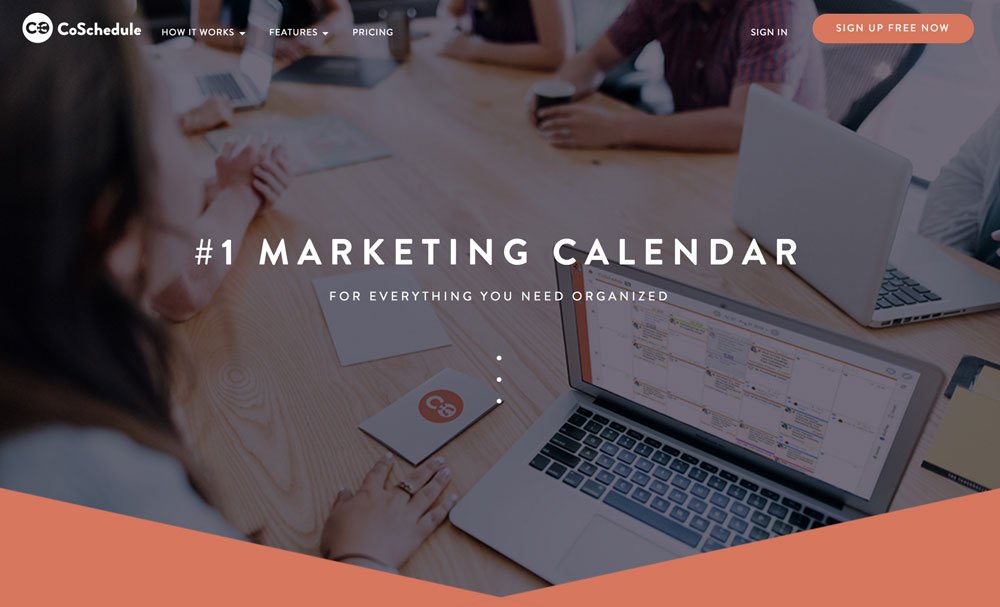 At Presentation Guru, we recently began using an editorial workflow program called CoSchedule  to help organize our editorial calendar. We've been so impressed with the program that our editorial team decided it's only fair that we write a review of the product. Many of our readers and contributors manage their own blogs, and know how tedious scheduling content can be. If you're looking for an easier way to manage your workflow, and like us, work together on projects, then CoSchedule might be for you. Here's a few of their key features.
Drag and Drop Calendar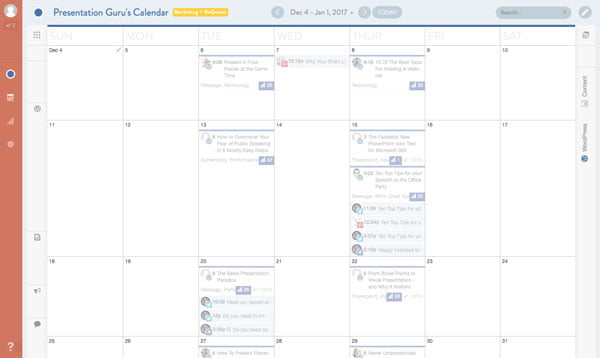 For our editorial scheduling, we used to meet weekly to discuss the posts that would go live the following week. While this method wasn't terrible, it made it difficult to schedule projects in the far future. That's where CoSchedule came in. Their drag and drop calendar lets us easily make changes and rearrange articles based on timeliness. For example, we recently had a holiday article that was submitted by one of our repeat contributors. We (easily) shuffled a few articles around to make sure that the holiday piece went out in time for, you guessed it, the holidays.
Social Media, all in one place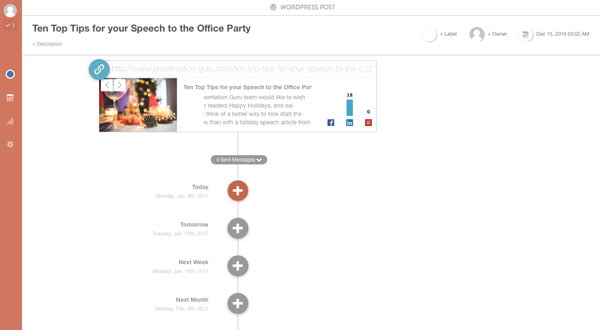 At Presentation Guru, we place a high importance on our social media outlets. With active Facebook, LinkedIn, Twitter, YouTube, and Pinterest accounts, it can get a bit hectic making sure we're continuously making good use of all of our channels, and keeping our followers up to date with the newest content as it's released. CoSchedule has made it much easier by keeping our content and social strategies all in one place.
Tool Integrations
Our contributors submit articles in a variety of different formats, from PDF to Word Documents and Google Docs. CoSchedule lets us easily upload and convert documents directly into posts, and even converts embedded images. It allows us to save a tremendous amount of time, which we then use to focus more on our calendar. You can even sync up your evernote account for better team collaboration. As for WordPress integration, a toolbar can be installed which lets you keep your calendar and actual WordPress account all in one place.
ReQueue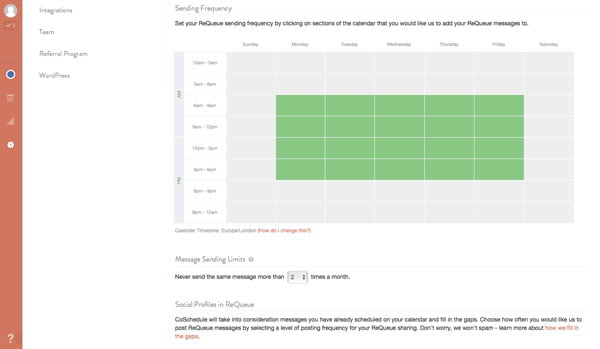 ReQueue is a rather new development to the CoSchedule program, but it's absolutely fantastic. ReQueue is an automation of our social media posts, which is completely customizable. It allows you to set up groups such as holidays or special promotions, which will automatically republish social media postings at the best time of day based on your previous social media engagement. This allows us to always make sure we're reaching our audience at the times that are most prevalent.
Team Tasks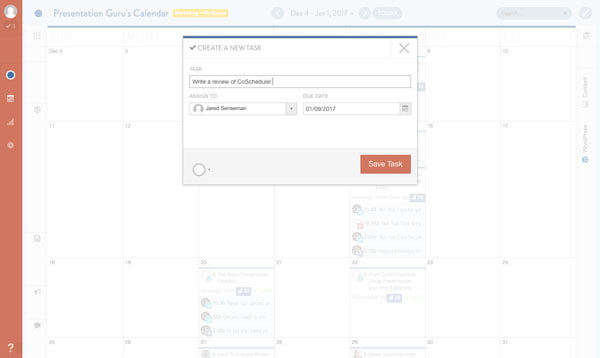 One of the best features, in our opinion, is the ability to assign tasks to other team members. Team members are shown this task when they log in to CoSchedule, but they're also sent an email informing them they've been assigned something. Once a task is completed, all a member has to do is check the box, and the person who assigned it is sent another notification that the task has been completed. It works much better than our previous method of sending emails back and forth, and also helps keep team members organized by letting them see all tasks scheduled in one place.
After first hearing of CoSchedule, we were a bit hesitant to jump on board, until we saw one of their promotional videos. It gave us a general idea of what the program was about, and intrigued us enough to start on their free trial.
We used their free trial and eventually asked for an extension, which they happily gave us. We used the extra time to work more with our team members and let everyone really get a feel for the program, which they loved. We've been using the program for a couple of months now, and it's helped to streamline our productivity tenfold. No more sending 20 emails back and forth between team members and forgotten deadlines.
For any of our readers who manage their own blogs and are looking for something to help keep more organized, we'd recommend CoSchedule wholeheartedly. Aside from a great product, we've contacted their customer service team multiple times, and they have never failed to go out of their way to help us. This has really helped to affirm our choice of subscribing to CoSchedule, as we too place a high importance on building positive relationships with our users.
If you're looking for a good program to help you (and possibly your team) get more organized, give CoSchedule a chance.